 ---
KARACHI:
Remittances sent home by overseas Pakistanis grew 11.3% to $15.8 billion during the first half (July-December) of fiscal year 2021-22 owing to the measures taken by the government and State Bank to encourage the use of formal channels for money transfer.
According to the State Bank of Pakistan (SBP), the country received $14.2 billion in remittances in the same period of previous year.
"Proactive policy measures by the government and the State Bank of Pakistan to incentivise the use of formal channels and altruistic transfers to Pakistan amid the pandemic have positively contributed towards sustained inflows of remittances since last year," the SBP said in a statement on Friday.
It added that the July-November FY22 data of workers' remittances had been revised upwards to reflect inflows from the Roshan Digital Account (RDA) that were related to local consumption (like payment of utility bills and transfer to the local rupee account).
Since the data on these conversions was not previously made available by the country, they were reported under "other private transfers" in the balance of payments statistics.
"December 2021 data is also compiled accordingly, and this treatment will be followed going forward," the State Bank said. Talking to The Express Tribune, Ismail Iqbal Securities Head of Research Fahad Rauf stated that remittances grew just 11% in the first half of FY22 because travel had not resumed completely.
He also pointed out that the remittances after remaining perched at the peak of $2.7 billion a month had come down slightly.
"In November 2021, Pakistan received $2.35 billion in remittances, which has now been revised upwards, therefore the percentage growth is lower at 2% in December on a month-on-month basis," he said. "Had November's figure not been revised, the increase in receipts would have been 7%."
The revision flattened the growth curve, he remarked while mentioning that Bangladesh had reported a 5% rise in remittances.
Rauf stated that Covid's Omicron variant had played a huge role in propping up the inflows as it was disrupting travel across the world and forcing people to use formal channels for money transfer.
He projected that remittances would surpass the $30 billion mark in full fiscal year 2021-22.
Arif Habib Commodities Chief Executive Officer Ahsan Mehanti termed the improvement in six-month receipts an upbeat development, saying it would be positive for Pakistan. "Remittances have improved and we appreciate it, however, the prime reason for the jump is depreciation of the rupee," he pointed out.
Remittances will increase further in the coming months due to the approval of mini-budget, which will pave the way for the revival of International Monetary Fund's (IMF) $6 billion loan programme.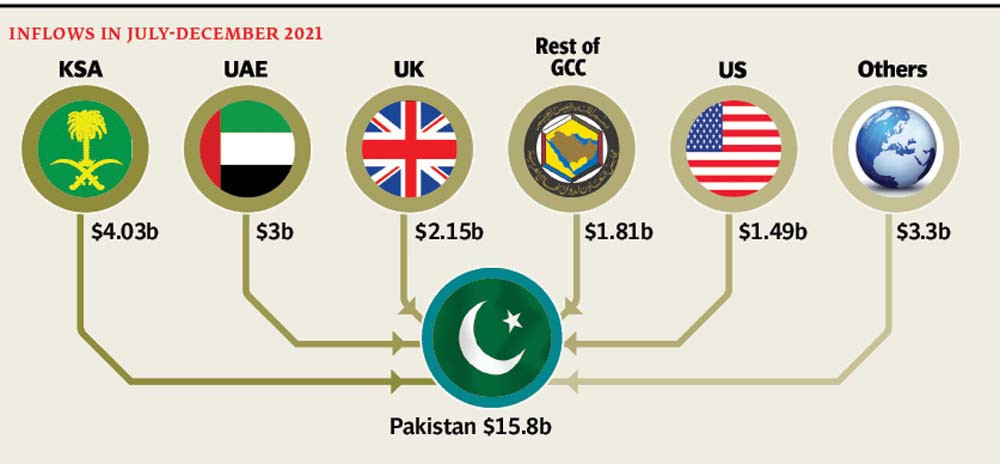 According to him, the restoration of the loan programme will paint a good picture of the economy and enhance the confidence of overseas Pakistanis, which will encourage them to send higher amounts back home. Arif Habib Limited Head of Research Tahir Abbas said that the strong remittances momentum continued in December 2021 as well and by watching the trend, he expected Pakistan to receive $31 billion in FY22 with year-on-year growth of 8-10%.
"Remittances from western countries, particularly the US and the UK, are on an uptrend," he cherished.
A report of Arif Habib Limited stated that remittances soared to the highest-ever level in calendar year 2021 as the country received $31 billion in the past 12 months, recording an increase of 19% year-on-year.
Monthly data
The inflow of remittances during December 2021 came in at $2.5 billion.
"Workers' remittances continued their strong impetus of remaining above $2 billion since June 2020 with receipt of $2.5 billion in December," the SBP said. "In terms of growth, remittances increased by 2.5% month-on-month and 3.4% year-on-year in December 2021."
During the month under review, expatriate Pakistanis in Saudi Arabia sent the biggest amount of $626 million to their families back home. It was 0.7% higher than inflows of $622.3 million in November.
Moreover, receipts from the United Arab Emirates contracted 4.6% as they fell from $475.1 million in November 2021 to $453.2 million in December 2021.
Remittances from the United Kingdom registered a jump of 8.6% to $340.8 million in December 2021. Receipts from the country had stood at $313.7 million in November 2021.
Published in The Express Tribune, January 15th, 2022.
Like Business on Facebook, follow @TribuneBiz on Twitter to stay informed and join in the conversation.
COMMENTS
Comments are moderated and generally will be posted if they are on-topic and not abusive.
For more information, please see our Comments FAQ