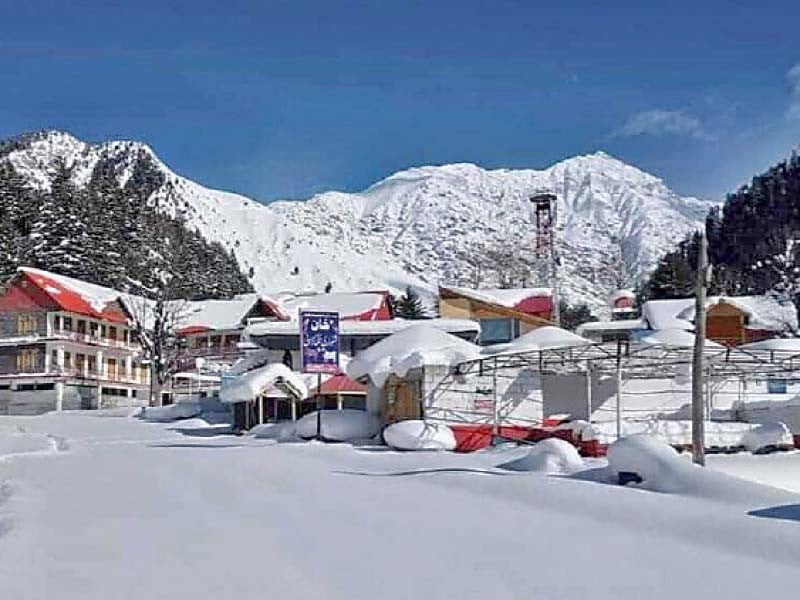 ---
Ban on tourists' entry to Kaghan Valley lifted
Local administration issues SOPs for travellers amid overall increase in Covid-19 cases
---
BALAKOT:
Balakot Assistant Commissioner (AC) Saddam Memon has formally lifted the recent ban on tourists' entry into Kaghan Valley, which was in place since last week following the tragic incident in Murree that claimed 23 lives.
Shogran and other nearby places in Kaghan Valley had been enjoying a steady influx of tourists keen on making the most of the snowfall season, but the holidaymaking was abruptly cut short when a blizzard struck Murree and buried a number of vehicles in a thick blanket of snow.
Fearing a similar fate, relevant authorities banned tourists from making their way to Kaghan Valley. The prohibition has now been reversed, with the administration establishing certain Standard Operating Procedures (SOPs) for tourists.
The AC has said that only those who have completed their vaccination course will be allowed to enter the valley. Meanwhile, only jeeps with chains on their tyres will be permitted to travel on snow-filled routes.
Furthermore, the holidaymakers will be able to visit different spots between 10am and 4pm and will be expected to abide by the timings for their own safety.
Deputy Superintendent of Police (DSP) Balakot Circle Sirajuddin Khan assured that all arrangements for the security and thorough checking of tourists and their vehicles are in place.
A contingent of police personnel is deputed at the Damgala check post as well as the Balakot check post, while the tourism department has reopened the facilitation centre for tourists for keeping them abreast of the weather and road conditions.
Balakot AC Saddam Memon added that both the weather and the SOPs will be subject to frequent reviews, while the responsibility of monitoring the roads has been given to the Khyber-Pakhtunkhwa Integrated Tourism Development Project (KITE).
The news of the ban being lifted was welcomed by Balakot's business community and hotel industry, who had been demanding that the government ease restrictions on tourists so that the wheel of economic activity may start spinning once more.
Published in The Express Tribune, January 15th, 2022.