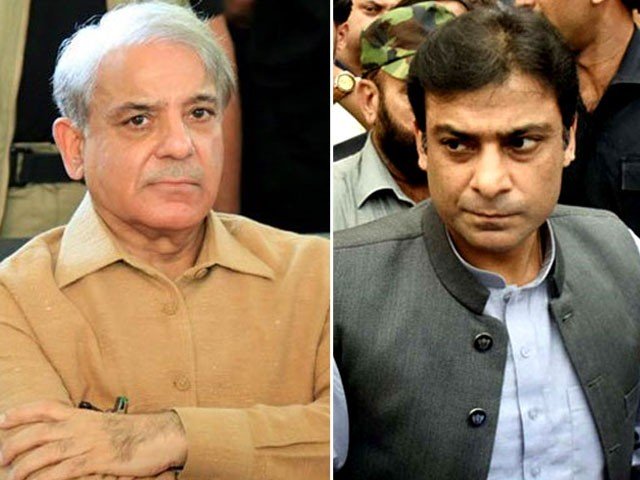 ---
LAHORE:
The Lahore High Court on Thursday dismissed as withdrawn a petition filed by PML-N President Shehbaz Sharif and his son Hamza because of insufficient grounds to establish whether the case fell under the domain of the Federal Investigation Agency (FIA) or the National Accountability Bureau (NAB).
A division bench, headed by LHC Chief Justice Muhammad Ameer Bhatti, was hearing a petition seeking directions to quash the FIR registered by the FIA against them for allegedly amassing wealth disproportionate to the known sources of income, committing financial fraud, impersonation, forgery and money laundering from 2008 to 2018.
They had further requested the court to declare the proceedings as illegal, without lawful authority and without jurisdiction.
It was also prayed to the court that respondents NAB and FIA be restrained from taking any adverse action against them.
As the proceedings commenced, the petitioners' counsel Amjad Pervez asked the bench how was it possible that two separate institutions were probing into the same matter.
He contended that a reference was filed under allegations of money laundering from the spell of 2008 to 2018 after the approval of the NAB chairman.
On LHC CJ Bhatti's query, the lawyer replied that the FIR against his clients was registered by the FIA in November 14, 2020.
Read Shehbaz fires broadside at govt over 'mini-budget scam'
An irked LHC CJ observed that this meant that you knocked the doors of the high court after two years of the registration of FIR.
He added that the challan of the case had been submitted to the trial court, which would decide the matter.
The lawyer reiterated that the case registered by the FIA actually did not fall under its jurisdiction.
He added that the case fell under NAB's domain so the proceedings of the trial court should be declared unlawful.
Justice Bhatti observed how the LHC could declare the proceedings of a trial court null and void after the submission of challan before it.
"Why did you not take up this plea before the trial court and why did you knock the doors of LHC after two years?" the judge questioned.
"You should produce a comparison of law to establish whether or not this case actually fell under the jurisdiction of this or that institution. Your petition has no comparison between NAB and the FIA cases that could prove your stance."
This time, advocate Amjad Pervez was left with no other option but to say that he was withdrawing the petition and file a fresh one with comparison of law and cases to establish his stance. Finally, the bench dismissed the petition as withdrawn.
COMMENTS
Comments are moderated and generally will be posted if they are on-topic and not abusive.
For more information, please see our Comments FAQ