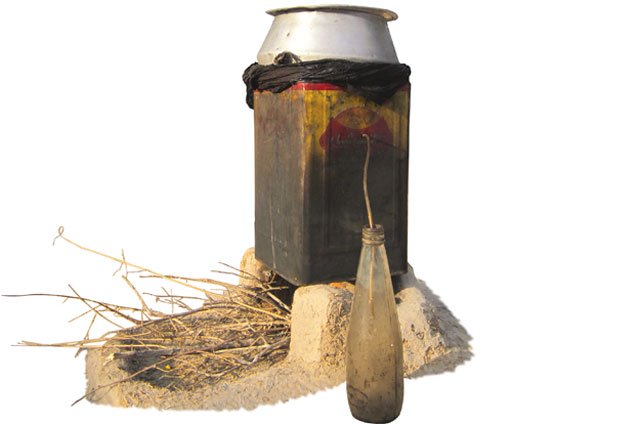 ---
HYDERABAD:
The unconfirmed death toll of the moonshine liquor consumption in Tandojam, a town of Hyderabad, and Tando Allahyar district has climbed to 23 with four more deaths surfacing in Hyderabad and two in Tando Allahyar. The police, however, continue to confirm only five deaths in each of the two districts.
As many 16 people have reportedly been killed by the moonshine in Hyderabad and seven in Tando Allahyar. Narsingh Kolhi, a brother of deceased Neelo Kolhi, told the media that his brother had consumed bootleg alcohol before he fell critically ill and passed away on Thursday.
"The government should take action and arrest the culprits who are selling these toxic chemicals," he demanded. The families of most of the other victims have preferred to maintain silence.
The Hyderabad police, meanwhile, have claimed to have arrested five suspects selling home-brewed liqour. The police spokesman identified them as Sahil Shah, Najaf Shah, Saif Ali Shah, Abbass Shah and Suhail Shah. According to him, two of their accomplices, Hashim Shah and Jani Shah, escaped during the police raid in an area of Tandojam where they were preparing the liquor illegally.
The arrested suspects were booked in 2 separate FIRs lodged on the state's complaint. Nevertheless, the two suspects, Qaim Magsi and Bachal Magsi, who have been nominated in the FIR for allegedly selling liquor which caused the deaths are still at large.
Published in The Express Tribune, January 14th, 2022.
COMMENTS
Comments are moderated and generally will be posted if they are on-topic and not abusive.
For more information, please see our Comments FAQ