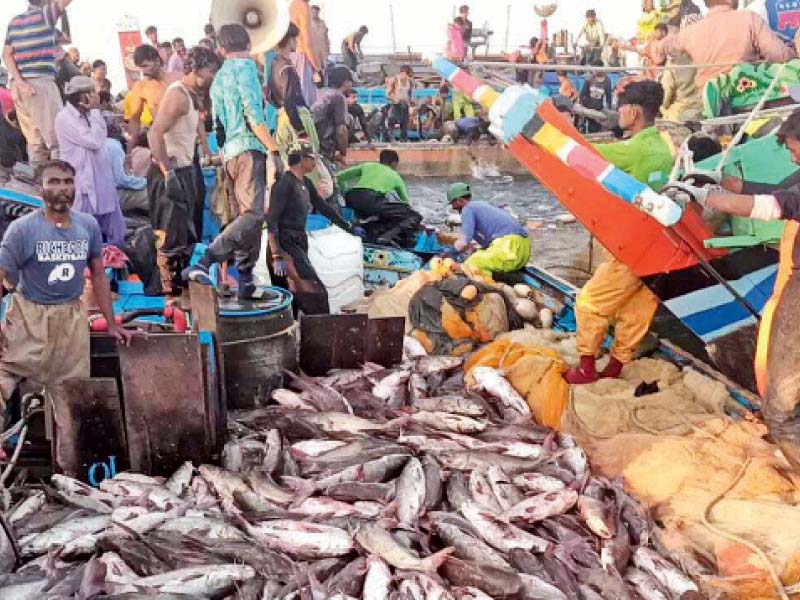 ---
KARACHI:
The enormous production of seafood by neighbouring countries, mainly China and India, is forcing Pakistan to realise the maximum potential of its fisheries since the climatic conditions and natural resources have not much difference.
According to Zhong Shang Chan Ye Research Agency (a Chinese research consultancy), China produced 65.4 million tonnes of seafood in calendar year 2020 whereas total production of India stood at 12 million tonnes in fiscal year 2020.
But Pakistan's production was far less than the two as it produced just 663,893 tonnes in 2018, according to the World Bank data.
Pakistan Bureau of Statistics (PBS) data shows that fish and fish preparations have earned only $420.9 million annually on an average during the last five fiscal years (FY17-21), which was much lower than its neighbours as China and India exported fishery products worth $18.3 billion and $6.68 billion respectively in CY20.
Although Pakistan has lesser coastal length (1,120 km) compared to neighbours China (14,500 km) and India (7,500 km), this does not justify the dismaying performance of its fisheries compared to other countries in the region.
Total production of fisheries is directly linked with the available ocean and water bodies of a country so the difference in output of Pakistan and its two neighbours requires a detailed review of this sector.
For instance, the one and only National Fisheries Policy was introduced almost 14 years ago, since then the authorities have not bothered to update it.
Another pressing issue that needs to be addressed is the already shrinking population of marine lives due to the continuous contamination of ocean water, which has been supplemented by overfishing for years.
Also the illegal practices, with total disregard to the regulations for fisheries, are not permitting Pakistan to increase its production.
The Economic Survey of Pakistan 2021 revealed that 68% of the country's production comes from sea while the remaining 32% is obtained from inland fishing.
Since marine fishing has a greater share in Pakistan's total production as compared to inland fishing, it makes a befitting case for boosting the production of inland fishing.
The State of World Fisheries and Aquaculture 2020 by the FAO showed that Pakistan has an area of 25,220 square km (0.57%) while Bangladesh has only 17,460 square km (0.39%) of the world's total inland water bodies. However, Bangladesh's output is close to 10% of the total inland production while Pakistan has only 1% share in it.
The question arises why do we lag so behind? Answer to the question is the report issued by the PBS, which revealed that out of the total 37,369 rural areas in Pakistan, 34,860 areas, ie more than 70%, have no (poultry, livestock and fish) farms and unfortunately only 6% (2,509 areas) have fish farms.
So, rapid development of the fisheries sector would be possible by utilising those unfarmed rural lands, which are not yet part of fish farming, as it requires a relatively low cost to build farms on those pieces of land.
Like other export-oriented industries, the fisheries too have tremendous potential.
Textile and leather industries have been enjoying hundreds of billion rupees in subsidies for several years. If the government could spare some money for the targeted development of fisheries too, then it will be returning more for sure.
If they want to boost forex earnings through fisheries, then an urgent plan is terribly needed for its growth. In addition, the expansion of public-private partnership in the fisheries sector will also help the exporters to grow faster.
Besides increasing production, the collaboration between government bodies and exporters for devising a meticulous plan about meeting international standards is needed.
As the major export destination for Pakistani seafood exporters is the European Union (EU), but in the past they have faced a ban by the EU as some exporters failed to eliminate the contamination completely.
A few months ago, nine export companies faced a temporary ban from China due to the presence of Covid-19 virus in some consignments.
Streamlining the domestic production in accordance with the demand of international market is mandatory for Pakistan if it wants a greater share in coming years.
By giving little attention to fishermen, they too can be trained and get expertise to breed highly paid good quality products that will be helping the forex earners eventually.
The writer is a mechanical engineer and is doing masters
Published in The Express Tribune, January 10, 2022.
Like Business on Facebook, follow @TribuneBiz on Twitter to stay informed and join in the conversation.
COMMENTS
Comments are moderated and generally will be posted if they are on-topic and not abusive.
For more information, please see our Comments FAQ