 ---
Bollywood actor Sushmita Sen's New Year's celebration had a special ode for Pakistani singer and actor Danyal Zafar. The former Miss Universe took to Instagram and shared a video of vibing to the crooner's track, Udh Chaliye, on a car ride with her daughter. The mention did not go unnoticed by Zafar, who went on to comment on Sen's shoutout. Not just that, the Dilbar diva responded to the youngster as well!
The Aarya star then revealed it was her daughter, Alisah, who was a fan of the Coke Studio singer. Sharing the aforementioned video, she captioned it, "The breeze, the drive, the open skies and Alisah [her daughter's] favourite song [Zafar's Udh Chaliye] on repeat." Calling a song "a vibe", she thanked her friend, Rohit Bhatkar for introducing her to Zafar's music while giving song credits.

Reciprocating the love, the Barwaan Khiladi actor shared that he "couldn't be happier" knowing his track made it to her playlist and added. Zafar expressed his surprise at the revelation and responded, "Oh my god, what? No way! [I] couldn't be happier knowing you all are vibing to the track and it made its way to add to such a beautiful experience you are sharing! The drive, the breeze and the open skies were exactly what I dreamt for the track to do and you've made that dream come true! Thank you so much! [I am ] honoured beyond what words can express."

To which the Main Hoon Na actor replied with excitement to see the "the man himself" appreciating her video. "What a beautiful message, [it will be] forever cherished, jaan meri (my dear). Your voice and this song make the heart vibe. It is a blessing to have the power to connect people and their dreams beyond geography! Stay wonderful," commented Sen with heart emojis for the singer.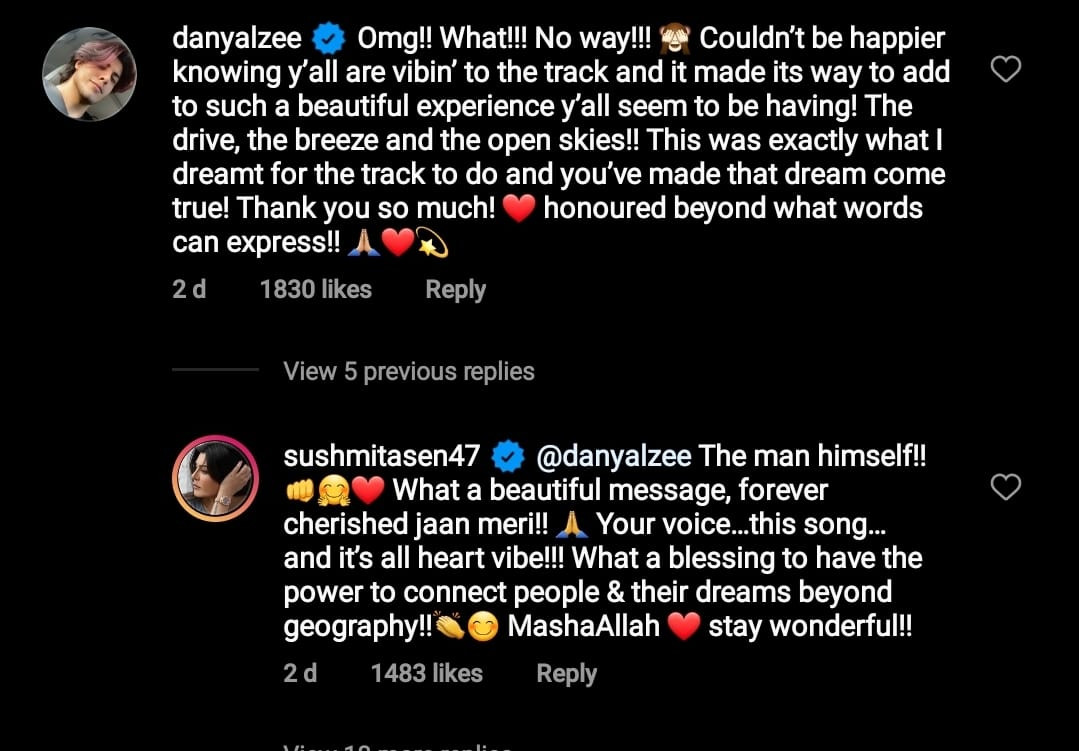 The conversation, however, did not end here and the mutual respect continued. Like an excited fan who gets to hear from their favourite celebrity, Zafar mirrored Sen's feelings and agreed with the ability of art to transcend borders. Speaking with the same energy the Sirf Tum actor had, the Ek Aur Ek 3 singer shared his excitement by "the queen herself" responding to him. "It is beautiful to see the power of art transcending beyond borders and everything else and just touching people deep within and even more beautiful is how transcendence connects people, and I couldn't be more thankful to have been blessed with this connection!" responded Zafar.

Earlier, the singer took to social media and shared a video of him performing the same track at his first-ever concert.

After collaborating as a lyricist and guitarist for the soundtrack of brother Ali Zafar's film, Teefa In Trouble, the youngster was recognised by Coke Studio and performed Muntazir with Momina Mustehsan and Julie with his brother.

A career launch with Coke Studio gave him the breakthrough to be on the journey to ensure that being the Kill Dill star's younger brother did not become his only claim to fame. With his new singles out and a web series on the way, the singer has a remarkable fanbase praising his eclectic career. His now internationally famous track, Udh Chaliye first came out in March 2020 and was said to be composed and executed within 24 hours.
Have something to add to the story? Share it in the comments below.
COMMENTS
Comments are moderated and generally will be posted if they are on-topic and not abusive.
For more information, please see our Comments FAQ