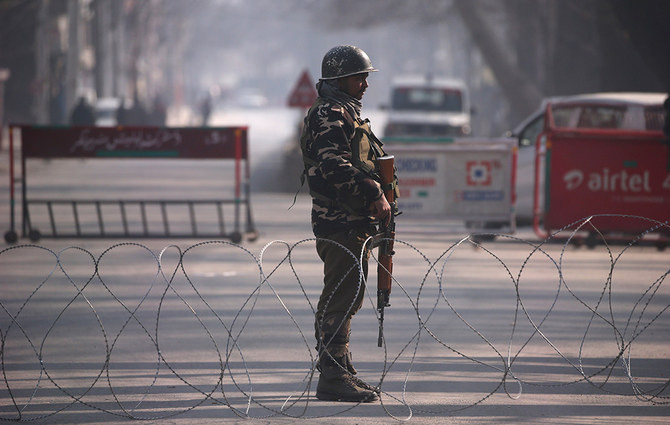 ---
LONDON:
The silence of the international community on the rising incidents that beget fascism in India is an unfortunate example of silent complicity in the crimes against humanity being perpetrated with state backing in the country, Tehreek-e-Kashmir (TeK) UK President Fahim Kayani has said.
In his statement issued on Thursday, Kayani called on the Organisation of Islamic Cooperation (OIC) and the United Nations to take a stand against India's vulgar barbarism and halt the imminent genocide in the country.
He was referring to the three-day so-called "Dharma Sansad" moot held in India's Haridwar area of its Uttarakhand province between December 17-19, where an assortment of Hindutva gang called for the mass murder of Muslims to turn India a Hindu-owned, Hindu-led and Hindu-run state.

"The call for murder of Muslims in broad daylight with no deterrence from Indian state is an eye-opener as to how India has turned into a slaughterhouse for anyone who is not a Hindu," he added.
Also read: UK lawmakers concerned over rights abuses, fake encounters in IIOJK
At a separate event in New Delhi, the capital of India, Hindutva members raised Nazi-style salutes and vowed: "We all pledge, that until our last breath, we will make India a Hindu nation. We'll fight and die and, if required, kill."
The TeK chief observed that fascism is not rising but is thriving under state patronage but the world has turned a blind eye towards the Narendra Modi government
"Modi's hands are soaked in the blood of hundreds of innocents from his days at the helm in the Gujarat province."
He also pointed to the voices of conscience, including those from UK Shadow Minister Naz Shah MP and ex-chair of the Conservative Party Baroness Sayeeda Warsi.
According to Warsi, "Many of us have been warning of the rise of Hindutva-RSS ideology which has the support of the Modi-led BJP government."

"It is ripping out the soul of secular India. There's a long history of Nazi links and overlap of ideology between Nazi and Hindutva-RSS beliefs with links now in the UK," she said, warning the British government to be aware of this nefarious ideology that thrives on the blood of innocents.
Also read: Russell Tribunal: Global forum highlights IIOJK genocide, rights abuses
Kayani also mentioned global rights defenders CJ Werleman and Pieter Fredrich who questioned those international forces which claim upholding human rights without indifference on the basis of religion or colour.

"This is not 1940's Nazi Germany. This is 2021 Haridwar Genocidal Meet in India calling for the killing of Muslims. This is happening now. For those who say it's a fringe group, Hitler was once also considered to be a part of the 'fringe'. Where is the global outcry?" he quoted lawmaker Naz Shah as saying.

He also quoted the secretary-general of hardline organisation Hindu Mahasabha, as saying: "If we [Hindus] become soldiers and kill 2 million Muslims, then we will be victorious."
The TeK leader further said India's record in Indian Illegally Occupied Jammu and Kashmir (IIOJK) had already exposed its claims of so-called democracy and secularism. "The world powers remained silent on Kashmir because of geopolitical reasons as India has become a lynchpin of the US and its allies against China."
Also read: British MPs 'alarmed' over IIOJK abuses
"The United Nations, the US and her allies must hold an international tribunal to deter the Indian state from furthering their Hindutva agenda," he maintained.
"Should we wait for another genocide like what happened with Rohingya in Myanmar," Kayani asked.
Other global figures also raised their voice on the development. Expressing shock over the call for genocide, a Twitter user Veenu Sehgal said: "Shocking and disturbing is the fact that world leaders, politicians and human rights organisations are silent."

Pieter Friedrich, who is a journalist focused on Hindutva terrorism and its international links, said: "I have sometimes called Modi the 'Hitler of the East'. To my mind, the only question remaining is if and when the Hindutva pledge to kill will also include a vow of loyalty to Modi as the Fuhrer of India."
COMMENTS
Comments are moderated and generally will be posted if they are on-topic and not abusive.
For more information, please see our Comments FAQ