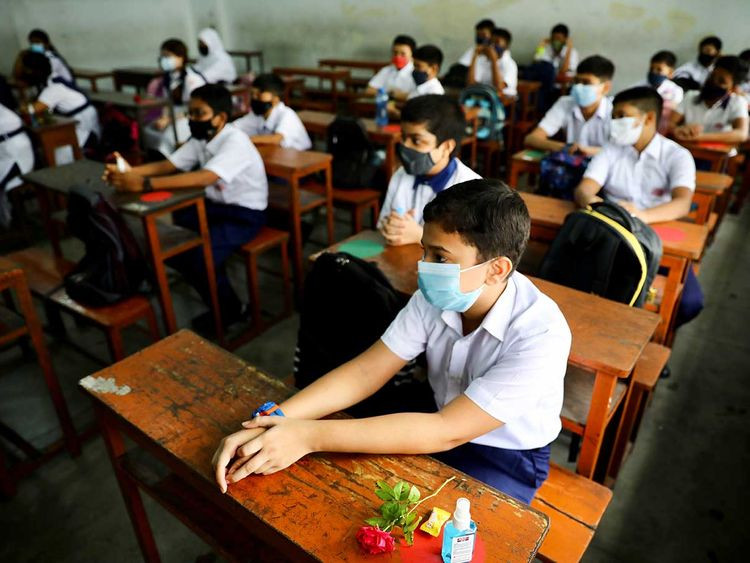 ---
QUETTA/ PESHAWAR/ KARACHI/ LAHORE:
A hybrid system of education, extended school closures, exam uncertainty, and students securing top positions after getting unprecedented marks are few of the highlights of a turbulent year of education in the country.
Parents, students, and teachers alike were not fans of remote learning as they let out a collective sigh of relief when schools, colleges, and universities reopened with full attendance in September this year. However, with the threat of the Omicron variant of the superspreader rising, educational experts and stakeholders are in agreement that any further closures will negatively impact the students' future. For instance, in Punjab, the country's most populous province, educational institutions were open for a mere 125 days throughout the year and in Khyber Pakhtunkhwa (K-P), sources informed that government schools were open for a measly 45 days from March 2020 to September 2021.
"Private schools managed things by teaching students online but there is no concept of online classes in government schools," an official at the Board of Intermediate and Secondary Education Peshawar, told The Express Tribune. However, Rizwan, a resident of Lahore, whose daughter is in fourth grade at a private institution disagreed. "There is no clear procedure for taking online classes. Online classes may benefit university and college students, but my daughter has suffered a great deal," he lamented.
However, Dr Khalid Iraqi, Vice Chancellor of the University of Karachi, believes that any form of online education is not meant for Pakistan. "The West has excelled in providing online education because it is not marred with internet connectivity and electricity issues and has expert teachers to teach online," he stated.
Read More: Sustainable educational institutes
Even if internet connectivity is not an issue, parents like Shumaila Mahmood, a resident of Punjab's capital, complained about the high costs that came with online classes. "On one hand private schools are charging high fees and on the other I have to pay a huge sum for a good internet connection as well," she said.
While private schools can demand the luxury of a hybrid model of teaching, Tariq Khan, a school teacher at a government primary school in Peshawar, wishes that government schools were similarly equipped as well. "I wish we had online classes for my students but I feel this vacuum will never be filled at the government level," he predicted.
Elsewhere, in Balochistan, the problem is a lack of dedicated teachers like Tariq, as per Provincial Minister for Education, Mir Naseebullah Marri, who while talking to the Express Tribune stated: "on paper, we have more than 70,000 teachers in the province but we have the weakest education system in the country." Marri's assessment holds weight as a budget of over Rs 71 billion was allocated for education reform in the province in 2021, but according to conservative estimates, out of more than 15,000 schools in Balochistan, 3,000 are inactive, only 4,491 have access to electricity, only 400 have access to gas, and only 3,311 schools have water tanks and water facilities for students in their washrooms.
However, Palwasha Jalalzai, an educationist from Quetta, believes that the problem is that between 6,000 to 7,000 schools in Balochistan are of single teachers. "A single teacher is teaching all five classes in the school. We blame the teachers for the low standard of education, but never consider what kind of support they receive," she remarked.
Punjab Teachers Union General Secretary, Rana Liaqat, concurring with Jalalzai's views stated that the government had failed to bring educational reforms. However, experts believe that even the educational reforms the government has rolled out throughout the year have failed to take off like the Insaf Afternoon School Program which was introduced in light of the province's high drop-out rate and even the Single National Curriculum which private schools rejected and was criticized heavily by educational experts.
For the students who did not drop out either because of high cost of school attendance or no internet access, the problem is the lack of competition that the government promoted by announcing that only elective subjects would be examined at the Matric and Inter level this year, which in turn would ruin their chances of getting into universities and colleges in the near future.
"They [government] just passed everyone. When one can sit at home and pass exams without any effort it is an injustice to those who are toppers," Fasiullah, a student of Edwards College Peshawar, complained to the Express Tribune.
COMMENTS (2)
Comments are moderated and generally will be posted if they are on-topic and not abusive.
For more information, please see our Comments FAQ