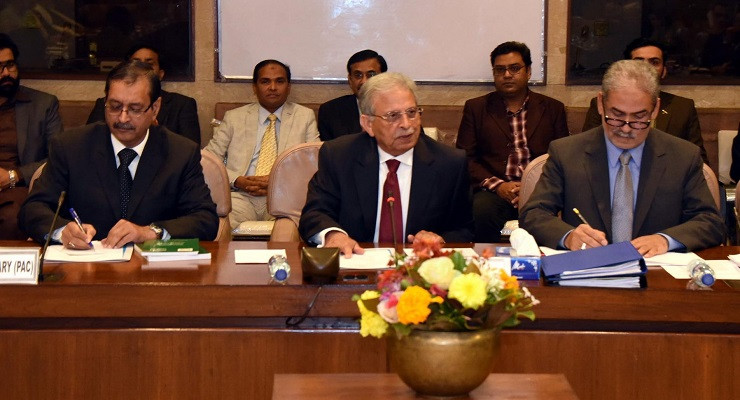 ---
PAC unsatisfied over Rs1.24tr Covid-19 funds
Committee tells finance ministry officials to come prepared next time
---
ISLAMABAD:
The finance ministry on Wednesday failed to satisfy the Public Accounts Committee (PAC) of parliament on the issue of Rs1.24 trillion coronavirus relief package.
The ministry's officials told the committee that the Rs1.24 trillion was the overall package, and not just for a year.
Out of the total amount, Rs875 billion was cash relief while Rs365 billion was planned to be in other forms.
They added that Rs334 billion were released in the year 2019-20 and Rs334 billion through supplementary grants.
Rana Tanveer Hussain, the chairman of the committee, told the officials to give details of the sum of Rs1.24 trillion as to where the amount came from.
Also read: Rs40b irregularities detected in PM's Covid package
"You gave money to Utility Stores, Federal Board of Revenue and other places," he added.
The committee expressed its dissatisfaction over the briefing and directed the officials to come prepared next time.
According to the audit briefing presented before the committee, a package of Rs200 billion was announced by Prime Minister Imran Khan to provide relief to daily-wage workers during the pandemic.
Out of this amount, only Rs16 billion in supplementary grants were released -- Rs184 billion less than what was announced.
A sum of Rs150 billion was announced for vulnerable families and shelters, and Rs145 billion in supplementary grants had been released.
An amount of Rs50 billion was announced for Utility Stores. However, only Rs10 billion had been received so far.
In power and gas subsidies, Rs100 billion was announced, and a supplementary grant of Rs15 billion had been released.
Also read Public confidence in economy wanes
PAC member Hina Rabbani Khar inquired as to out of the Rs500 billion, in how many years would you pay Rs200 billion to daily-wage workers.
Khawaja Asif of the PML-N said the real picture should come out on this forum.
"Responsible people are saying that Pakistan has gone bankrupt. If we have made a mistake, please present the original picture."
The chairman asked as to if Rs186 billion out of 500 billion had been released, then what the plan was for the rest of the amount
The meeting also reviewed the audit objections of 2020-21 about the National Disaster Management Authority (NDMA).
The committee again referred the matter related to NDMA to the departmental accounts committee. The matter related to Utility Stores was put off till the next meeting.