 ---
Art imitates life and vice versa but when painting sensitive realities on a canvas or TV, instead of simply projecting an individual's perception of an occurrence in a dramatized fashion, one needs to be weary of hitting sensitive nerves for the sake of kick-starting a conversation.
Something similar is being levelled at Qissa Meherbano Ka, the television serial starring Mawra Hocane, Ahsan Khan and Zaviyar Ejaz, which is lifting the curtain on marital rape without a trigger warning.
Much like the criticism modelled against Mahira Khan's Hum Kahan Ke Sachay Thay, viewers are irked by the fact that something, which agreeably needs to be talked about, is being illustrated in such a morbid fashion. But Hocane has responded to a few of these concerns on social media, while appreciating those lauding her performance and the serial.
The drama, which depicts the abusive relationship between Hocane's Meherbano and Khan's Murad, in its 15th episode, grabbed eyeballs for its display of marital rape. In the following chapter, Meherbano 'sarcastically' justified what happened to her by calling it Murad's 'right', just like society paints it to be, provided that he is her husband.
When questioned about the same by a user on Instagram, Hocane explained: "That dialogue was a sarcastic representation of our society because that is what is believed. A traumatised woman laughed at herself in that dialogue. It takes a lifetime for women to see the light at the end of the tunnel. This is our humble attempt to give a resolution while being practical and not take the dramatic licence and turn the woman into a hero overnight."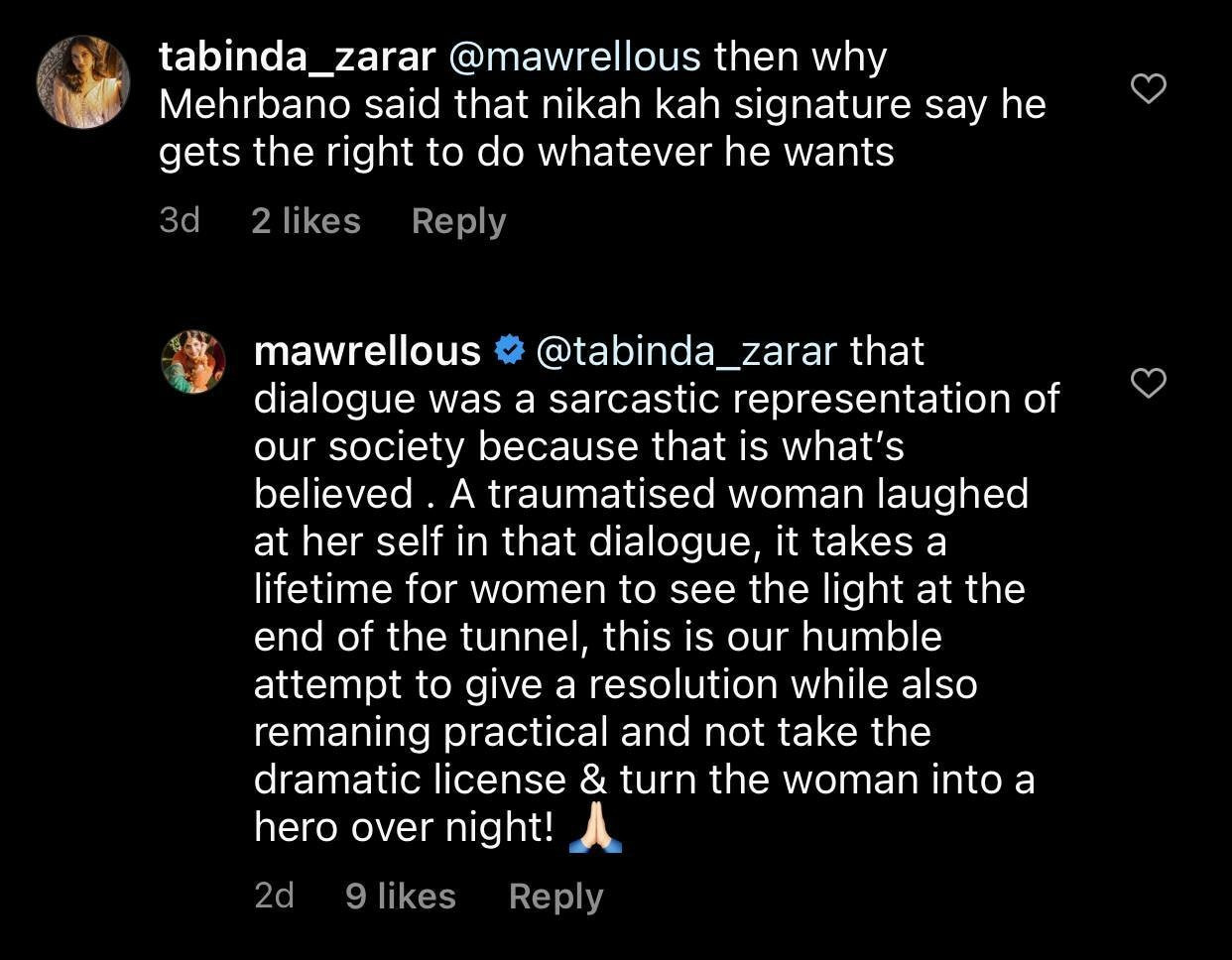 When a user, among many others, also appreciated the unfiltered depiction of horror, Hocane shared it to add the text book definition of marital rape. A netizen pointed out, "Same argument during Uddari. There is absolutely nothing wrong in illustrating an evil within aesthetic limits that don't sensationalise the behavior. This is marital rape and a part of the story. Murad is Evil not a hero." Retweeting this, the actor wrote, "Marital rape is defined as the forceful act of consummation by the husband with his wife without her explicit approval."
Several are still on the fence about whether they should appreciate the show for raising an issue usually tucked away or censored, or call it out for failing to provide a trigger warning and showing, yet another, damsel in distress who tolerates abuse.
A user wrote, "It's Mawra Hocane's performance that shines in Qissa Meherbano Ka and while it is heart wrenching, [I find it] difficult to sympathize [with] Mehru when she has always had an out and her reasons for staying in this house are feeble." Similarly, when another user on Instagram asked, "You are doing great but showing someone so weak is just unbearable. Why is she still in that house?"
Hocane answered, "Change doesn't come overnight. Women don't turn into knights overnight. We have to show a practical resolution. Most women live with this reality their entire lives. We shall, InshaAllah, attempt to give a solution for that."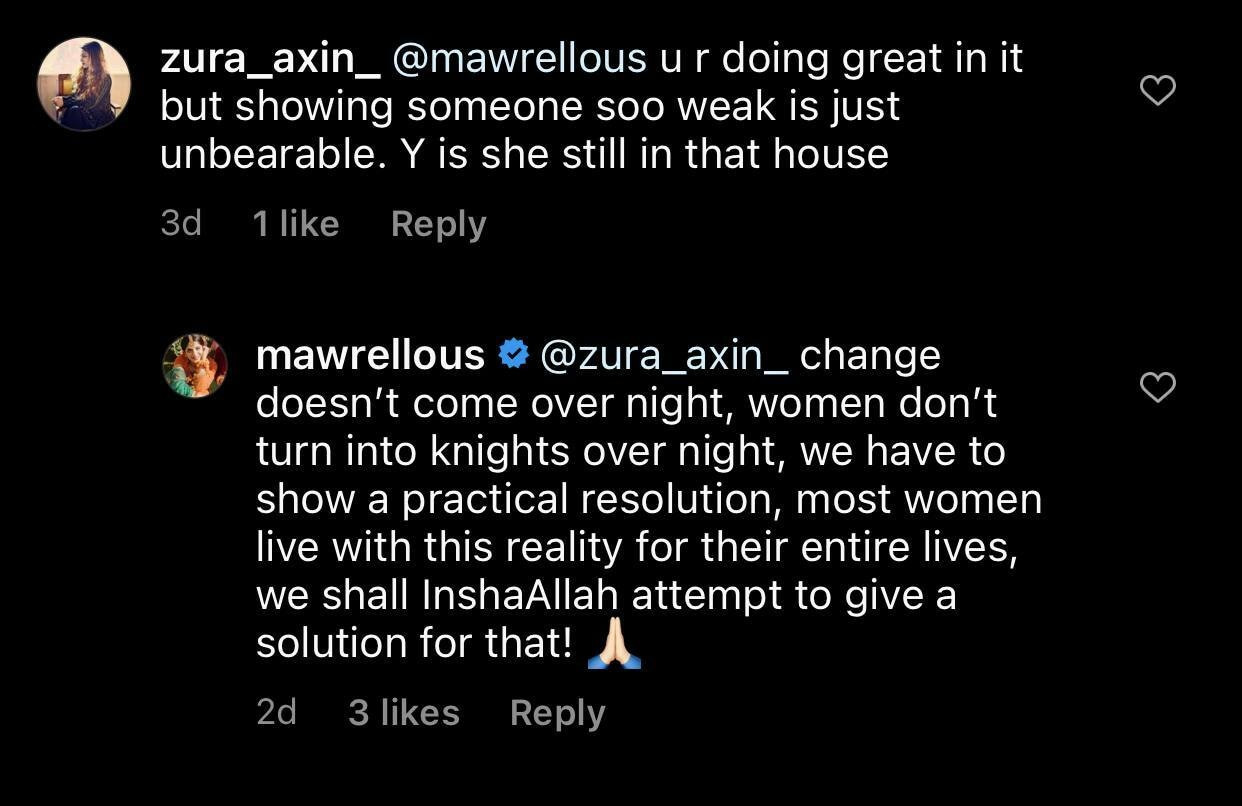 Amongst the comments praising her acting, Hocane also received criticism from viewers who found Meherbano's silence disturbing. To this, she wrote: "To deal with an issue first we have to portray how deep rooted [it] is, the false beliefs that make a woman stay with someone, the guilt, the lack of awareness and finally the recognition of strength within."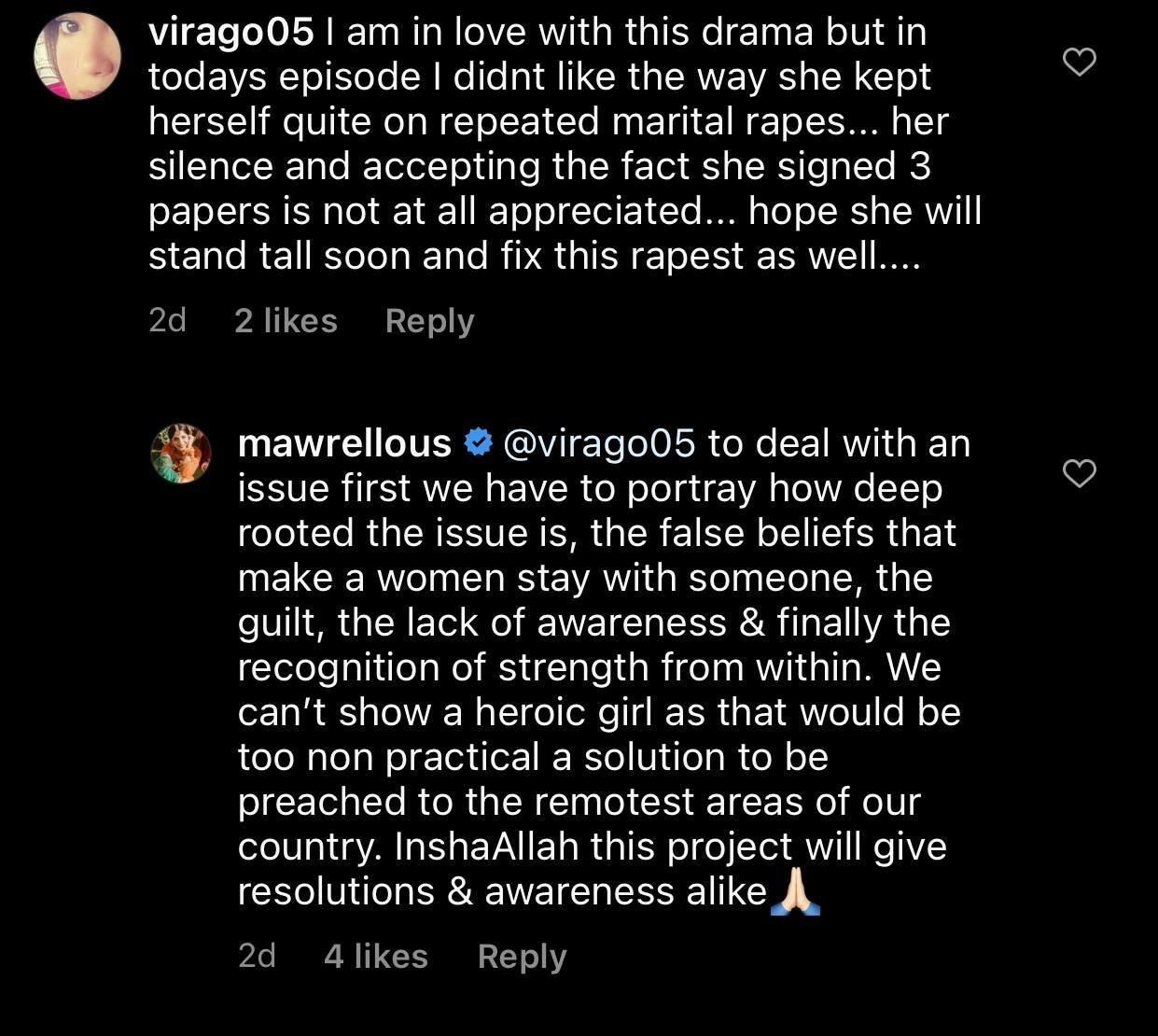 She then added and we staunchly disagree, "We can't show a heroic girl as that would be too non practical a solution to be preached to the remotest areas of our country. Hopefully this project will give resolutions and awareness alike."
However, many are still concerned whether this resolution that Hocane is raving about, would involve an act of redemption that'll make what Murad did forgivable, as is the case with most male antagonists on Pakistani television, or whether, for a change, he will actually be held accountable.
Nevertheless, the need for a trigger warning on shows depicting physical or mental abuse of any kind is long overdue and we are hoping the makers are taking notes.
Have something to add to the story? Share it in the comments below.
COMMENTS
Comments are moderated and generally will be posted if they are on-topic and not abusive.
For more information, please see our Comments FAQ