PUBLISHED December 19, 2021
SUKKUR:
Since she was a child, Sabul Khatoon was apprehensive whenever it came to talking to the men of her village of Amb Sharif in Khairpur. Other than her father and brothers, she avoided speaking to any other man. Now 52 years of age, she had little inkling that her livelihood would eventually encompass interacting with men, not just from her own village but beyond as well.
As a teenager, her fear towards other men affected her so much that she would run at the sight of a stranger. Yet another memory of her being a teenager was seeing her mother dwelling with the handloom to prepare clothes, which she used to sell for a small price. "Amma, I see you sitting all day, weaving cloth on the handloom and what you earn is not even enough to get us a single meal," she used to often say to her mother.
And her mother would always reply, "Something is better than nothing, at least I am earning something and helping your father cater to the needs of the family."
"I started to weave clothes at the age of 13 under the supervision of my mother and pretty soon became an expert at weaving," says Subul, while narrating her story. There were nine members in Subul's family and her father spent most of his time working hard and trying desperately to feed his family. Through Subul's help with the weaving work, her mother's income doubled, which was still not enough but better than before.
Through the course of her life, Subul continued her weaving work with the utmost dedication and then five months ago, she learned about the Sindh Rural Support Organisation (SRCO) advancing loans and offering vocational training to women to help them establish their own business under the 'Business Development Group'.
"I took my husband in confidence and made a group of five women, who were well-versed with the handloom and ready to join the group," she informed. Though my husband had allowed me to go ahead with my plans, I was still reluctant to interact with men not belonging to my family. "But my husband convinced me to do what I wanted to. Following his motivation, I contacted SRSO officials," she said. The officials helped Subul through the loan application process and she finally secured a loan of Rs 200,000 to start her own business.
With the help of the loan, Subul purchased different types of raw material and launched her business. Currently, every woman in Subul's group of handloomers earns nearly Rs 1,000 a day. "My husband is a laborer and often returns back home without finding any work, but thanks to SRSO we have an established business that has helped pull us out of extreme poverty,"she remarked.
One of her business partners Hameeda - a mother of eleven - was very happy with the business because not only has it helped her earn enough for herself but also enabled her to help her extended family make ends meet. Hameeda's husband also works as a laborer and hardly earns between Rs1,000 to Rs1,500 a week.
As per SRSO's loan terms, the lenders are afford some flexibility upon the repayment of the loan where there is a flexibility on the month repayment amount, which is fixed upon the person's affordability. "We will start paying back [the loan] after completing one year and I am hopeful that by that time our group will be able to pay back a good amount as an installment," she says.
Gul Bano is one of the most successful business-woman in her community. She began her business hand sewn embroidery business two years ago. Her dedication soon inspired the girls and women in her village, to also learn to sow and embroider. Today, she has provided jobs to 65 women in her village, who are earning a salary substantially higher than their previous source of income. "As a teenager, I started social work in the village and used to help others in their time of need," she says. Bano was married at the age of 19 afterwards, trained as a midwife – a service she now offers to women in her community free-of-charge. "I am lucky enough to have a very understanding and cooperative husband and our four children are going to school," she says with a touch of pride.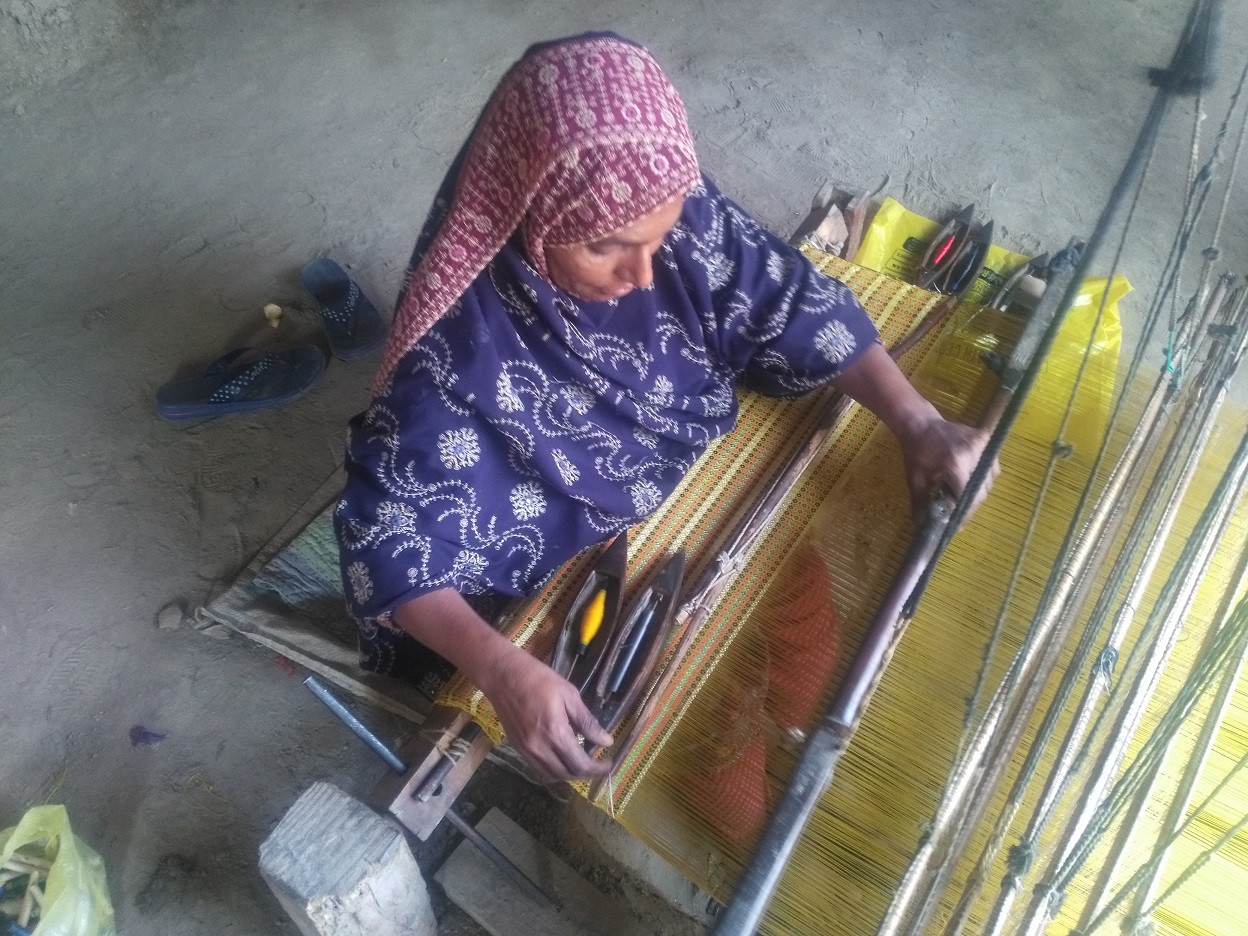 Nisar Khatoon had undergone appliqué work training through SRSO two years ago, after which she was advanced a loan of Rs 15,000, which she utilised to purchase cloth and other raw materials and started hand emroidering clothes. "Ten women are working with me and all of them are expert at sewing clothes and hand embroidery," she said. Her husband runs a small grocery shop, which used to be the only source of income for their family for two years, but now she earns much more than her husband.
Yasmeen is an expert at sewing school uniforms, and she too got a loan amounting to Rs15,000 from SRSO. When she received her loan five months ago, she purchased clothes from Sukkur and started sewing school uniforms. Belonging to a remote rural area of Khairpur district, it was not easy for Yasmeen to do business on her own, but with the support of her husband and other family members, she decided to start her own business in order take full advantage of her sewing talent. "After making my mind up, I went to an SRSO local office and discussed the [terms of the] loan for starting a business," she said. "The officials filled a form andd took my signature and sent it to the head office for approval. After a couple of days, the officials contacted me and told me that my loan was approved and I could collect a cheque from the local office," she said.
"The cheque of Rs15,000 proved to be a turning-point not only for me, but many other girls and women, who work with me," she said. According to her, more than a dozen girls and women are working with her and all of them are paid Rs 100 per dress. "Just recently one of the local private schools ordered me to prepare 150 uniforms for girls and we are currently working on this order," she said. "We need more orders to provide more jobs to the poor girls and women. It takes just two hours to stitch a uniform and if we get a big order, every worker of mine can stitch five uniforms a day."
One of her workers, Rabeil belongs to a very poor family and being the eldest among the siblings, she feels obligated to pull the family out of their existing poverty. This desire to work is also fueled by desperate need as the only male member of the family, her father, is ill and bedridden. Thanking Yasmeen for giving her helping hand, she said that sometimes she gives her three uniforms for stitiching so that she can earn more to help support her family.
A villager Ghulam Yasin, who was watching Sabul Khatoon working at the handloom said, "Believe me these women have totally changed our way of thinking and now men throughout these villages feel proud of their women, who are shouldering the responsibility of the household through their small scale business. Earlier, we never allowed our women to go out and do some work because we used to think about what other villagers will think of us but now the situation has changed completely as women are standing shoulder to shoulder with the men and earning enough to help support their respective families," he said. "We know that our women are safe with SRSO and therefore all the men want their wives or sisters or daughters to work with SRSO to secure the future of the family." he said.
For his part, Dittal Kalhoro, the Chief Executive Officer at SRSO, giving a brief report about SRSO, informs that
With major funding by the Sindh government, SRSO is working in 15 district of Sindh including, Sukkur, Ghotki, Khairpur, Larkana, Shikarpur, Kandhkot-Kashmore, Jacobabad, Qamber-Shahdadkot, Sanghar and others. According to SRSO CEO Dittal Kalhoro, since its establishment in 2003, SRSO has organised around 1,322,000 households throughout these districts and moving forward with the aim to empower womenfolk. The organisation created community organisations, village organizations and finally, union council organisations. "There are around 80,000 community organisations, 6,000 village organisations and 600 union council organisations throughout these 15 districts," he said adding, "most of the funding comes from the Sindh government, while some funding comes from the Federal Government and the European Union."
"So far we have advanced interest free loans to around 200,000 women, while we are planning to advance loans to a further 200,000 women in the next two years through our Low-Cost Housing Project," he said. "So far, we have constructed 25,000 low-cost houses in various districts, besides imparting one-month-long vocational trainings to 60,000 women. This is not all we are doing for the uplift of the backward rural areas, but we also impart vocational training to the daughters and sons of the community according to their interest," he said.
"Our teams survey various areas to identify the poorest of the poor, who are provided a one-time non-refundable grant of Rs50,000 to enable them to begin some small scale business," he said. "If such families need interest-free loans, that too are advanced to them because our purpose is to reduce poverty and make people self-sufficient."
"We are advancing interest free loans to the women from Rs 200,000 to Rs500,000 under our Business Development Group programme. Apart from this, we also provide funding of between Rs 500,000 to Rs 20,00,000 to better the infrastructure of certain villages on the recommendations of the community organisations or village organisations because people living in certain areas know far better about the needs of their community."