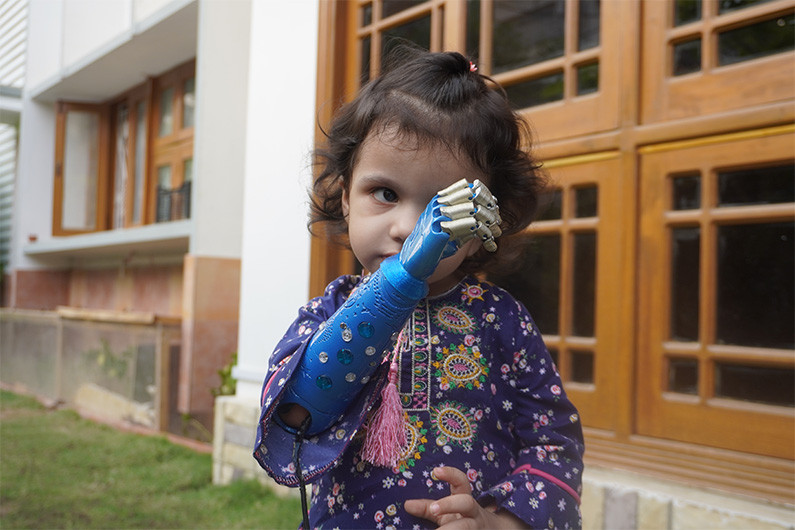 ---
Walt Disney's ice queen, Elsa has inspired many little girls with her strength and confidence to portray her true self. In an emotional and heartwarming demonstration of Elsa's magical influence; three-year-old Momina Aamir asked her father for a blue bionic prosthetic arm. The color blue is prominent in the movie, Frozen; as it describes not only Elsa's emotional state but also her acceptance of who she is and her determination to stay true to herself.
Momina was born without her right arm. Overwhelmed with emotion, her father Aamir Abbas recounted the moment she asked to hold his hand so that she could pray like him.
"I had just finished praying when Momina came to me and said: 'Baba, give me your hand so I may pray like you as well'.
Abbas said that he never made her feel like "she was missing something", but after her bittersweet demand, he was determined to "to think hard and look for solutions."
Thanks to the Karachi-based startup BIONIKS, which provides orthotic and prosthetic services, Abbas was able to grant his daughter's wish. Momina is a huge fan of Elsa and asked for a blue prosthetic arm so she may emulate her role model.
Inspired by the remarkable achievement of BIONIKS when they fitted a multi bionic prosthetic arm to four-year-old Muhammad Sideeq , Momina's parents approached the firm in hopes of granting their daughter's wish. Momina's mother Saadia described how the story was extremely impactful for her.
"That story gave me hope and made me visit BIONIKS."
Momina is the youngest person to receive a prosthetic limb in Pakistan.
According to Karachi-based Agha Khan University Hospital, one in twenty Pakistani children are born with some kind of hand deformity.
World Health Organisation reports that approximately 30 million people need some form of prosthetic limb but fewer than 20 percent are able to afford them as they are very costly and heavy with limited or no movement.
Available procedures for children with limb deformities include; limb manipulation, skin grafting, attaching a splint to stretch a finger, repairing constrictions in muscles and limbs. Surgeries are also performed to try and remedy the circumstance.
Considering the exponential cost of prosthetic surgery, many Pakistani children are denied the chance of receiving the treatment they require.
Owais Quresihi, the co-founder of BIONIKS described the complexity of Momina's prosthetic arm design.
"It was far more difficult to integrate all the things in her case since she never had a hand, she had not experienced those senses in her mind that allow us to use our right hand."
Due to her young age, the design was tricky. The prosthetic arm is fitted with sensors that enable it to move, by just thinking about the movement. Communication was difficult at first. Qureshi recounts how when asked to close her fingers, Momina moved the entire prosthetic arm. Qureshi told reporters that the "girl is quite intelligent" and she quickly understood the team's instructions.
Throughout the design process, Momina had a very hands-on approach and would sit with designers and dictate what she wanted, 'I don't like this or that part. Can you make the shade of blue a little light? How about adding diamonds or crystals to the arm?'"
Attached to her new arm, Momina asked her mother not to remove it, even when she was sleeping. When her mother did remove it, the next morning Momina anxiously searched the room for her arm. " She looked impatiently for the arm but was happy when I brought it back."
Initially, her parents wanted her to get a skin-colored prosthetic arm, but ultimately decided to let her customize it herself.
"She is happy with the color," her mother said. "Sometimes she even makes fun of our ordinary arms and says she has a more beautiful one! We want her to grow with it."
The article originally appeared in Arab News.
COMMENTS
Comments are moderated and generally will be posted if they are on-topic and not abusive.
For more information, please see our Comments FAQ