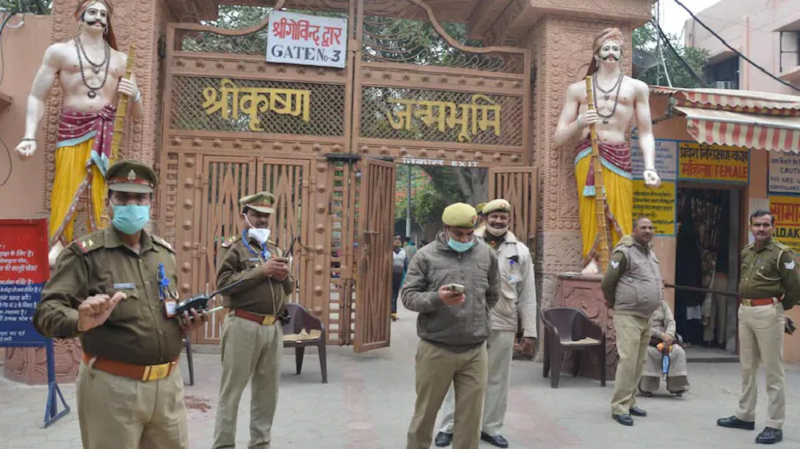 ---
Security has been tightened in India's Mathura city on the 29th anniversary of the demolition of historic Babri Masjid by Hindu hardliners.
Ahead of the demolition anniversary of 16th-century mosque, a Hindu right wing group announced that it will install a Krishna idol at the Shahi Eidgah Mosque in Mathura, Uttar Pradesh.
BBC Urdu while quoting local media reported that Hindu hardliners organised a rally on Monday to mark the anniversary of Babri Masjid demolition. It said the Hindu group also announced installing the Krishna idol at the deity's "actual birthplace", which they claimed is in the mosque.
The report further said that amid tight security, some people chanted slogans and made provocative statements in front of the temple, which is located near the mosque.
Also read: Construction of alternative Babri Mosque awaiting clearance in India
Meanwhile, Pakistan on Monday called upon the Indian government to take immediate steps to halt the illegal construction of a temple at the place of Babri Masjid, reconstruct the historic mosque at its original site and ensure the safety and protection of mosques and Islamic holy sites in India.
The Foreign Office in a statement said today marked another year since the tragic demolition of the historic Babri Masjid by BJP-RSS zealots.
This day was a stark reminder of the hysteria and hatred exhibited in India against Muslims and their heritage 29 years ago with state complicity.
The cruelty and frenzy with which the centuries-old mosque in Ayodhya was desecrated and demolished belied all tenets of international norms and constituted grave violation of religious rights of the minorities.
The 16th-century mosque in India's northern state of Uttar Pradesh was demolished in 1992 by Hindu hardliners, who claimed the site was the birthplace of Lord Ram.
In 2019, the decades-long dispute between the Hindu and Muslim communities in the country was settled after the Supreme Court ruled in favour of a temple at the site.
The court ordered the allotment of 5 acres of land to the government-run Sunni Central Waqf Board to build a new mosque in the northern state of Ayodhya.
COMMENTS (1)
Comments are moderated and generally will be posted if they are on-topic and not abusive.
For more information, please see our Comments FAQ