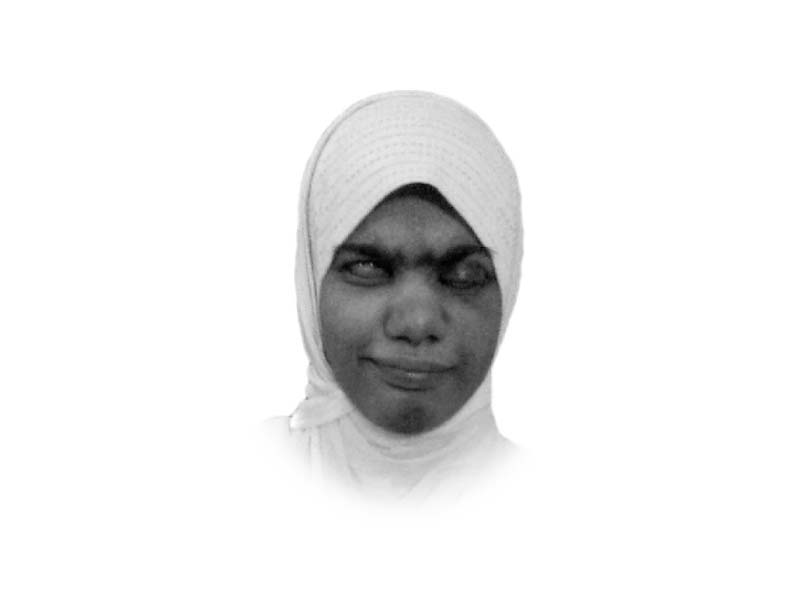 ---
"Two roads diverged in a wood, and I—
I took the one less traveled by,
And that has made all the difference"
As December draws nearer, my ears begin to ring with the general notions like 'respect or humility for disabled persons are alien concepts for Pakistani society', 'even in the 21st century, disability is regarded as a curse and not recognised as a physiological deficiency', 'Pakistan has no future for people with disabilities', etc. Whereas, the specific exhortations include 'developed world has to offer you a congenial environment to refine your personality', 'guarantee a more respectful and self-reliant lifestyle', 'abundance of auspicious career prospects', etc.
I certainly am not in disagreement with all these pragmatic hypotheses, but not to the extent of negating the scope of a productive life or a hopeful future for differently abled persons within Pakistan. The opulent excursion of western world can never snatch away from me the thrill of trekking the rocky soil of my own homeland.
Well, coming to my personal odyssey, my first significant challenge was to travel across the academic trail triumphantly. Admittedly, the moment I stepped on to the track, I had realised that this road has not been prepared to cater to my specific traveling needs. There were a very few companions who were willing to assist me, and those too had very little to offer. However, I was certainly not in the mood to back off and give in. My initial despondency was in the form of the mirage of literature that seemed too distant and inaccessible. But my eagerness of getting my hands to it persuaded me to assemble the scattered pebbles from beneath my feet in order to carve out a distinct trail to satisfy my literary cravings. Though the standard was well below par, the learning experiences I gained in reaching my desired mark was such not to have been found in any scholarly publication of the world. Next was the task of conquering the gigantic tower brightened with alluring shades of knowledge. The intimidating voices above were loud enough to avert my attempts, but I quietly kept on crafting a compatible ladder with aid of determination and persistence. How much tremulous or crooked might it be, this ascending journey brewed in me enormous sense of accomplishment that I would not have been able to grab from the soothing ambience of any well-equipped library.
Mindful of the adversities, yet enthused by the preceding victorious campaign, I embarked upon the professional journey in the most vital phase of my life. On this trek, the foremost task was to convince fellow pedestrians to make room for me to walk alongside and later to take a novel sidetrack to walk with ease and pride. Crossing the bridge of a flourishing career without the support of balustrades was a risky venture but thanks to my zealous attitude and the kind hands extending their support, somehow I was able to surpass yet another obstacle. Nevertheless, from the practical standpoint, I had to scale the track of livelihood in order to consolidate my mentioned feats. Midway, I realised that my persistence has brought me to the juncture where I am able to sketch up my own journey and structure the trail accordingly and seek valuable assistance as well. It is just that I will not have to lose the momentum I have built over the passage of time.
Precisely, my academic and professional careers have been dependent upon limited resources, lack of requisite facilities and desensitised behaviours — from untrained teachers, to deficient learning equipment, and from minimal career choices to non-compatible work environment. Despite these hardships, I opted to fight for creating my own space and amicable environment for myself. I deliberately chose to discover oasis in barren deserts than raising palatial walls. I value traversing through unchartered territories and leaving my footsteps for followers to discover new avenues rather than walking on an already paved road for me. I am convinced that all my mentioned efforts have not been in vein as by undertaking this adventurous journey, I have at least managed to unlatch the gate for future travelers indecisive as to what road to step on. After all, true satisfaction lies in enlightening path for others than chasing after your own dreams.
My voyage has not ceased as yet, and I am optimistic that I will have even better accounts to share by the close of my epic odyssey.
Published in The Express Tribune, December 1st, 2021.
Like Opinion & Editorial on Facebook, follow @ETOpEd on Twitter to receive all updates on all our daily pieces.
COMMENTS
Comments are moderated and generally will be posted if they are on-topic and not abusive.
For more information, please see our Comments FAQ