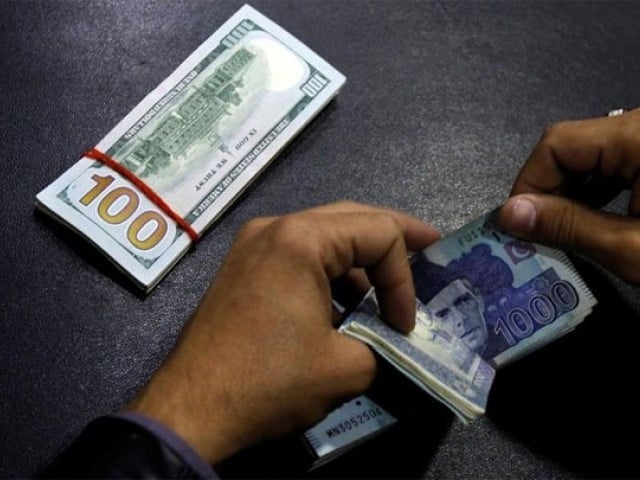 ---
KARACHI:
The slide of the rupee continued on Monday as the currency dipped to a fresh all-time low at Rs176.2 against the US dollar in the inter-bank market on the back of expanding current account deficit and swelling imports.
According to the State Bank of Pakistan (SBP), the rupee had closed at Rs175.46 on Friday.
A report of Arif Habib Limited stated that the rupee fell 0.42% day-on-day while it had been down 13.58% since hitting the high of Rs152.28 on May 14, 2021.
In addition, according to the report, the rupee has depreciated 10.59% since the beginning of current fiscal year on July 1.
Speaking to The Express Tribune, Pak-Kuwait Investment Company Head of Research Samiullah Tariq stated that the prime reason behind the currency's decline was the current account deficit.
"Revenues of the country are less than its expenditures and this is building pressure on the currency and impacting the rupee-dollar parity," he said.
On the other hand, Ismail Iqbal Securities Head of Research Fahad Rauf stated that the latest drop in the rupee's value stemmed from the volatility in foreign exchange market, which had been persisting for the past few sessions.
Read Rupee drops to historic low
The research head pointed out that the International Monetary Fund (IMF) had shifted its board meeting from December to January, where approval of a fresh loan tranche for Pakistan would be discussed.
"Therefore, volatility will persist in the currency market at least until the end of 2021," he predicted. "Although the State Bank of Pakistan has signed a deposit agreement with the Saudi Development Fund, the market is taking cue from developments on the IMF loan tranche, hence $3 billion deposit by Riyadh may not help the rupee much."
On the flip side, Arif Habib Limited Head of Research Tahir Abbas voiced hope that the deal with Saudi Arabia would reverse the rupee's slide on Tuesday and trigger a recovery.
Published in The Express Tribune, November 30th, 2021.
Like Business on Facebook, follow @TribuneBiz on Twitter to stay informed and join in the conversation.
COMMENTS
Comments are moderated and generally will be posted if they are on-topic and not abusive.
For more information, please see our Comments FAQ