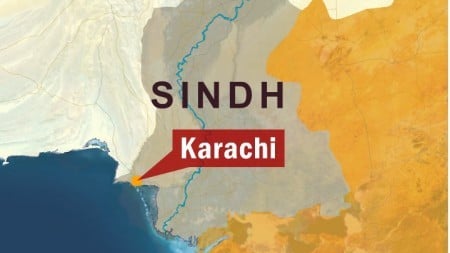 ---
KARACHI: After weeks of respite in Lyari, a man was shot dead in what police termed a retaliatory attack.

Jumma Baloch, alias Jumma Denter, was killed in firing by armed men near Ath Chowk in Lyari. The body was taken to Civil hospital and later handed over to the victim's family.

Police have filed a case against two unidentified persons.

Talking to The Express Tribune, a duty officer at Kalakot Police Station said that the attackers were part of Rehman Baloch, alias Rehman Dakait, group and had opened fire on Jumma while he was sitting at his shop.

According to the official, Jumma had killed one of the men in Rehman Dakait's gang and had also set his house on fire. He had been arrested by the police earlier but was released from jail in 2008.

JI activist succumbs to injures

Meanwhile, JI's Syed Mobinul Haq, 35, shot by four to five people riding on two motorbikes on Tuesday night at around 11 pm in al Falah, succumbed to his injuries on Wednesday at Jinnah hospital. Three people, including the hotel owners, sustained bullet injuries in the incident and were rushed to Jinnah hospital.

Officials in Jinnah Hospital said that the deceased had sustained six bullets in different parts of his body. The injured also included Kamran, who is also a JI activist.

Talking to The Express Tribune, SHO al Falah said that Mobin was allegedly involved in the murder of Zafar Mehdi, principal of Jamia Milia College. He and four other activists of Islami Jamiat Talba had remained in jail for about eight years. He had been released some time ago.

The situation remained tense in Surjani town, Qasba Colony in Orangi, al Falah and Juma Goth, Korangi. A heavy contingent of police and Rangers were deployed there.

Mobin's body was taken to the Karachi Press Club, where leaders of the Jamaat-e-Islami offered his funeral prayers. Mohammed Hussain Mehnati led the prayers in which a large number of people participated. Later his burial took place in Jamia Milia Graveyard. Mobin had been running his own carpet business in the area.

HRCP report findings

The new year has not bode well for Karachi. According to a Human Rights Commission of Pakistan (HRCP) report, more than 200 people have been killed in the first six months of 2010. Victims include activists of the Muttahida Qaumi Movement (MQM), the Awami National Party (ANP), the Pakistan People's Party (PPP) and other political parties. Moreover, several people, including doctors, were also killed in sectarian violence.

Law-enforcement agencies have been continuously harangued for their failure in curbing the violence in the city. All measures taken so far, including a ban on pillion riding and greater powers for Rangers, have proved to be in vain.

According to the HRCP, 220 people were murdered between January and June this year. Among these, 83 belonged to political, religious and regional parties. Muhajir Qaumi Movement-Haqiqi (MQM-H) lost 32 of its workers in these killings while 18 MQM workers, 12 ANP activists and eight from the PPP were also killed. Meanwhile 10 people died in sectarian violence.

The report states that 24,772 arrests were made by the police on charges of pillion riding in three zones of the city. The statistics are from January 1, 2010 to June 15, 2010. According to officials, 12,327 of the arrests were made in (west zone) Gulberg Town, Liaquatabad Town, Site Town, Baldia Town, North Nazimabad Town, Orangi Town and North Karachi Town while 6,105 riders were arrested from (east zone) Gulshan-e-Iqbal Town, Shah Faisal Town, Bin Qasim Town, Landhi Town, Korangi Town and Gadap Town. Another 6,340 were arrested from (south zone) Saddar Town, Jamshed Town, Lyari Town, Keamari and Clifton.

Published in The Express Tribune, June 24th, 2010.
COMMENTS
Comments are moderated and generally will be posted if they are on-topic and not abusive.
For more information, please see our Comments FAQ