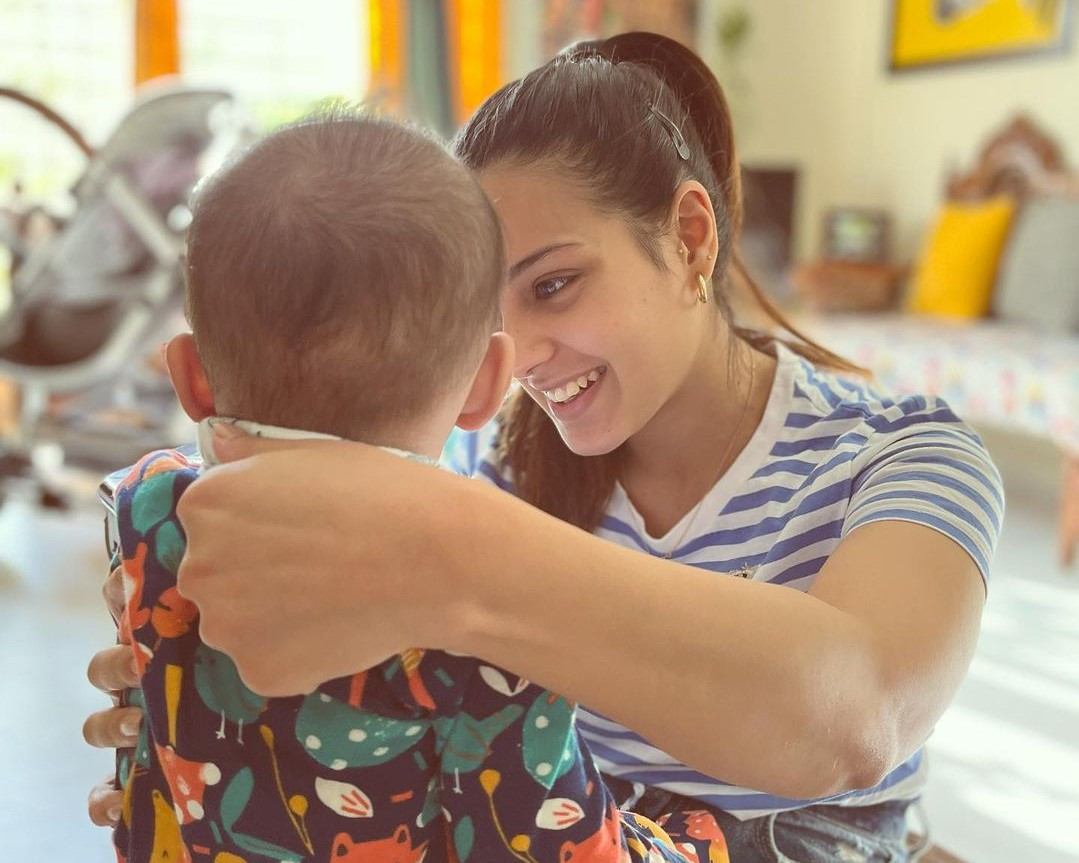 ---
Actor Iqra Aziz went missing from the screen when she and Yasir Hussain welcomed their baby boy, Kabir Hussain earlier this year. Their Instagram feeds suggest they're enjoying being new parents and the responsibilities that come with it. While motherhood looks great on the Suno Chanda starlet, social media cannot tell it all and Iqra recently made a vlog to document a not-so-glamorous day in the life of a new mom.

For starters, baby Kabir is an early riser. Iqra's day literally begins at the crack of dawn when Kabir gets in a playful mood and occupies his mom's sleeping time. After the playing saga with Kabir, she puts him to sleep, greets her dog, Teja, and hops back into bed. However, not for long, because motherhood never stops calling. After waking up twice, she sleepily reassures her viewers that while motherhood is hard, you get used to the inconsistent sleeping pattern soon enough.

After bidding goodbye to her husband, and while the baby is still asleep, she takes out her to-do list and ticks off all the boxes. However, it's not that smooth all the time. The actor reminds her viewers to not hesitate to ask for help, both physical and emotional, when things get overwhelming, and she has no shame in asking for help during this new experience of hers. Her mother and sister are always by her side to support and cheer her up.

During the daily tasks, the actor got emotional alluding to a feeling of chaos when everything crashes down and one needs to find their way up. "Sometimes things get way too difficult, it's tiring and upsetting and this is motherhood. There are emotions and lots of other things but it's most certainly not easy," said Iqra with tears in her eyes, who then reminded herself that she will be "alright in a short while."

Post-partum depression is real and does not necessarily show itself in extreme stages, and acknowledging it will only normalise what a mother goes through for everyone to understand and be more empathetic. The Khuda Aur Mohabbat actor sits to fuel herself with some nutritious food while Kabir rests taking a nap. "Kudos to my sister-in-law and my in-laws in general for introducing me to this filling item called harira and it's very good for new moms," she remarked.

The actor then focused on how she always takes out 'some guilt-free me time' watching a show or a movie or snacking on junk food. Her vlog showcases all her tasks throughout the day with constant reminders to acknowledge the struggle and focus on yourself too.

For all new moms, if anything, the Ranjha Ranjha Kardi actor's vlog is proof that you are not alone. Hang in there!

Have something to add to the story? Share it in the comments below.

COMMENTS
Comments are moderated and generally will be posted if they are on-topic and not abusive.
For more information, please see our Comments FAQ