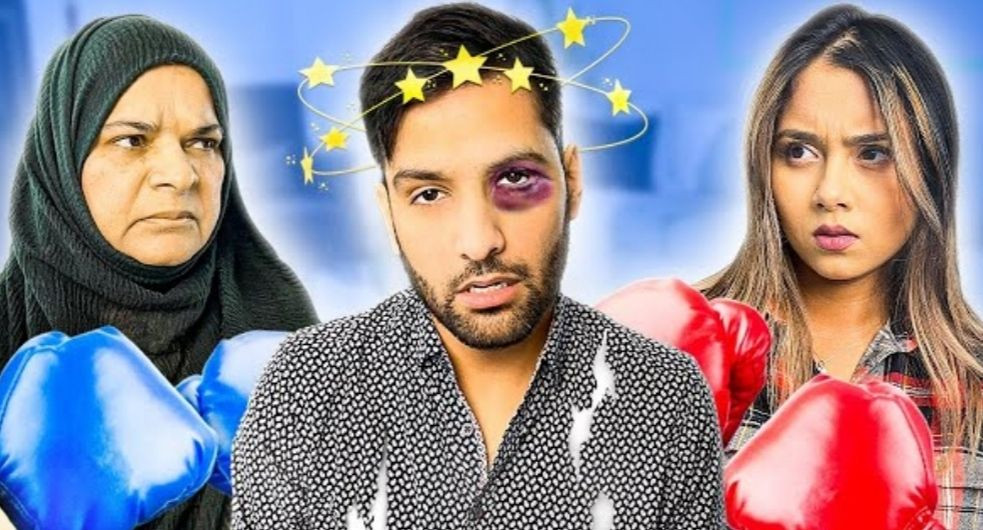 ---
Zaid Ali T is arguably one of the most-watched vloggers in the Pakistani community at home and abroad, and while the YouTuber's reach has grown massively over the past few years, his content continues to be stale. Known to repeatedly regurgitate the same old 'comedy', involving a dupatta on the head and a skewed take on the affairs of women, Zaid's brand has seemingly extended, and not in a good way, to making the actual women in his life, particularly his wife, the punchline.
In a recent vlog, Zaid sat down with his mother and his wife, Yumnah Ali, with whom he tied the knot in 2017 and welcomed a baby boy earlier this year, to ask them "controversial" questions about their relationship with and opinions on each other. Highlighting the age gap between the two, with Yumnah being 30 and Zaid being 26 (allegedly), the vlogger asked his mother whether she would have let him marry his now-wife had she known the age gap beforehand. His mother replies in the negative, providing Zaid with his coveted "controversy" and his wife with what appears as some level of embarrassment, and not much else.

He starts off his video by saying, "This will probably be the most controversial video you have ever seen. We'll find the solution for climate change and global poverty, the Android vs Apple debate, but we won't find the solution for the issues that brew between a saas and bahu."
Getting to the first question, he asks his mother, "If you had known that Yumnah is four years older than me, would you have allowed this marriage?" To which his mother replies, "Morally speaking, there's nothing wrong with marrying someone older than you. You should be allowed to marry older women. But, personally, I wanted a younger daughter-in-law." The vlogger then adds dramatic Indian soap music as soon as Yumnah speaks up in her defense.
In a separate question, Zaid asks his mother what her views are on his wife not taking the hijab, to which she responds by asking to skip the question. The thumbnail depicts Yumnah and his mother is opposite sides, clad in boxing gloves, with the vlogger in the middle with a black eye and stars circling his head. Titled Saas Aur Bahu Ki Kahani, Zaid's vlog reeks of desperation for views from an audience obsessed with the age-old stereotypical battle between women in domestic settings.
To Zaid's credit, he knows his audience quite well. However, what he chooses to do with that information may not necessarily be bound by the responsibility to create ethical content that comes with the platform. Seemingly using his wife's dark skin and older age, both of which are negatively received in Pakistani society, as a way to get views and traction on social media, Zaid's vlogs are symptomatic of a deeper problem in the YouTube and comedy community at large.
With Ali Gul Pir waiting like a vulture for a woman to fumble during an interview so that he can break out the dresses and dupattas for his next viral social media clip, to Zaid's use of his wife and mother for clout, it may be time for vloggers to step up their game and step away from their embarrassingly derivative content made at the expense of the women in their lives and beyond.
COMMENTS
Comments are moderated and generally will be posted if they are on-topic and not abusive.
For more information, please see our Comments FAQ