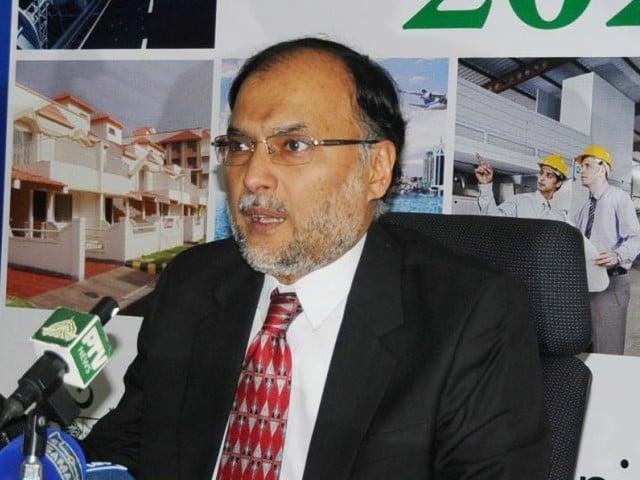 ---
LAHORE:
The State Bank report is a telltale of this government's inability and ineptness, Pakistan Muslim League-Nawaz (PML-N) General Secretary Ahsan Iqbal said in a press conference that was held in Lahore.
He said that it revealed that Pakistan's debt and liabilities for the very first time have surpassed Rs50 trillion. He added that the incompetence of the incumbent government has put the national defence at grave risk. "The time has come for this government to go," he stressed.
He condemned giving the State Bank blanket immunity, claiming the said move was aimed at making its governor a viceroy. He said the year Sharif family bought 'those' four flats (in London) they had paid Rs1 billion rupees in taxes and one who can pay Rs1 billion in tax surely can afford to buy four flats.
Iqbal maintained that the Pakistan Tehreek-e-Insaaf (PTI) in its tenure had added Rs20.7 trillion to the countries debt, which was a 70 per cent increase from the previous two governments.
"Prime Minister Imran Khan, during PML-N's tenure, would remind people of how much debt they were under. Today there is no mention of it," he stated. He added that the PTI government, in its little-over- three-years tenure has taken the per capita debt from Rs144,000 to Rs235,000 thereby adding Rs91,000 debt on every single person of the country.
Iqbal further maintained that PTI added Rs28,000 to per capita debt annually. He said that PML-N took on Rs10 trillion in loans and added 11,000 MW to the national grid, 2,000 kilometres in motorways and infrastructure development projects worth trillions under the China-Pakistan Economic Corridor. What is the outcome of the Rs16,000 billion that PTI had taken, he questioned.
Read EVMs to pave way for 'tampering' results
The senior member said that it was a lie that PTI was paying back previous governments' debts, it was in fact paying the price of its own incompetence. Who had told them to double the interest rates and allow money to devalue, which contributed to the debt, he added.
Iqbal chided the government for giving its ministers blanket immunity to save them from future inquiries on hot money. He said the PTI government attacked hot money on 13+ per cent interest rates, claiming that people took loans from foreign banks on a 1% interest rate and brought them into our banks.
He further maintained that the foreign digital account was the same where a 7% interest rate was being given. He stated that today our economy has become so comprised that anyone who can give this government four cents can ask for anything.
Iqbal also said that the IMF condition our government has acceded to is nothing short of a financial murder of the people. He added that people would be further burdened under Rs400 billion worth of taxes via the mini-budget.
He stated that Rs200 billion allocated for the development budget would be slashed further slowing our growth down. Under those conditions, the government has agreed to increase Rs 20 in fuel after brief intervals.
Iqbal maintained that keeping in view the burden the recent increase in fuel prices had brought on the people, a further increase of Rs20 would have devastating consequences. This would bring a tsunami of inflation, a tsunami the likes of which would not have been seen before, he added.
COMMENTS
Comments are moderated and generally will be posted if they are on-topic and not abusive.
For more information, please see our Comments FAQ