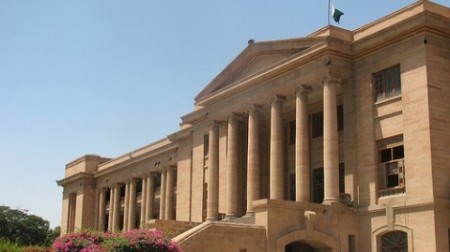 ---
The Karachi Electric Supply Company (KESC) on Wednesday pleaded to the Sindh High Court (SHC) to remove the interim stay slapped by the division bench on the levying of Fuel Adjustment Charges by the power utility, and looked to pass the blame on to the country's power regulator, Nepra.

The division bench was hearing four identical petitions against the KESC and Nepra that challenged the privatisation of the utility and the proposed increase in the tariff.

Replying to the court's queries on petitions against the utility, the KESC said that the stay, issued by the court on the last hearing on June 17, was causing financial losses to the company.

In its defence, the KESC's counsel Kumail Sherazi contended that they only receive 10 per cent of their total energy supply from Wapda and that fuel is used in every method of energy generation.

After the initial hearing, the divisional bench decided to hold the hearing in the judge's chamber.

The KESC submitted new documents and statistics and looked to pass the blame on to National Electric Power Regulatory Authority (Nepra), arguing that the power ulitilty cannot increase tariffs itself and that the decision was approved by Nepra. "Hence, we cannot be held responsible," submitted KESC.

The utility suggested that the Sindh government should ensure the provision of uninterrupted gas supply so that resources are not spent in buying furnace oil. The finance ministry should also be asked to continue providing the subsidy to KESC.

In reply, advocate Javed Siddiqui, representing one of the four petitioners, the Law Foundation, stated that he needed more time to study the documents and statistics submitted by KESC and Nepra.

Despite the KESC's pleas, the two-member bench, comprising Chief Justice Sarmad Jalal Osmany and Justice Tufail H Ebrahim, adjourned the hearing for one day (to June 24), and kept in place the stay on the KESC's tariff increase.

Nepra's counsel Anwar Kamal and KESC director tariffs Abdur Rauf also appeared in court.

Published in The Express Tribune, June 24th, 2010.
COMMENTS (2)
Comments are moderated and generally will be posted if they are on-topic and not abusive.
For more information, please see our Comments FAQ