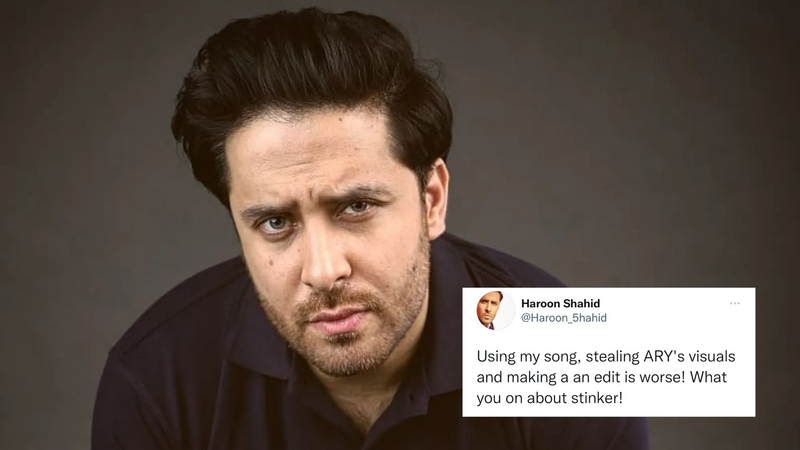 ---
In this highly digitalised world, ownership often gets lost with frequent shares and retweets. However, giving credit where due is always the rule of thumb to prevent creative theft. Singer Haroon Shahid apparently was not aware of this rule and had to learn it the hard way.
Fan-made content, usually created using bits from here and there, obsessing over a song or a character, became a great source of entertainment lately and let's be honest, often does marketing wonders too.
These content creators are fans hoping their edits and pictures get recognition by the celebrities and want their content to be shared but never without credit.
Recently, a similar incident happened when the Verna actor tweeted a fan-made edit using his song 'Mitti' from the telefilm Aik Hai Nigar that was allegedly forwarded to him via WhatsApp. Haroon was called out for not giving due credits to the creator. The fan who created a video and hoped to get credits called him out for "stealing someone's edit and posting it as your own."
Now, a simple acknowledgement that he did not know who made the edit initially along with an apology could've rectified this honest mistake, but instead, the Tum Kaho crooner took a jibe at the editor commenting, "using my song, stealing ARY's visuals and making an edit is worse! What you on about stinker."
Using my song, stealing ARY's visuals and making a an edit is worse! What you on about stinker!

— Haroon Shahid (@Haroon_5hahid) November 19, 2021
The video editor's friends rushed to her defence and called Haroon out on his "disrespectful" tone and attitude.
After the ugly little feud garnered attention and got picked up by media, the actor went on to clarify his side of the story in the comment section of Diva Magazine's post about the situation.
"Hello everyone. I'm sure you haven't seen me being rude to people or anything but in this case, this lady or guy was clearly out of line when he/she pointed out that I shared their edit." We wouldn't call asking for credit going out of line, though.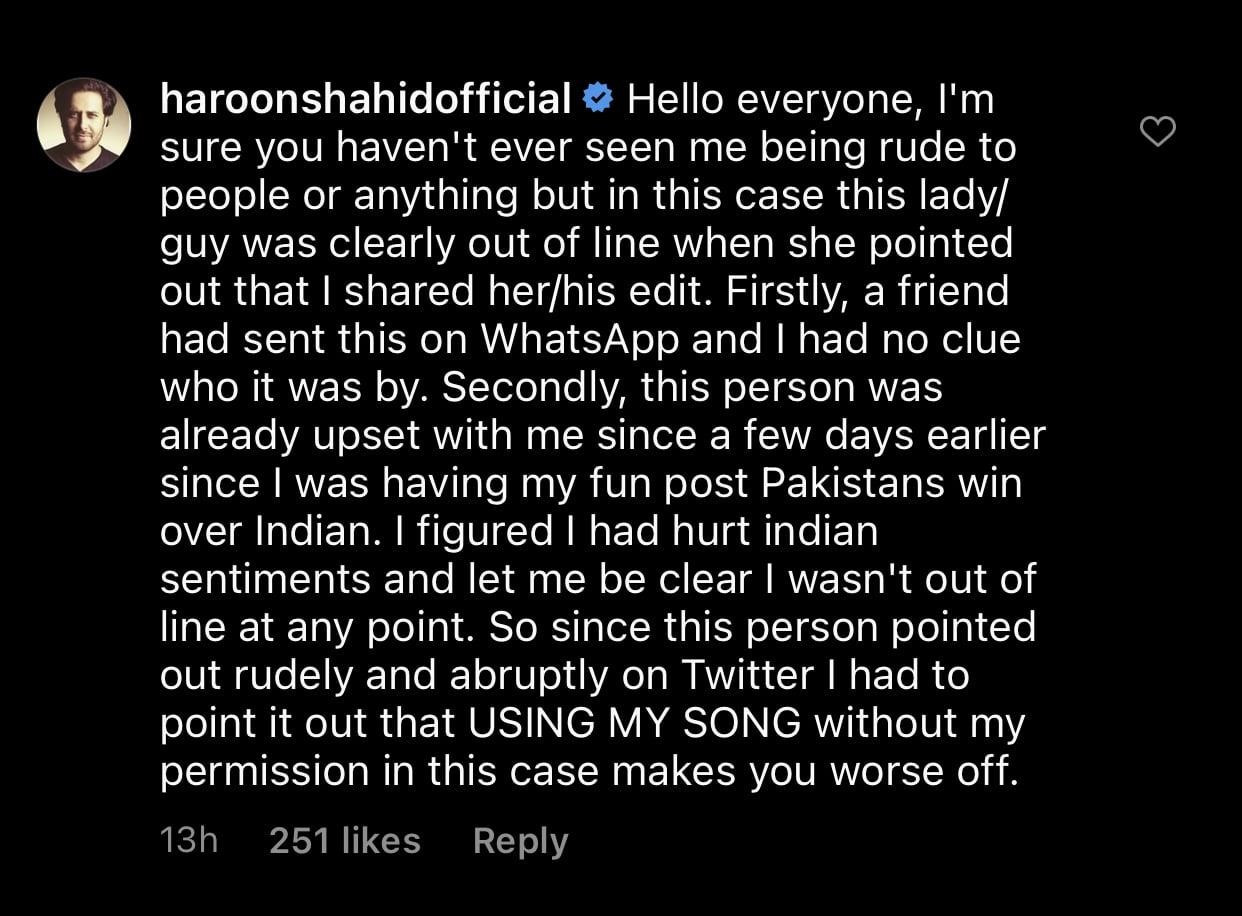 He further said, "Firstly, a friend had sent this on WhatsApp and I had no clue who it was by. So since this person pointed out rudely and abruptly on Twitter I had to point it out that USING MY SONG without my permission, in this case, makes you worse."
Yes, it was an honest mistake and Haroon was not aware of the editor and shared the video for fun. However, it still qualifies as creative theft since fan edits take time too and him not acknowledging his mistake is unacceptable. He went on making the feud a political issue saying that the fan already had beef with him. While that may be the case, it still does not justify not crediting the artist.
The entitlement Haroon spoke with did not just cost him one fan but he might have upset a lot of people. Many called him out and asked him to credit the creator of the clip to which the star once again responded by calling the commenters "ignorant" and said, "The song belongs to me, I have signed a contract that makes it mine."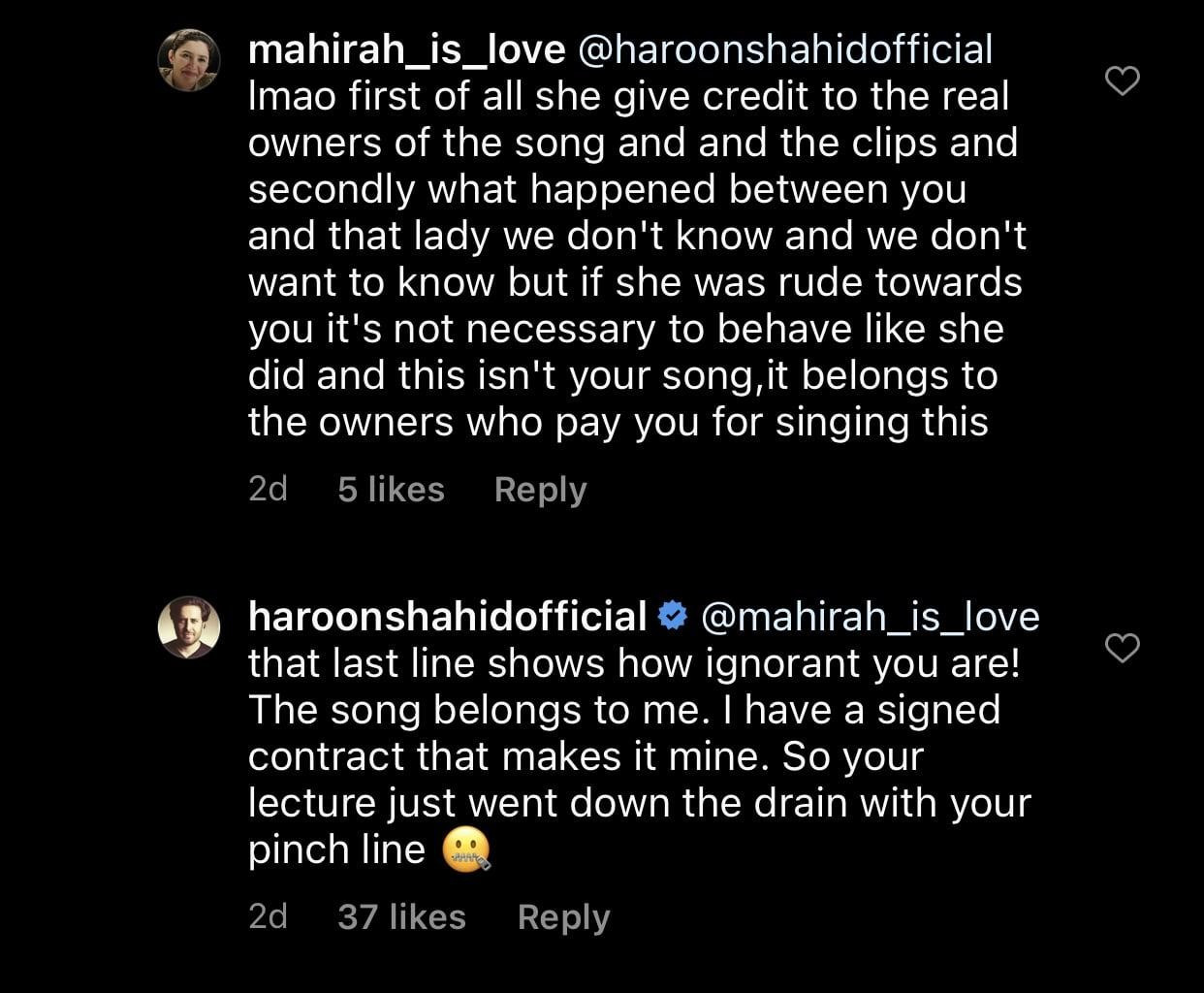 The feud turned much more ugly with each comment and Haroon did not step down from his original stance despite reminders that it's okay to acknowledge fan edits like everyone else in the industry does. "Sorry, I forgot you function on being a troll and no it's not okay to accuse people of stealing," he retorted.
Haroon also bragged on how his fame is the reason why he was even worthy of being in news and asked fans to "work hard to be relevant". Celebrities need to realise that fans are why they reach heights in this industry and starting a feud over a harmless fan edit will not take you places. Haroon passed on a marketing opportunity to promote his songs and shows organically by upsetting his fans.

Have something to add to the story? Share it in the comments below.
COMMENTS
Comments are moderated and generally will be posted if they are on-topic and not abusive.
For more information, please see our Comments FAQ