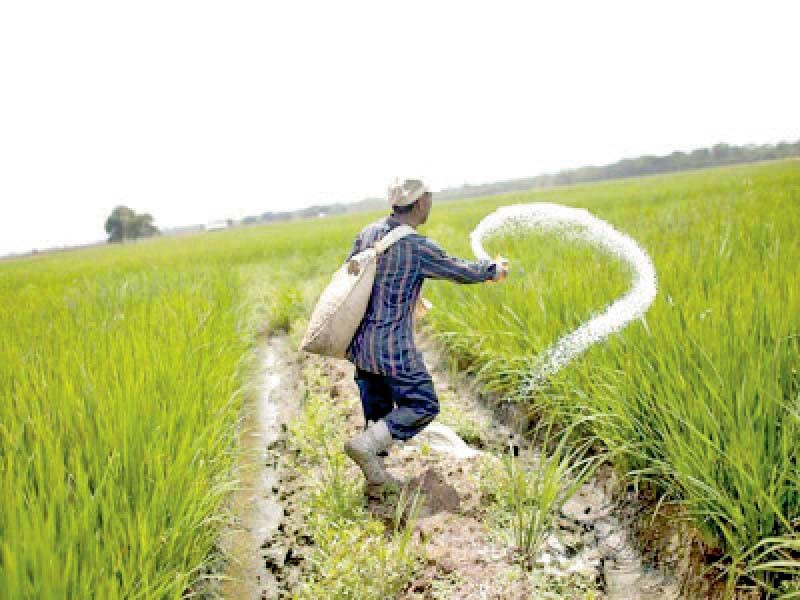 ---
KARACHI:
Expressing concern over the hoarding of fertiliser, Federal Minister for Industries and Production Makhdoom Khusro Bakhtiar has asked provincial governments to take strict action against such exploiters and those engaged in black marketing of the commodity.
Chairing a high-level meeting on Monday to discuss the issues related to the supply of fertiliser, the minister said that the government was closely monitoring the distribution of fertiliser to ensure its availability to farmers at affordable prices during the Rabi sowing season.
The meeting was informed that some dealers had hoarded around 0.45 million tonnes of urea and were pocketing an extra profit of Rs50 per bag of the commodity, according to a statement.
It was told that a fresh consignment of 100,000 tonnes of urea would be arriving in the first week of December owing to the current stock level of the commodity. On the occasion, the minister formed a task force to monitor the situation pertaining to supply, marketing and regional diversion plan to fill the gap between demand and supply of urea across the country.
The minister underlined that the government would not tolerate market exploitation by fertiliser dealers, as the government was taking all measures including uninterrupted supply of gas to fertiliser plants for ensuring timely availability of urea to farmers at affordable prices.
He urged representatives of the fertiliser industry to blacklist such exploiters to smoothen the supply chain of urea in the country.
The meeting was attended by Minister for Energy Hammad Azhar, Minister for National Food Security and Research Syed Fakhar Imam and representatives of the fertiliser industry.
Talking to The Express Tribune, Sindh Abadgar Board (SAB) Senior Vice President Mahmood Nawaz Shah said that prices of fertiliser, especially di-ammonium phosphate (DAP), had risen exorbitantly. In February, the DAP price was at Rs5,000 per bag, which has now increased to Rs8,300, he said.
"Yet, it's not being made available by dealers and selling at Rs8,800 or Rs9,200 a bag in the market, based on different reasons," he revealed.
"Urea rate is Rs1,775 per bag, but dealers are selling at Rs2,000 to Rs2,200 a bag," he noted. He highlighted that according to his sources unavailability and black marketing of fertiliser had adversely impacted wheat cultivation – the largest grown crop in the country.
"Another fear is that even if wheat is cultivated, the growers may not use fertiliser as required, which may result in low yields," he added.
Referring to a research of the Food and Agriculture Organisation (FAO), he said that input prices had increased 25% globally varying from area to area, and with that output prices increased by 35%.
In Pakistan, however, the commodity prices have not increased by 35%, he lamented.
In Punjab, urea could be purchased at Rs2,000 or Rs2,050 a bag but the quantity was limited to 5-10 bags per farmer, Agriculture Republic Co-founder Aamer Hayat Bhandara told The Express Tribune. He said that the authorities raided warehouses of some hoarders but fined them between Rs30-50,000, which was a meagre amount for the "big guns at least".
Sindh Chamber of Agriculture President Miran Mohammed Shah had a different opinion, saying that fertiliser prices had gone exorbitantly high since last year.
"What hoarding?" he asked. "Just because the government cannot handle the prices, they very conveniently place the blame on hoarding," he added.
Fertiliser was available but at high prices, he said, adding that the fresh consignment of urea would bring prices down.
Published in The Express Tribune, November 23rd, 2021.
Like Business on Facebook, follow @TribuneBiz on Twitter to stay informed and join in the conversation.
COMMENTS (1)
Comments are moderated and generally will be posted if they are on-topic and not abusive.
For more information, please see our Comments FAQ