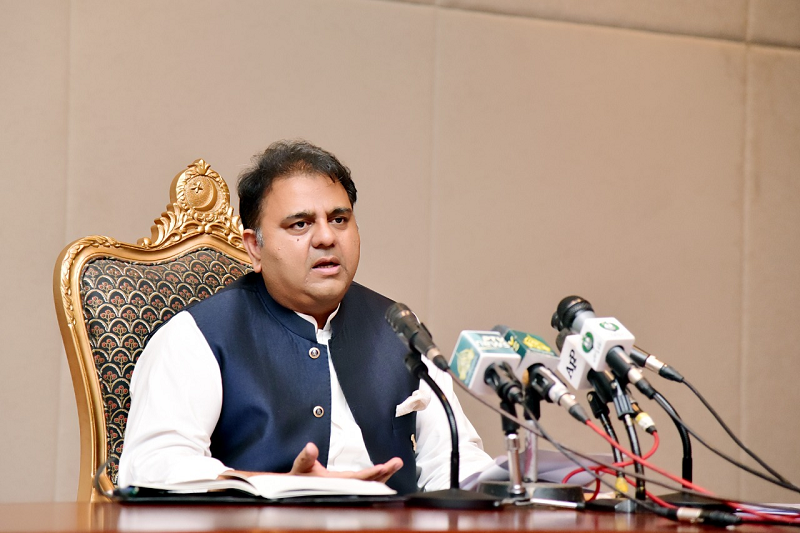 ---
RAWALPINDI:
Minister for Information Fawad Chaudhry has said that female students must not sit at home after completing their education and instead should contribute to making the fields green.
Addressing a gathering after inaugurating the week-long silver jubilee celebrations at the Pir Mehr Ali Shah Arid Agriculture University Rawalpindi, the minister said that admission of female students in agriculture subjects was very encouraging.
"Today, our daughters have also come to the field of agriculture. After completing their agriculture education, the students have to not sit at home but make the fields green with their experience," the minister said, adding that "the revolution has to be brought about by students and not by any politicians, mill owners or bureaucracy.
He said that students of a university in the United States painstakingly erected three trillion economics, students farmers tell us about modern technology, extremists are small-minded people and Pakistan's future was bright.
The federal minister said that when the coronavirus surfaced, we had nothing at our disposal. We used to order masks, kits and all medical items from abroad. Immediately after the coronavirus, we not only made all these goods ourselves but now we are also earning huge foreign exchange by exporting all these goods.
He said that IT, Facebook, WhatsApp are the revolution of the youth in the world. Students should not only read textbooks but also read good books on agriculture in the world and see also how Israel, China, India and the US have developed in agriculture.
Provincial Minister for Agriculture Hussain Jahanian Gardezi said that the use of drones was necessary for increasing yield per acre while emphasising the commercialisation of harvesting harmonic technology.
University Vice-Chancellor Dr Qamaruz Zaman said they have completed a big project related to the harvesting of hemp. He said that cheap thread and medicines will be prepared from commercial hemp.
He added that a mega project worth Rs5 billion has also been approved while they have hired the services of Pakistan Air Force and the SUPARCO for the latest technology.
The VC said the mega project will be launched in March next year with the support of both institutions, adding it will bring a huge revolution in the agricultural field.
Read 1.5m students to miss college this year
Dr Qamaruz Zaman said the university started with less than 300 students enrolled in one faculty 25 years ago and has now reached a total strength of over 12,000 students, 100-degree programmes, and 15,000 educators. He added that the alumni of the institution were over 100,000.
The VC said that they have started preparing smart Agri farms and moved towards commercialisation.
Food Security Minister Syed Fakhar Imam said that the progress of the agricultural field was extremely important.
A band comprising of university students played different tunes while the students of different faculties performed a march past to honour the guests. Dozens of balloons were left in the air on the arrival of the guests. The university has been decorated with colourful buntings, balloons and lights.
On Tuesday, there will be Sports Gala, Sufi Night, Scouting, Art and Craft Exhibition and Poster Painting Photography Calligraphy Competitions while Dukhtar-e-Pakistan special event drama competition, seminar, job fair and mushaira will be held on Wednesday.
An IT exhibition, speech competition, essay writing competition, Kalam-e-Iqbal night will be held on November 25 while a health walk followed by a seminar will be organised on November 26.
A Kisan Mela will be organised on the last of the celebrations on November 27. Farmers will be introduced to modern techniques and educated on modern technology, along with the exhibition of modern farming equipment.
All faculties of the varsity displayed prototypes of the latest technology prepared by them, including drones for farmers, while stalls displaying machinery to destroy herbs have also been set up.
Published in The Express Tribune, November 23rd, 2021.
COMMENTS
Comments are moderated and generally will be posted if they are on-topic and not abusive.
For more information, please see our Comments FAQ