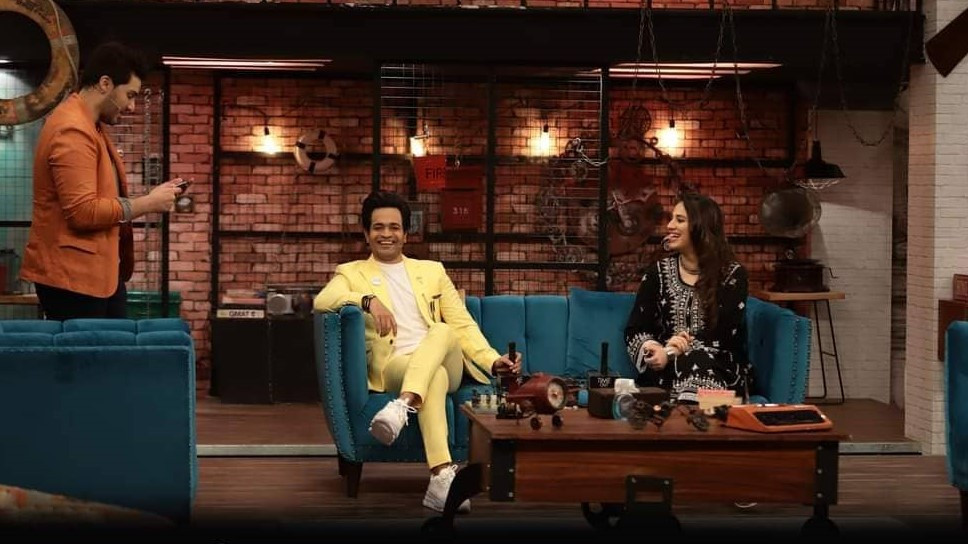 ---
Friends and actors, Maham Aamir and Naveed Raza made an appearance on Time Out with Ahsan Khan to shed light on their friendship, career trajectories, and the showbiz industry. The duo also spilled the beans on a celebrity feud that went viral earlier this year.
Since, Raza recently worked on a film with the host, and is close friends with Aamir and her family; there was natural chemistry in the air with their bluntness riding the flow. Needless to say, the episode was full of friendly banter, witty punch lines and laughter.
The Saaya actor comes from a family of actors with her husband Faizan Shaikh, mother-in-law Parveen Akber, sister in law, Rabya Kulsoom and cousins Hira Tareen and Zara Tareen belonging to the fraternity. Given the exposure to a glamorous star-studded life, she was asked if her lifestyle influenced her zeal for acting. Aamir said she acted in her first commercial when she was only nine months old, so there was no need for any kind of influence. "I always had a knack for acting and people around me made me long for it even more," she said.
When asked about her experience as a newcomer in the industry given the already established actors in the family, she said she never received support in terms of mandated referrals. "Unfortunately, it (nepotism) does happen in our industry, but that wasn't the case with me," the Shehnai actor said.
Raza has done projects on both television and films and has also starred amongst big names in projects such as Raasta and Khel Khel Mein. However, his experience with Sahir Lodhi's Raasta wasn't extraordinary. He shared his disappointment exaggerating that he "felt like the number of scenes recorded must be enough for three films but the final cut didn't even feature me in half of the film."
The Khel Khel Mein actor commented on how only certain producers are capable of doing justice to their films as actor-producers, others are entitled to ownership. "They often fail to do justice to their films as actors. Most of them assume it's their film, their money, their showreel and hence can do anything they desire." He also said, "Yasir Nawaz is the only producer and actor that gave equal chances to all his cast and did justice to his work in both roles," according to Raza.
Since Raza and Aamir are both relatively new in the industry, the duo shared details on how the industry stamps a certain identity on you if a role you perform gets noticed. "If you do sitcoms, you'll only get calls for sitcoms. Even if you've done serious roles for five years and do a comic role that gets popular, people forget your previous work. The industry forgets it, even producers who worked with you," Raza as Aamir shared a mutual concern.
Yes, they are both looking forward to their upcoming projects. Aamir wishes to do more versatile projects and said she thinks producers deem her as unapproachable post-marriage while she still wants to work, while Raza is shooting for a horror TV production.
Coming to celebrity debacles, Raza opened up about the Alizeh Shah and Yasir Nawaz debacle on sets of Mera Dil Mera Dushman. According to Raza, the Taana Bana starlet's disrespectful attitude and rudeness crossed many boundaries. "Yasir is a big name of the industry. He has proven himself and his talent and deserves respect based on his seniority in the field," said Raza explaining that she even asked the director to cut Nawaz's lines and refused to do certain scenes with him.
'He was drying his hair and she asked him to sit away from her,' he added. 'This is straight away crossing your lines and disrespecting someone. How can you treat such a senior actor like this? At this point, you should be learning from him,' he further said. The actor felt that Alizeh should've been thankful that Nawaz agreed to share a screen with her. 'If a big actor is sharing the screen with you, then you should consider it a blessing,' he concluded.
Raza, in the same interview also revealed that this wasn't a one-time thing. Shah has had similar issues with actor Humayun Saeed too. He shared that Saeed was producing a drama and he requested Shah to cooperate. However, she was straightaway rude to him too.
Earlier this year, on the same show hosted by Ahsan, Nida Yasir also commented that the Ehd-e-Wafa actor was one of the hardest Nawaz has ever worked with. Raza gave us a full circle on the issue.
COMMENTS
Comments are moderated and generally will be posted if they are on-topic and not abusive.
For more information, please see our Comments FAQ