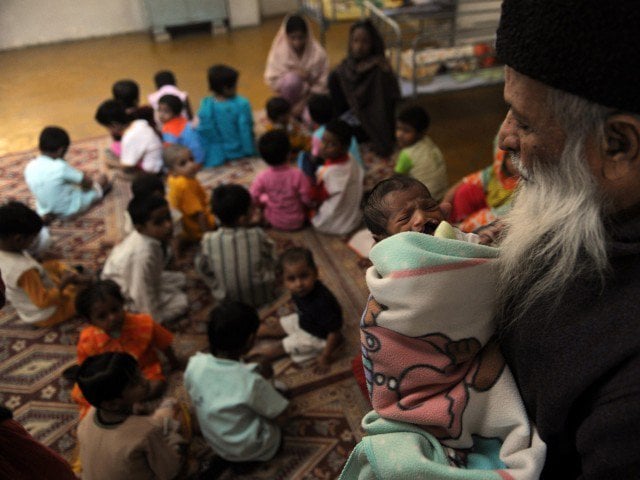 ---
ISLAMABAD/ KARACHI/ LAHORE:
The disenfranchisement of differently abled individuals extends to the country's private and public schools as well where their access to education is limited or their needs and requirements largely ignored.
Lack of access to wheelchair ramps and braille books, properly trained teachers to address students with conditions like dyslexia, and a missing school-based support system either due to insufficient funding or genuine disinterest actively deprives children with special needs from a right to education.
Haris Khan, a blind student who studies in grade 7, attends a government school for the blind in Peshawar. Haris, while talking to the Express Tribune expressed his disappointment at the lack of facilities for students like himself, "the government has not made it easy for us to get an education. They claim to provide facilities but in reality nothing exists."
A similar ordeal exists for blind students in Pakistan's most populated city as well. Qudsia Khan, principal of a private school for special needs children in Karachi, described the difficulties faced by the blind students as, "lack of facilities and unaffordability of expensive braille typewriters by the average student forces them to take writers in the examination room."
She informed that students had to pay the writers out of pocket and buying a Braille typewriter was not possible as it cost upwards of Rs 100,000.
In Pakistan's most populated province, Punjab, sources indicate that while schools have been set up for the visually impaired and deaf - they are missing basic facilities. Moreover the teachers are not trained properly and thus cannot fulfill the needs of differently abled children.Awais Alam, a blind teacher at a government school in Peshawar, while talking to the Express Tribune, lamented about the government failing to create an inclusive environment, "accessibility is the main challenge for my students.
Be it transport or schools, the government is insensitive towards our needs."Director Research for Sindh's Matriculation Board, Hoor Mazhar, concurred with Awais's views, stating, "Due to lack of patronage at the government level, there are many cases where the differently abled children are studying in schools which have no professional teachers for their needs."
Hoor informed that since the management of these schools did not know how to accommodate special needs children, the board received numerous complaints from concerned parents. "The educational institutions do not have a plan of action for their plight," she added.However, some provincial governments' representatives feel that enough is being done.
According to a spokesperson of the Punjab Special Education Department, institutions have been set up across Punjab for the visual and hearing impaired and mentally and physically challenged persons. "We allocated Rs 550 million and trained about 600 teachers in 2 years. The differently abled children are given monthly stipends and 51 buses have also been provided for their transport."
Similarly, Director Social Welfare Department K-P, Habib Afridi, while talking to the Express Tribune informed that a braille printing press costing Rs 4.3 million had been established in the province. "Soon compilation of material and publication of books for the visually impaired will be started," he said. He further informed that a Special Education Policy 2020 had been drafted and sent to the administrative department and under this education of differently abled children would be done as per international standards.
When asked when the policy would come into effect, Habib stated, "consultation with various departments is at final stages."Nasir Solangi, the Drawing and Disbursement Officer (DDO) for a school known as Government Special Education and Rehabilitation Complex, claimed that 70 schools dedicated to special needs children were operating in different parts of Karachi and Sindh.
However, when Nasir's school was asked if they had separate technology for each student in their school that would enable them to prepare their children for exams, the school responded in the negative, as per officials from the Sindh Matriculation Board.
Educationist Professor Dr Tanvir Qasim, who is based in Punjab, opined that by ignoring the needs of special needs children of the country we were sabotaging ourselves. "These kids are no less than others, and the government should give them equal importance by allocating a budget that reflects their needs and by providing facilities that can unlock their potential," he told the Express Tribune.
COMMENTS
Comments are moderated and generally will be posted if they are on-topic and not abusive.
For more information, please see our Comments FAQ