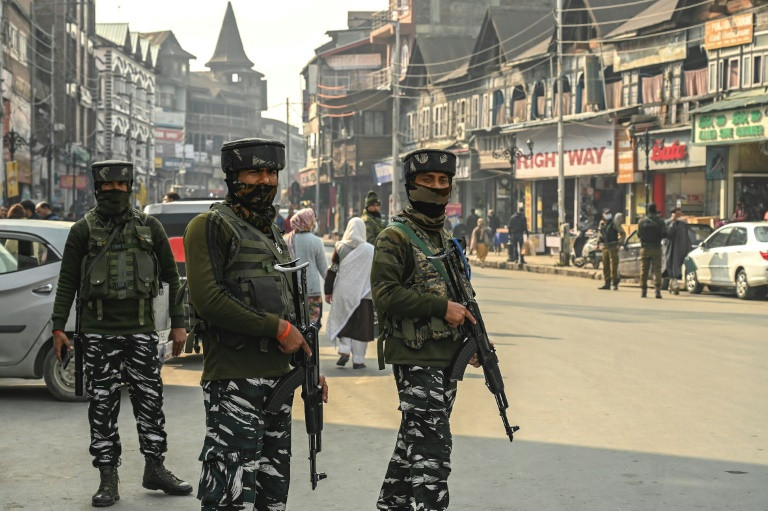 ---
Pakistan on Thursday strongly condemned the extra-judicial killing of five more Kashmiris by Indian occupation forces in Indian Illegally Occupied Jammu and Kashmir (IIOJK).
The Indian occupation forces have martyred at least 30 Kashmiris in 'fake encounters or so-called "cordon and search operations"' since 1 October, said a statement released by the Foreign Office (FO) spokesperson.
The statement added that the killing spree of innocent Kashmiris perpetrated by Indian forces continues with 'shameless impunity'.
It said that the killings further exposes the unspeakable violence being perpetrated by the "Hindutva" inspired extremist BJP-RSS combine that has turned IIOJK into an "inferno where no one, not even innocent civilians, professionals, women, children and elderly" are safe from the "state-terrorism" of the Indian forces.
The FO also condemned the "inhuman and callous" practice of Indian forces of not handing over the mortal remains of martyred Kashmiris to their families in many instances.
"Usurping the fundamental rights of Kashmiri families by denying them the right of proper burial of martyrs further exposes the current Indian government's moral bankruptcy," the spokesperson's office said.
Read Pakistan 'deeply concerned' over deployment troops in IIOJK
It maintained that the killings of Kashmiri civilians by Indian forces also vindicates the irrefutable facts provided by Pakistan recently in a comprehensive dossier exposing human rights violations and war crimes committed by Indian occupation forces in IIOJK.
The statement said that Pakistan calls on the international community to take immediate notice of the Indian state-terrorism in IIOJK and hold India accountable for the egregious human rights violations of the innocent Kashmiri people.
"Pakistan also urges the international community to play its role for a just and peaceful resolution of the Jammu and Kashmir dispute in accordance with the relevant UNSC resolutions and wishes of the Kashmiri people for durable peace and stability in the region".
Earlier this week two men were martyred, and a pair of freedom were gunned down in "cold blood" by security forces in IIOJK, a relative of one of the dead said.
According to police, two freedom fighters were martyred the night before during a shootout inside a commercial centre in Srinagar. The building's owner Mohammad Altaf Bhat and tenant Mudasir Ahmed also died in the "crossfire" the police added.
On the other hand, New Delhi continues its militarisation of IIOJK, announcing plans to add some 5,500 troops to the massive security presence already in the region. Around 2,500 of these troops have already been deployed by last.
COMMENTS
Comments are moderated and generally will be posted if they are on-topic and not abusive.
For more information, please see our Comments FAQ