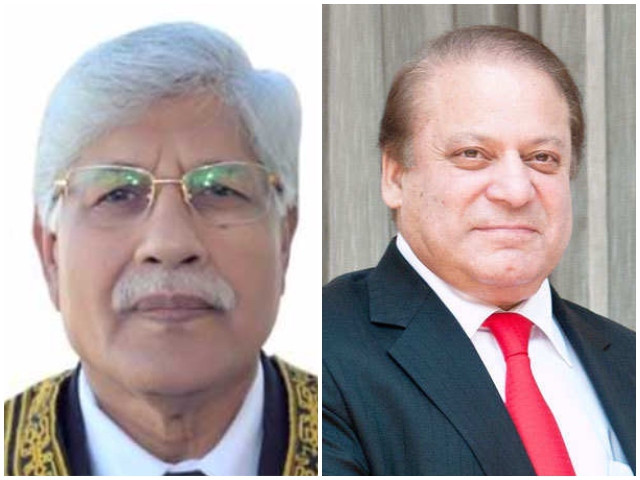 ---
Former chief judge of Gilgit-Baltistan Rana Mohammad Shamim, who has accused former chief justice of Pakistan Mian Saqib Nisar of judicial interference in the corruption references against PML-N leaders Nawaz Sharif and Maryam Nawaz, has had long-standing relations with the PML-N supremo and his party in the capacity of an officer-bearer as well as lawyer, it emerged on Tuesday.
According to Supreme Court advocate Ahmed Hassan Rana, the son as well as lawyer of the former GB top judge, his father has remained "in direct touch" with Nawaz and even met the PML-N supremo in England before the pandemic.
Speaking on a private news programme, Rana acknowledged that Justice Shamim had also served as the vice-president of PML-N Sindh in the past and was Nawaz's lawyer in the Memogate scandal case. Rana's appearances on the media come on the same day as the Islamabad High Court (IHC) issuing show-cause notices to journalist Ansar Abbasi, former judge Shamim and two others.
Read Maryam questions NAB, SC's 'silence' on Pandora Papers
The court had taken notice on Monday of a report by Abbasi, which quoted Justice Shamim as saying in an affidavit that he witnessed ex-CJP Nasir relaying instructions to a high court judge three years ago to not release Nawaz and Maryam in the corruption references against them ahead of the 2018 general elections.
The report, hailed by the PML-N as vindication, was refuted by Justice Nisar. Justice Shamim was not present due to health reasons for the proceedings presided over by the IHC Chief Justice Athar Minallah and was represented by his son in court.
Advocate Rana, while refusing to answer any questions on his father's behalf, said he himself was serving as the Punjab assistant advocate general at the time of Nawaz's arrest in 2018 and also met the PML-N leader in jail. He said his father had last met Nawaz while visiting the UK before the coronavirus pandemic struck.
"[Shamim] has remained [Nawaz's] lawyer so the two have relations. They have direct relations," Rana said.
Rana appeared to take Justice Shamim live on a call to ask him about his meeting with Nawaz. As per Rana, his father responded with "no comments". However, he read out a text from Shamim in which the former judge stated that he had not released the affidavit in question to any journalist, and that it may have been "leaked" from the office of the notary public in London who attested the document.
COMMENTS
Comments are moderated and generally will be posted if they are on-topic and not abusive.
For more information, please see our Comments FAQ