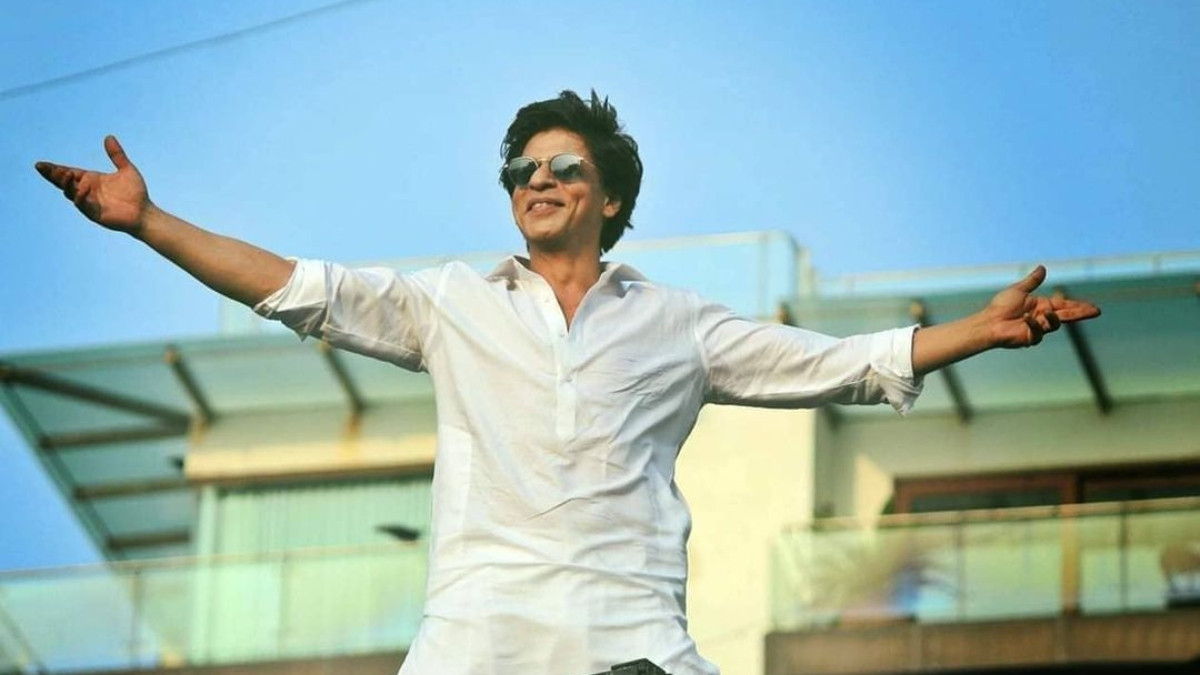 ---
The last month hasn't been easy for India's biggest superstar, Shah Rukh Khan. With his son behind bars for over three weeks, the actor has had a troublesome time. As the king of romance Shah Rukh Khan turned 56 on Tuesday, his fans and followers have been gathering outside his house Mannat to get a customary glimpse of their idol, who every year comes out on his balcony to thank them.
However, this year seems to be a tad different.
According to reports, King Khan's birthday will be a quiet affair as police officers have been posted outside his residence. Police officials have reportedly said that they have a message from Shah Rukh's manager Pooja Dadlani, informing them that the superstar, his son Aryan Khan and other family members are at his farmhouse in Alibaug. The news comes just after reports said Shah Rukh is planning to spend time at his Alibaug home after Aryan's release from jail, according to reports.
Bollywood's superstar, who has an ample fan following, kept his 56th birthday rather lowkey. His fans, however, took to social media and wished Shah Rukh. Not just onscreen, the Dilwale star rules the hearts of his well-wishers as well. Here are a few instances of Shah Rukh Khan being his unapologetic self.
The king of wit
Be it his 'secret behind success' to taking jibes on any given topic, no one does it better than Shah Rukh himself. On several occasions, the actor has proved to be wittiest and we love him for it! On one occasion, veteran actor and celebrated Indian host, Simi Garewal sat opposite Khan and inquired his reasoning behind what makes him so popular, the Zero star quipped, "My luscious lips!" Another time, he spoke to the popular Indian comedian Kapil Sharma about 'paid awards' during a hosting segment at an award ceremony. He shared, "All the people who aren't rooting for me to win Best Actor award, look under your seats; I have stuck the new 500 and 2000 rupee notes, take them home and cheer for me!"
At 56, the actor looks pretty suave. But that never stopped him from poking fun at his appearance. During a TED Talk, Shah Rukh shared, "Just before I came here, I decided to take a good, hard look on my face and I realised that I am beginning to look like the wax statue of me at Madame Tussaud's." He then joked, "In that moment of realisation, I asked the most pertinent question to humanity and me: Do I need to fix my face?!"
The religious debate
Shah Rukh, albeit being touted as the biggest Indian-Muslim superstar, has had his shares of controversy surrounding religion. While the actor, on numerous occasions has clarified his stance on the matter, has been inquired about the religion his kids and wife follow. While he had addressed the topic several times, Shah Rukh now says he tries to not divulge into a religious debate altogether.
In 2015, on his 50th birthday, Shah Rukh spoke to NDTV about several topics, one of them being extremism. "In my house, everyone is free to follow their religion. My kids were confused about whether they were Muslim or Hindu, I said why not Christian? The sweet dish is prepared on Diwali in our house and I myself go to pooja," he had said, adding, "The fact that we need to keep on talking about the three Khans to prove how secular India is, means that India is not. We don't need 'Khans' shining' to prove that India is shining. If we start curbing creativity, we will be making more unsecular people."
Time and again, the actor has been targeted by the Shiv Sena, a far-right Hindu nationalist party headquartered in Mumbai that has often pushed an anti-Pakistan and anti-Muslim agenda.
Another time, Shah Rukh had to issue a statement when his comments about living in India were exaggerated. In a magazine piece, he wrote that he sometimes became "the inadvertent object of political leaders who choose to make me a symbol of all that they think is wrong and unpatriotic about Muslims in India".
One time, Shiv Sena threatened cinemas by showing his 2010 film My Name is Khan after he spoke in favour of Pakistani cricketers playing in the Indian Premier League. This propelled Shah Rukh to comment that it was "irksome" to have to clarify the "non-existent" issue sparked by his recent article. "I would like to tell all those who are offering me unsolicited advice that we in India are extremely safe and happy. We have an amazing democratic, free and secular way of life," he had commented.
'Bollywood's biggest superstar'
It isn't just his obvious charisma onscreen that makes Shah Rukh Khan the actor that he is. The actor is beloved by his co-stars, fans and followers. Many times, Pakistani actor Mahira Khan, who starred with Shah Rukh in the 2017 crime drama, Raees, recalled her working experience with him. And she had nothing but praises.
Speaking at the Faiz International Festival 2016, Pakistani actor Mahira Khan narrated the incident when she told her family about bagging her Bollywood debut. "What happened at my house was very funny. I rounded up everyone- my mom, my dad, my brother. It was late at night, I told them 'there is this film I want to do in India." Mahira made her Bollywood debut with Raees that also featured Nawazuddin Siddiqui in an important role.
"Everyone was like....no one cared. Pappa was like 'Tell us more', Amma was like, 'Really?' Then I told them 'It is with Shah Rukh Khan' and my mother started crying (imitates her mom crying). When I repeated that it is Shah Rukh Khan, she told me that I was lying. 'Shah Rukh Khan is your ...' she said while crying and I told her 'Yes'."
Have something to add to the story? Share it in the comments below.
COMMENTS
Comments are moderated and generally will be posted if they are on-topic and not abusive.
For more information, please see our Comments FAQ