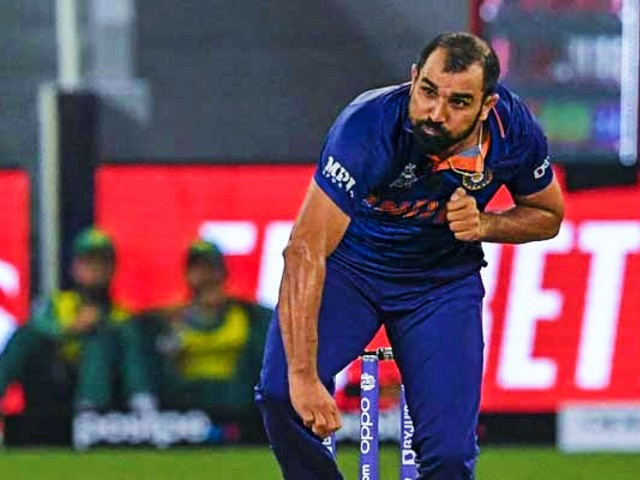 ---
Rising hatred against Muslims and the continued upsurge of Hindu extremism under RSS-inspired Prime Minister Narendra Modi's rule in "secular" India is no secret today. An example of this phenomenon was witnessed following Pakistan's emphatic win over its archrival during their first T20 World Cup encounter in Dubai on Sunday.
Following the defeat, many Indians took to different social media platforms to vent out their anger on India's ace pacer Mohammad Shami, a Muslim who went for 43 runs in 3.5 overs without taking any wicket.
Read more: Pakistani fans bring their A-game after historic win against India
He bowled the 18th over of the match where we went for 17 runs as he was smashed around the park by Pakistani wicketkeeper-batsman Mohammad Rizwan, sealing the deal for the Green Shirts.
However, even before the start of the over, the match was more or less lost by India as Pakistan only needed 17 runs off 18 balls. But, this didn't stop Indians from going after the Muslim bowler as many started to question his "loyalty".
"Bloody Pakistani in team India," said one user under Shami's Instagram post.
"A Muslim sided with Pakistan... How much money did you get," another wrote.
"Go back to Pakistan so we can have some peace here," someone else said.
"Were you playing for Pakistan, you Pakistani!," another hate-filled Instagram post read.
The abuse was heavily criticised on both sides of the border as many came to the defence of the Indian pacer who has bagged 195 Test, 148 ODI and 12 T20 wickets for India and is considered one of their top bowlers.
One of the all-time greats Sachin Tendulkar, taking to Twitter, backed Shami saying that he is a world-class bowler.
"Mohammad Shami is a committed, world-class bowler. He had an off day like any other sportsperson can have," he wrote on his official handle.
"When we support #TeamIndia, we support every person who represents Team India."
Indian legendary commentator Harsha Bhogle asked all those who are saying bad things about Shami to don't watch cricket. "We won't even miss you," he added.
Ex-chief minister of Indian Illegally Occupied Jammu and Kashmir (IIOJK) Omar Abdullah said that Shami was one of 11 players who lost last night, he wasn't the only player on the field.
"Team India your BLM knee taking counts for nothing if you can't stand up for your team mate who is being horribly abused & trolled on social media," said Omar, lashing out at Shami's teammates who have mostly remained quiet over the matter.
Former stylish Indian batter VVS Laxman said that Mohammed Shami has been a stellar performer for India for eight years, playing a significant role in many a victory.
"He can't be defined by one performance. My best wishes are always with him. I urge fans & followers of the game to support."
Indian cricketer Yuzvendra Chahal said: "We are so proud of you Mohammad Shami bhaiya [brother]."
Former Indian seamer Venkatesh Prasad said that Mohammad Shami has been an outstanding and yet unsung servant of Indian cricket.
Flamboyant former Indian opener Virender Sehwag said that the online attack on Mohammad Shami is shocking and we stand by him.
"He is a champion and Anyone who wears the India cap has India in their hearts far more than any online mob. With you Shami. Agle match mein dikado jalwa [show them in the next match]."
Mohammad Irfan, a former Indian fast bowler, said that he had been a part of many India vs Pakistan battles but never been told to go to Pakistan.
"Even I was part of #IndvsPak battles on the field where we have lost but never been told to go to Pakistan! I'm talking about India of few years back. THIS CRAP NEEDS TO STOP," he added.
A recent BBC report portrayed how Muslims are "routinely" targeted in India by Hindu mobs while the Modi-led BJP government hardly ever condemns such incidents — which is again silent following the online abuse of Shami.
In August, a video went viral on social media, showing a terrified little girl clinging to her Muslim father as a Hindu mob assaulted him.
Also read: Shahnawaz Dahani over the moon after meeting 'dream player' MS Dhoni
The daughter of a 45-year-old rickshaw driver could be seen in the footage showing the helpless man being paraded through the streets of Kanpur city as the mob kept hitting him.
The attackers asked the rickshaw driver to chant "Hindustan Zindabad" or "Long Live India" and "Jai Shri Ram" or "Victory to Lord Ram" - a popular greeting that's been turned into a murder cry by Hindu lynch mobs in recent years.