 ---
Pakistan's cricket team made history on Sunday after defeating India by a record-breaking 10 wickets, leaving fans around the world screaming and crying in admiration. The match marked the first time Pakistan ever defeated India in a world cup.
The first half kicked off with Shaheen Khan Afridi taking early wickets, giving his fellow team members the confidence they required to break India. Skipper Babar Azam and Mohammad Rizwan cruised the run-chase in the second half without any hassle after their arch-nemesis had been restricted to 151/7.
Following the unprecedented, unexpected victory, netizens claimed it was Babar Azam's world and we were all just living in it. Celebrities equally disarmed by the performance, joined the celebrations. Many including Mahira Khan, Humayun Saeed, Adnan Siddiqui, Mehwish Hayat and Asim Azhar shared memes, videos and wishes on Twitter and Instagram.
"Well done Boys in Green. We've waited a long time to savour this victory," wrote Hayat. "So proud to see you bring your A game to the T20 World Cup today. You pulled together as a team in every department. What I witnessed was truly world class. Great start! Now let's bring that trophy home." She concluded by expressing her happiness over Pakistanis finally getting the opportunity to celebrate something as a unit world over.
Actor Maya Ali wrote on her Instagram Stories, "What a great victory! Proud of you boys."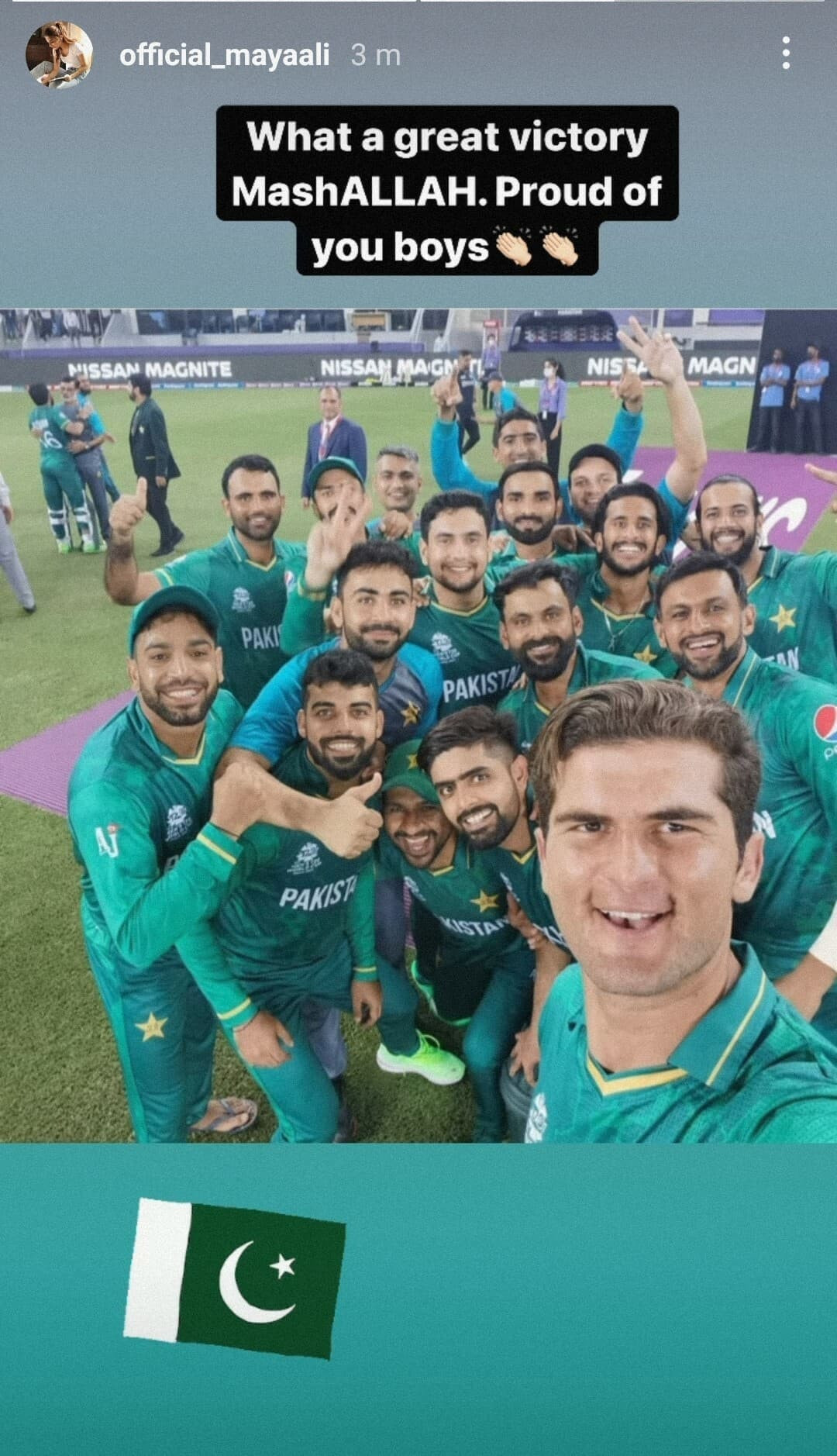 Mahira Khan could feel her heart bursting with pride on Twitter. On her Insta she wrote, "So, so proud. Boys played like champs. This is historic, onwards and upwards."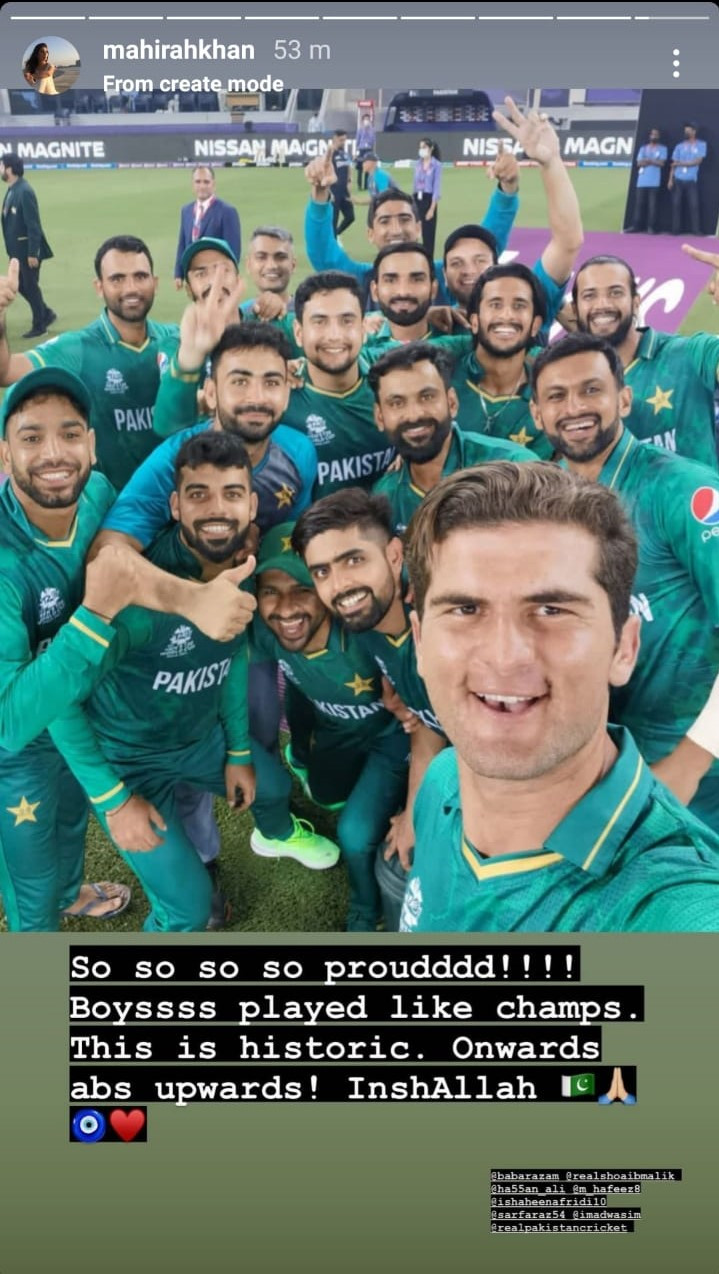 Humayun Saeed penned a heartwarming note on Instagram. "This is no ordinary victory," he remarked. "This is a reminder that Pakistanis must always hold their heads high. I had been hearing this entire past week that Pakistan won't win, no chance! And this from our own people! So, so proud of our team for proving everyone wrong! Well done! Pakistan Zindabad."
Strings' Faisal Kapadia, who was fortunate enough to watch the match live, celebrated the victory from the stands of Dubai cricket stadium.
Singer Asim Azhar, who had promised cricketer Shadab Khan he'd sing for the team if it wins against India, sang Dil Dil Pakistan alongside actor Fahad Mustafa among others.
And singer Farhan Saeed was proud of the men in Green. He tweeted, "Congratulations Pakistan! This was phenomenal boys, from bowling to batting to catching, it was flawless! You've made us more than proud!"
Ayesha Omar also congratulated the team on the "epic" win in an Instagram Story. "This had to be done. Congrats Pakistan, this was epic!"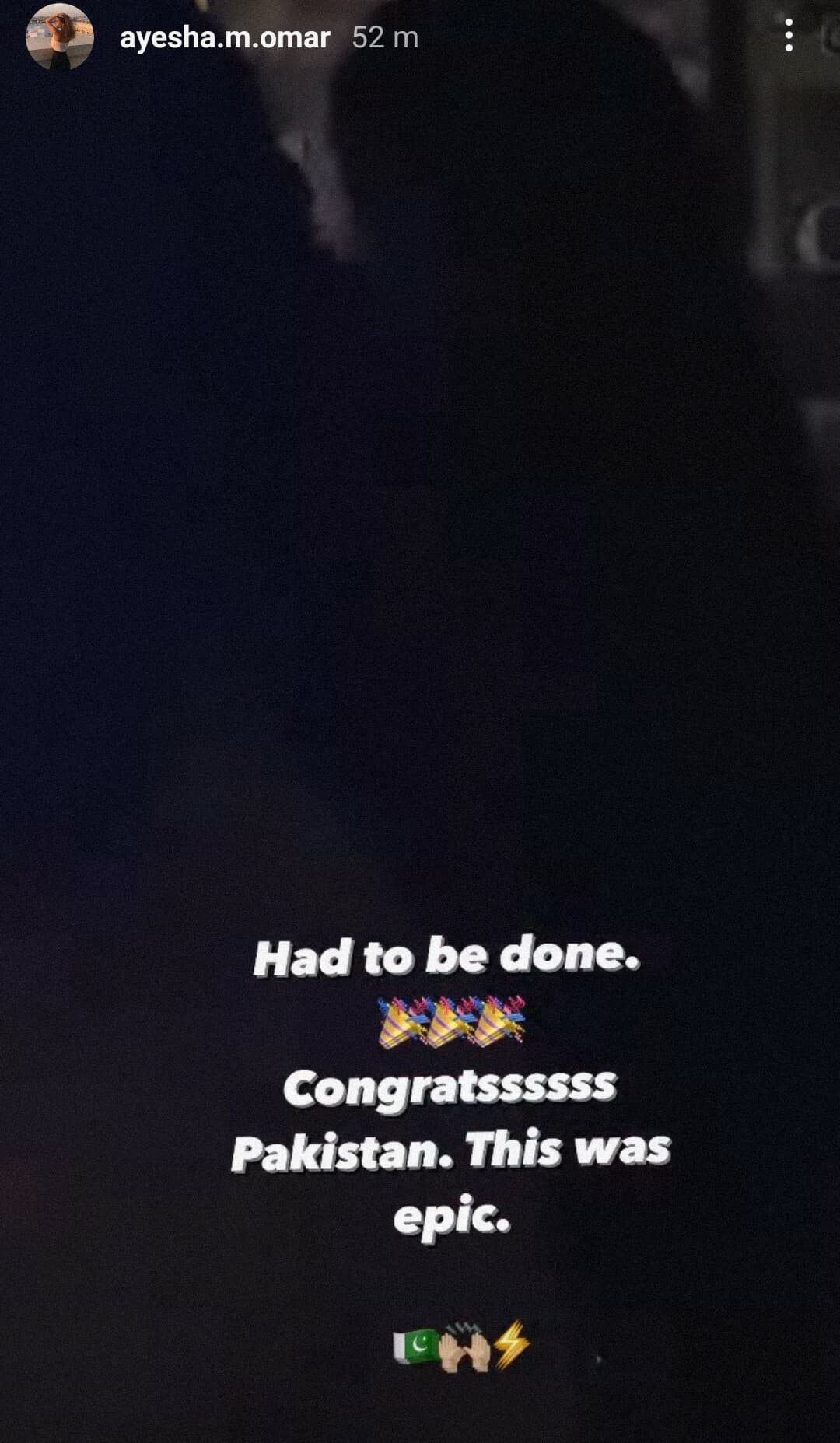 Osman Khalid Butt also chimed in with a dance on the micro-blogging site. "This was truly some fantastic cricket. Congratulations, Pakistan! Babar Azam and Rizwan Zindabad!" he tweeted.
While writer Fatima Bhutto was over the moon. "World's best game! 2023, here we come!" she tweeted. On another tangent, she pointed out, "With all the wickets in hand and lethal bowling, we won by ten overs! Whatever they say, that's why Pakistan is the only country not invited to play in the Indian Premier League (IPL) because we're the best in the format [and] in the world. Thank you for coming to my Ted talk, I'll be here all week."
Hira Mani shared her admiration for Babar after his impeccable performance with an Instagram post. "Hum jeet gaye (And we win)! Babar Azam, tum tou hero nikle yaar (you turned out to be a hero dude!)" she wrote.
Kubra Khan and Sanam Jung shared celebratory moments from their home. The prior was spotted jumping with joy while the latter did a Mauka Mauka routine with her fam. "Pakistan Zindabad! Been waiting for this moment for years! Dil jeet liya team Pakistan (You won our hearts team Pakistan)! Thank you for giving the entire nation a reason to celebrate," Jung remarked in her post.
Actor Mirza Gohar Rasheed congratulated the team on the historic victory as well while Kumail Nanjiani was thrilled to see Pakistan and India back on the field together. "History has been made today by the team Pakistan," tweeted Gohar. "They say we don't have a star player but we have a star team! Congratulations, Green!"
Nanjiani added, "Fantastic game. And beautiful to see India and Pakistan on the field together."
Fahad Mustafa simply shared a photo of the team with the caption, "Love Pakistan!"
Actor, singer Junaid Khan also commented beneath this saying, "Today's match was all about class, the brilliant game of cricket!"
Have something to add to the story? Share it in the comments below.
COMMENTS
Comments are moderated and generally will be posted if they are on-topic and not abusive.
For more information, please see our Comments FAQ