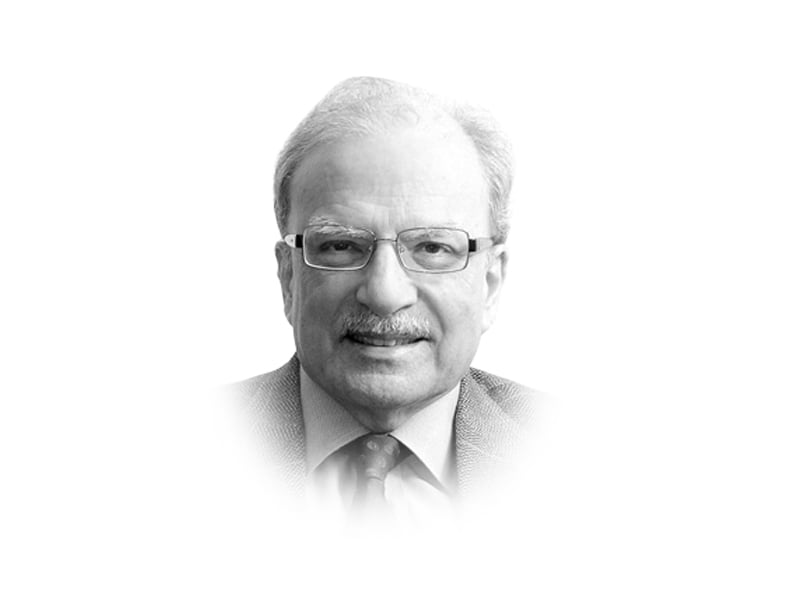 ---
To understand Pakistan's present economic and social predicament and reflect on the country's future, we should get to know the past. Economists have a term for this: they call it 'path dependence'. There were few countries that emerged from years of colonial rule that had a beginning as poor and difficult as Pakistan's. The country did not have a capital; it had to build one, practically from scratch. Lahore at that point in time was the country's largest city and had a reasonably well-developed physical infrastructure to accommodate the central government. It was too close to the border with India, the country's sister state with which Pakistan has had difficult relations. The capital located in Lahore would not be safe — a conclusion that was justified in the brief war with India in September 1965 when the Indian troops were close to entering Lahore.
The first generation of Pakistani rulers opted to locate the capital in Karachi. It was far from India and had some sentimental value as well: it was the birthplace of Muhammad Ali Jinnah, Pakistan's Founding Father. In 1947, when the government still-in-the-making moved to Karachi it was a small city that exploded in size, providing home to ten times its original population within half a dozen years. This is one reason why American journalist Steve Inskeep titled his highly readable account of Karachi's development The Instant City: Life and Death in Karachi.
A new government had to be created in the new capital city. For months the government employees who had opted to work for Pakistan and had moved from New Delhi, the capital of British India, did not have assigned place of work and were not given positions in the government in which they were supposed to be employed. A functioning capital was not the only thing absent, the new country did not have a central bank. This led to a number of problems among them the lack of money to pay for the new government was by far the most important. Upon departing from their Indian colony, the British had left a significant amount of money to compensate the two governments for British India's war effort. They divided the amounts that should go to India and Pakistan but left Pakistan's share with the Reserve Bank of India, that country's central bank. The assumption was that once Pakistan had its own central bank, its share would be transferred to Karachi. That did not happen. Liaqat Ali Khan, Pakistan's first prime minister, accompanied by Ghulam Muhammad, the minister of finance, went to New Delhi to persuade Jawaharlal Nehru, the Indian prime minister, to release the amount. Nehru refused the entreaty. It took intervention by Mahatma Gandhi for Nehru to fulfil his obligation.
Lack of money to run the government was another problem Jinnah was asked to find a way of tackling. The story that follows was told to me by the grandson of one of three persons who bailed out the government. Jinnah had persuaded three persons who had built textile industries in the western part of India to move to Pakistan. They accepted Jinnah's pleading and gave up what they had built, moved to Karachi and started to build industries that would serve the new country. Adamjee, Daud and Habib were the three individuals who started new businesses in Karachi. A month or so after Pakistan's birth, the three were called by Jinnah to meet him in the Governor General's House. Jinnah told them that he had learnt from the finance minister that the government had no money to pay the salaries of its employees. They were asked to help. However, when they asked Jinnah how much money was needed by the government, the Governor General said that he was not told the amount. The three, after a brief discussion among themselves, said that they will write a 'blank check' and ask their banker to honour it. That was how Jinnah was able to tide over the deep problem his administration faced. Appropriate funding of the government has remained a problem from the time of the creation of Pakistan to this day.
Pakistan also had to deal with a massive flow of refugees into the country. More than 14 million people crossed within a couple of months the newly drawn border between India and Pakistan. Eight million Muslims came into Pakistan while six million Hindus and Sikhs moved in the opposite direction. The outmigration of Hindus and Sikhs reduced Pakistan's original population of 32 million people to 26 million. In-migration of Muslims brought it to 34 million. In 1951 when Pakistan took its first population census, one out of every four of its citizens had come from outside the country. The migration changed the religious mix of the country. In 1947 when the British agreed to partition their colony, Muslims made up 78 per cent of what is now Pakistan. After the exchange of population, the share of Muslims had jumped to 97 per cent. This Muslimisation of Pakistan was to have several serious consequences, among them the continuing effort by some Islamic extremist groups to bring Islam into governance.
While the large migration of Muslims from India made Pakistan a primarily Muslim country, the opposite did not happen for India. At the time the two countries gained independence, they had a combined population of 400 million people. Of these one-quarter or 100 million were Muslims. Of these 56 million were native to the areas that are now Bangladesh and Pakistan. Bangladesh started out with 32 million Muslims while Pakistan had 24 million. Of the 44 million that remained in India, eight million migrated to Pakistan and one million went to Bangladesh. When dust had settled down, the distribution of the Muslim population was as follows: India, 35 million; Bangladesh 33 million; and Pakistan 32 million. Since then the Muslim population in the three South Asian countries has increased five and a half times and reached 550 million. Pakistan now has the largest Muslim population with 204 million people followed by India with 200 million and Bangladesh with 146 million. However, as developments in Pakistan have shown, a country with a very large proportion of its population, does not have to be Islamic.
About half of the migrant population from India went to Karachi and Hyderabad. That was to be the first of the three waves of migration that transformed the city's demography and the absence of a political system that could accommodate different groups resulted in ethnic violence. Karachi now with a population of 22 million is one of the world's most violent megacities. The second wave was made up of constructions workers who came from the northern parts of the country and also from what is now Khyber-Pakhtunkhwa province. The latter were Pashtuns who founded several satellite communities on the periphery of Karachi. Sohrab Goth is one of them and was often the scene of ethnic violence. The third wave came with refugees from Afghanistan moving into Pakistan. Karachi was not only Pakistan's largest city, it was also its most violent. Since a good part of the Pakistani economic wealth originated in Karachi, this affected the state of the economy.
Some of the problems Pakistan faces today can be traced to its early history. The inability of the government to finance itself fully can be traced back to the country's founding. Karachi, the centre of Pakistan's industry, finance and commerce remains under stress. The government has had to find ways to look after millions of refugees who have arrived from neighbouring countries. Ethnic differences that remain unresolved have created difficulties for creating a unified state.
Published in The Express Tribune, October 25th, 2021.
Like Opinion & Editorial on Facebook, follow @ETOpEd on Twitter to receive all updates on all our daily pieces.
COMMENTS (1)
Comments are moderated and generally will be posted if they are on-topic and not abusive.
For more information, please see our Comments FAQ