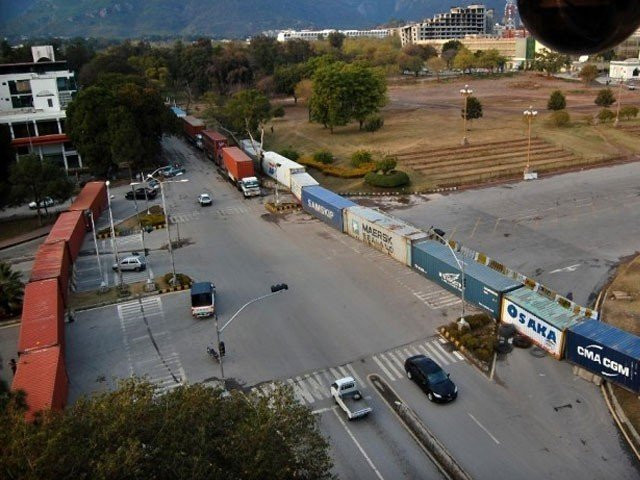 ---
ISLAMABAD/RAWALPINDI:
The Punjab government on Friday formed a two-member committee to negotiate with the banned Tehreek-e-Labbiak Pakistan (TLP) ahead of the party's long march to the federal capital.
Punjab Law Minister Raja Basharat and Prosecution Minister Chaudhry Zaheeruddin will lead the provincial government's efforts to hold talks with the proscribed party, announced provincial chief minister Usman Buzdar.
تحریک لبیک سے مذاکرات کے لیے ہم نے پنجاب کابینہ کے سینئر اراکین راجہ بشارت صاحب اور چوہدری ظہیر الدین صاحب پر مشتمل کمیٹی تشکیل دی ہے

حضور اکرم ﷺ کی سنت کے مطابق ملک میں امن و آشتی کے لیے ہم سب کو مل کر کام کرنے کی ضرورت ہے

— Usman Buzdar (@UsmanAKBuzdar) October 22, 2021
Security in the twin cities has been placed on high alert with major highways, including the Murree Road, sealed with containers and barricades in an effort to deal with the TLP's planned march from Lahore to Islamabad.
The proscribed party had called for a march to the federal capital after Friday prayers.
In Rawalpindi, link roads from Marir chowk to the Faizabad Interchange and Murree Road to the inner city have been closed for traffic, while roads from Shamsabad and Faizabad to Islamabad have been completely sealed by containers.
The expressway from Islamabad, however, was being kept open for traffic in the morning.
Heavy contingents of law enforcement personnel have been deployed at major intersections and at metro stations to deal with any untoward incidents.
As a result of road closures, citizens commuting to schools, colleges and workplaces faced severe difficulties.
According to a spokesperson for the Islamabad City Traffic Police (CTP), Park Road, Tramri chowk, and Lehtar Road could be used as an alternate route to reach Islamabad Highway. Srinagar Highway, while Ninth Avenue, and IJP Road can be used to reach Rawalpindi.
Read Rashid warns PDM, TLP against creating law, order
"Additional traffic police personnel have been deployed at High Court chowk, Kachehri, and Mall Road to maintain the flow of traffic. However, citizens should avoid unnecessary travel to Islamabad to avoid trouble," the CTP spokesperson said.
The TLP demands of the government to fulfil its promise made to it a few months ago. The main demand of the party is the expulsion of the French ambassador to Pakistan. However, Interior Minister Sheikh Rashid said on Thursday the government could not expel the ambassador on TLP's demand.
On Tuesday, the banned TLP announced that it would turn its main Eid-e-Miladun Nabi rally in Lahore into a protest sit-in and urged the government to ensure implementation of the agreement reached with the party in the past.
COMMENTS
Comments are moderated and generally will be posted if they are on-topic and not abusive.
For more information, please see our Comments FAQ