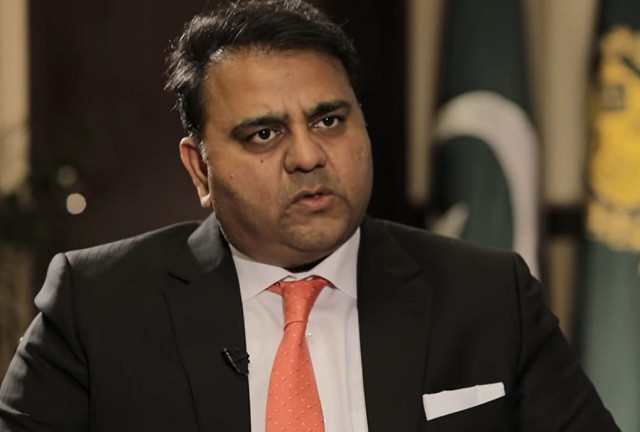 ---
ISLAMABAD:
Federal Information Minister Fawad Chaudhry on Sunday justified the recent increase in petroleum and gas prices, saying that if there was a global price hike, the rates would be readjusted in Pakistan as well.
Responding to the outrage on the fuel price hike, the minister tweeted that the "propaganda" being spread was "as if we are living on a separate planet from earth".
"The whole country cannot be run on subsidies," Fawad said, emphasising that the prices will reduce in Pakistan once they decrease around the world.
"Today the prices are high, tomorrow when they will decrease, they will subsequently fall in Pakistan too," he maintained.
تیل کی قیمت میں اضافے کو لیکر ایسے پروپیگنڈا ہو رہا ہے جیسے ہم کوئ دنیا سے کسی علیحدہ سیارے پر ہیں اگر دنیا میں تیل، گیس اوپر جائیگا پاکستان میں بھی اوپر جائیگا، سارا ملک سبسڈی پر نہیں چل سکتا آج قیمتیں اوپر ہیں کل کم ہو جائینگی تو یہاں بھی کم ہو جائیں گی،

— Ch Fawad Hussain (@fawadchaudhry) October 17, 2021
The minister encouraged people to "face difficulties together as a "nation", claiming that economic difficulties were temporary.
The minister said that the industry, agriculture and construction sectors were making "historic profits" and that the private sector should increase the salaries of the working class.
"An increase in salaries is the way to break the hike in prices," he stated.
Fawad's remarks come a day after the ruling PTI made major increases in the prices of two petroleum products -- petrol and high-speed diesel (HSD) -- which are widely used by the public.
The petrol and HSD went up by Rs10.49 per litre and Rs12.44 per litre, respectively.
On Friday, the world oil prices exceeded $85 a barrel that was the highest rate since October 2018. Pakistan being a net importer of petroleum products was directly impacted by the soaring oil prices globally.
Read 'Tsunami of inflation': Opposition lambasts PM Imran for petroleum price hike
The government announced the increase in fuel price in a statement issued by the Finance Division. Accordingly, petrol – which is used in cars and motorbikes – will now be sold at Rs137.79 per litre against the earlier price of Rs127.30 per litre.
The price of HSD – which is widely used in transport and agriculture sectors – has been increased from Rs122.04 per litre to Rs 134.48 per litre. The price of kerosene oil went up by Rs10.95 to Rs110.26 from Rs99.31 and light diesel oil (LDO) by Rs8.84 per litre to Rs108.35 from Rs99.51.
The LDO is used by the industry while kerosene oil is commonly used at homes in far-flung areas of the country, mainly the northern parts of Pakistan. The people living in these areas use it for cooking purposes as liquefied petroleum gas (LPG) is not available.
After the shortage of gas, the use of petrol had increased.
A gas "crisis" is already looming over the country as the Pakistan LNG Limited (PLL) and the Pakistan State Oil (PSO) have failed to arrange the required LNG to meet domestic demand for the winter season.
COMMENTS
Comments are moderated and generally will be posted if they are on-topic and not abusive.
For more information, please see our Comments FAQ