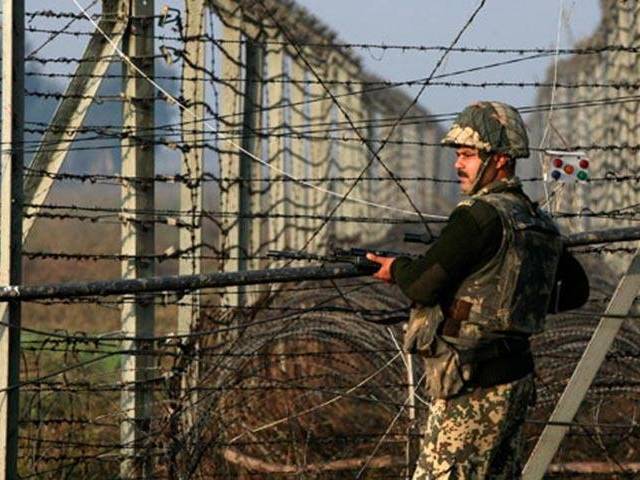 ---
ISLAMABAD:
Despite continued tensions between Pakistan and India, Islamabad on Friday said as a matter of policy, the country wanted to continue with ceasefire along the Line of Control (LoC) and the international border with its eastern neighbour.
"As a matter of policy, Pakistan wants ceasefire to be observed and respected," Foreign Office spokesperson Asim Iftikhar told a weekly news briefing here.
"At the same time, we take all and any ceasefire violations by India seriously, and this has been a very high number in recent years," he added when asked to provide figures for the ceasefire violations in recent months.
The spokesperson said while Pakistan knew how to respond to escalation from India, it always favoured de-escalation.
"The understanding reached between DGMOs in February can be seen in that context," he added.
Pakistan and India renewed the 2003 truce in February this year after behind the scene talks between the senior military and intelligence officials of the two countries.
The ceasefire rekindled hopes for some kind of rapprochement but the situation returned to the same after the two countries could not take further steps to de-escalate tensions.
Nevertheless, the ceasefire is holding despite verbal exchanges between the two countries.
In fact, the spokesperson began a weekly briefing by condemning the ongoing human rights abuses by the Indian security forces in Occupied Jammu and Kashmir.
Two more Indian army men killed in IIOJK as tensions escalate
"India's naked state terrorism in IIOJK has exposed its real face to the world. In an environment of complete impunity, communication blackout and absence of international access, systematic violations of human rights are taking place, with an increasing number of arbitrary arrests and detentions and extrajudicial killings," the spokesperson said.
During the last week alone, the spokesperson said, 10 innocent Kashmiris were martyred in fake encounters and so-called "cordon-and-search-operations". A Kashmiri civilian was taken into custody and then brutally murdered in a fake encounter in Bandipora. The spokesperson also condemned the recent "irresponsible and provocative statement" reportedly made by the Indian Home Minister threatening so-called "surgical strikes".
As you are aware, we have condemned this delusional statement that only goes to further demonstrate the BJP-RSS combine's propensity to stoke regional tensions for both ideological reasons and political expediency, based on enmity towards Pakistan."
He said Pakistan has repeatedly drawn the attention of the international community to India's sinister designs of staging "false flag" operations to implicate Pakistan and Kashmiris.
"Let me reiterate that while Pakistan is a peace-loving country, we will spare no effort in resolutely thwarting any aggressive Indian designs, as was evident from Pakistan's swift response to India's
Balakot misadventure in 2019, including the downing of Indian combat aircraft and capture of Indian Air Force pilot."
Regarding the Afghan situation, the spokesperson said Pakistan supported the continued engagement of the international community with the Afghan authorities, adding that the U.S.-Taliban talks in Doha are important in that regard.
"A sustained engagement will help achieve the desired objective of a peaceful and stable Afghanistan," he added.
On the Deputy Secretary of State's visit to Pakistan, the spokesperson said her visit to Pakistan underscored the importance of the long-standing relationship between Pakistan and the US.
"There were wide-ranging discussions that touched on various areas of bilateral cooperation.
State Department's readouts and Deputy Secretary's own tweets about the meetings confirm the broad nature of those discussions."
He said it was agreed to continue close communication and coordination on the situation in Afghanistan, security and counter-terrorism, trade and investment, climate change, economic cooperation, and regional connectivity.
COMMENTS
Comments are moderated and generally will be posted if they are on-topic and not abusive.
For more information, please see our Comments FAQ