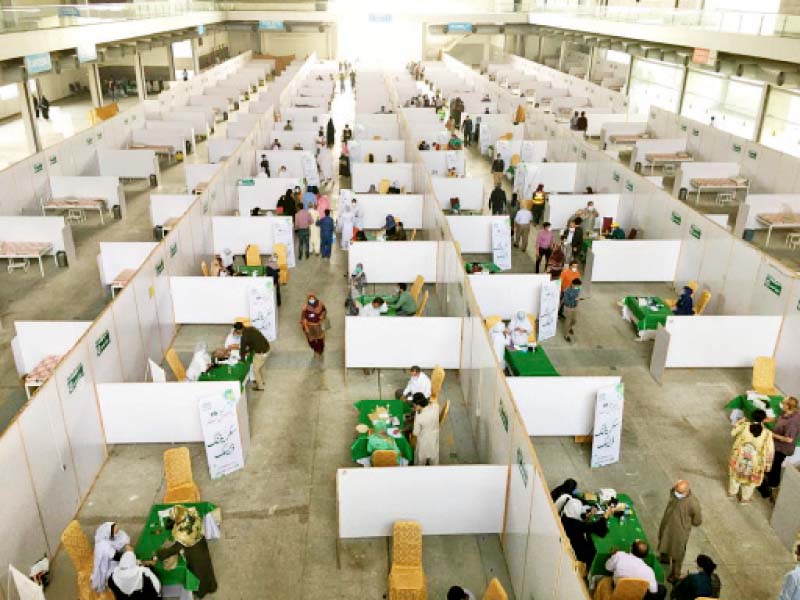 ---
KARACHI:
Local churches and temples have had a significant role in increasing vaccine receptivity among the hundreds and thousands of Christians and Hindus living in the port city. Owing to which, religious minority members have been easier to inoculate, and have been thronging vaccination camps set up with the support of their religious leaders and social organisations.
These camps, set up in most Christian-majority areas like Issa Nagri, Paharganj Nazimabad, Christian Colony, FC Area, Kemari, Saddar and Korangi, have been indiscriminately welcoming men and women of all ages who are keen about getting their jabs.
"Our priest had started an awareness campaign to educate church visitors about the need for immediate vaccination," said Pamela Rommel, a Christian woman from Karachi's Saddar area. Adding to which, Lucy Gray, a Christian school teacher and resident of the Kemari area, said that churches have played a vital role in increasing vaccine receptivity in her community.
Read More: Sindh urges Centre to make Covid jabs a must for banking services
On the other hand, Arooj Bhatti, who is a media person, believes that the local Christian community's historic link to the healthcare system is another reason for the group's increased receptivity of the coronavirus vaccines. "Our people have been offering their services as front-line workers during the pandemic, as medical nurses, heath practitioners and caregivers. So we have seen the virus' impact first-hand and know how vital vaccination is at this stage," he told.
Similarly, Rekha, a member of the Hindu community and resident of Ranchhor Line, said that their pandits have also been instrumental in educating her community about the virus at large and how to avoid getting infected.
Speaking in the regard, Manoj Chauhan, a Hindu leader, said that apart from the South District in Karachi, there are large numbers of Hindus living in different areas of the city. He complained, that his community had set up vaccination camps in their temples and provided virus-related assistance to their community, in absence of any help from the government.
"But now, I request the Sindh Chief Minister to provide mobile vaccine facility in areas of Hindu majority, so that those who remain unvaccinated in our community can also immunised as soon as possible," the leader appealed.
Similarly, religious elders of the local Parsi community have also taken a lead role in getting much of their community immunised in a short span of time. "For this, we have launched our own door-to-door awareness campaign, and are approaching all members of our community to get them inoculated at vaccination camps set up within our neighbourhoods. We even convinced a 106-year old woman in our community to get the life-saving jab," Tushna Patel, a social worker belonging to Parsi community told The Express Tribune.
Published in The Express Tribune, October 16th, 2021.
COMMENTS
Comments are moderated and generally will be posted if they are on-topic and not abusive.
For more information, please see our Comments FAQ