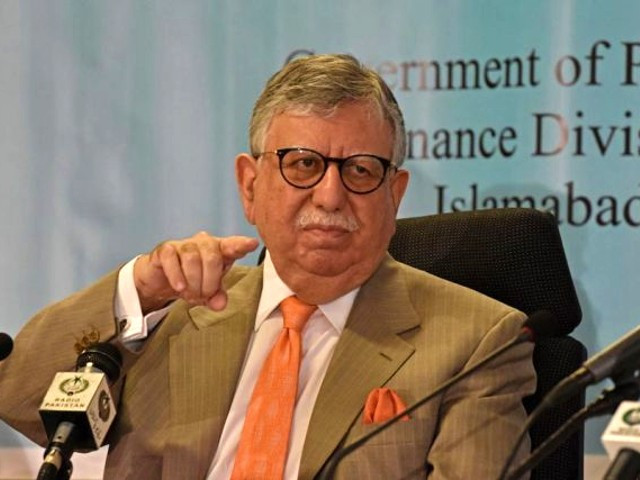 ---
ISLAMABAD:
Uncertainty about Finance Minister Shaukat Tarin's fate gripped the corridors of power in the federal capital as his six-month tenure expired on Friday night amid the country's talks with the International Monetary Fund (IMF) in Washington for the next tranche and revival of the programme.
Even key ministers were not sure what decision would be taken regarding the portfolio of the finance minister. They refrained themselves from confirming if the government had decided to appoint Tarin as an adviser to the prime minister or make him the finance minister after having him elected as a senator in the coming days.
Several ministers were approached for comments but they appeared as clueless as anybody -- some did not even reply.
Read more: Tarin hopes for success of IMF talks
"Let's see," one minister replied. "I can talk about it tomorrow [today]," said another, saying last it was decided that Tarin would be made a senator so that he could continue as the finance minister, but the confirmation could only come tomorrow.
To the question if Tarin's name in the Pandora Papers would cause any trouble for future plans, Minister of State for Information and Broadcasting Farrukh Habib replied that the minister had stated that no transactions were done and the company was closed.
"Let the PM inspection cell's findings come out," he added.
The electronic media, while relying on sources, reported on Friday that Prime Minister Imran Khan was expected to give the approval for changing Tarin's designation soon. However, there was no official confirmation.
On April 16, PM Imran had appointed Tarin as the finance minister in yet another cabinet reshuffle during the third year of the PTI-led government.
Though the premier can appoint Tarin as his adviser, but then he would not be allowed to chair the meetings of the Economic Coordination Committee (ECC) and other cabinet committees in line with a judgment of the Islamabad High Court.
The court has ruled that the advisers and special assistants to the prime minister were neither entitled to exercise executive powers, nor could they head government committees.
Also read: Rs5b allocated to initiate new census: Tarin
Initially, the government's plan was to secure a Senate seat in the place of PML-N's Ishaq Dar and President Arif Alvi even promulgated the Election (Third Amendment) Ordinance, 2021 whereby a new section 72-A (seat to become vacant on not taking oath) was inserted in the Election Act, 2017, to de-seat the former finance minister.
However, the plan hit a snag when Dar wrote to the Election Commission of Pakistan that he was ready to take oath, but could not because of an earlier suspension order passed by Supreme Court in 2018. Subsequently, the government had approached the top court to undo suspension order, but a decision has yet to be made on the matter.
COMMENTS
Comments are moderated and generally will be posted if they are on-topic and not abusive.
For more information, please see our Comments FAQ