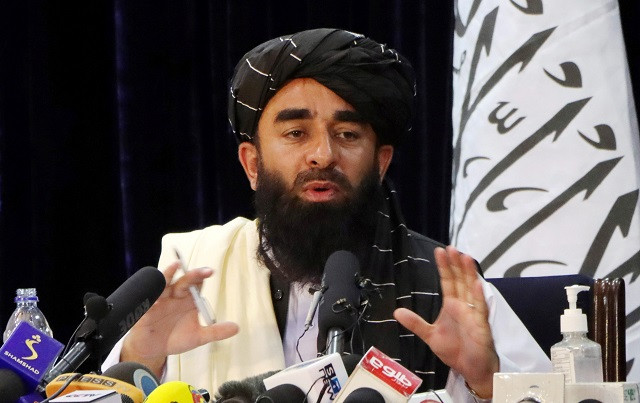 ---
Afghanistan's Taliban-run interim government has banned the public display of executed criminals unless the country's top court issues an order for public execution.
The decision was taken during a cabinet meeting that took place late Thursday evening. Taliban spokesperson Zabihullah Mujahid, after the meeting, said that no punishment will be carried out when there is no need to publicise the convict and till a court issues an order for public punishment.
"Public executions and hanging of bodies should be avoided unless the supreme court issues an order for such an action," he added.
د اسلامي امارت د وزیرانو شورا پریکړه:
په هغو سزاګانو کې چې د مجرم تشهیر ضرورنه وي او محاکمو يې د سزا په صورت کې د تشهیر تجویز نه وي کړی، د مجرم له اعدام او جسد ځړولو څخه دې ډډه وشي.
او که مجرم ته سزا ورکول کیږي باید له سزا سره يې د جرم یادونه هم وشي چې خلک يې په جرم خبر وي.

— Zabihullah (..ذبـــــیح الله م ) (@Zabehulah_M33) October 14, 2021
The spokesperson also said that the punishment of the offender must be explained to the public so that people know about the crime.
Last month, the Taliban hung the bodies of four kidnappers from cranes after killing them during a shootout in Afghanistan's western city of Herat.
Read more: Taliban replace women's ministry with ministry of virtue and vice
Herat province's deputy governor Mawlawi Shir Ahmad Muhajir said the men's corpses were displayed in various public areas on the same day as the killings to teach a "lesson" that kidnapping will not be tolerated.
Graphic images posted on social media showed bloody bodies on the back of a pick-up truck while a crane hoisted one man up.
Also read: Taliban pledge peace, women's rights
A crowd of people looked on as armed Taliban fighters gathered around the vehicle.
Another video showed a man suspended from a crane at a major roundabout in Herat with a sign on his chest reading: "Abductors will be punished like this".
COMMENTS
Comments are moderated and generally will be posted if they are on-topic and not abusive.
For more information, please see our Comments FAQ