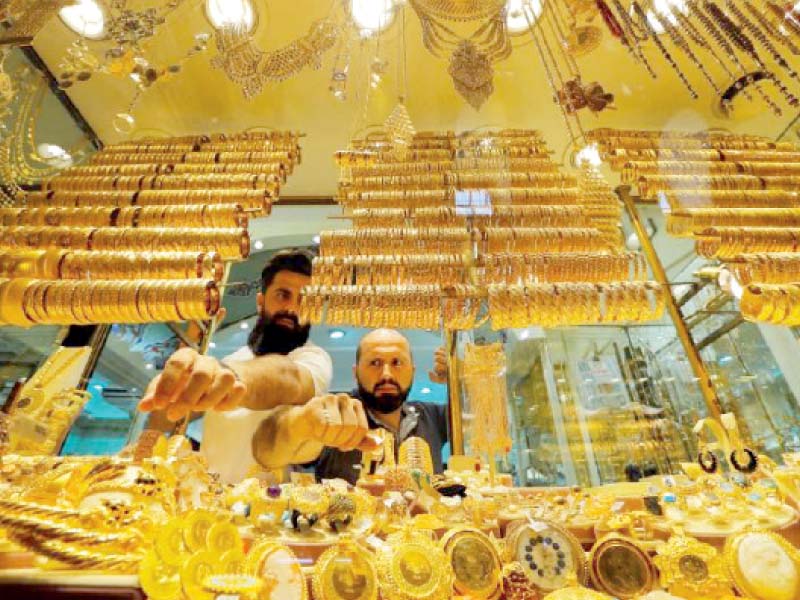 ---
KARACHI:
Gold shone once again on Thursday as its price spiked Rs2,300 to a 14-month high of Rs119,000 per tola (11.66 grams) partly due to the uptrend in commodity prices in the global market and partly due to rupee depreciation.
Pakistani currency hit a new all-time low of Rs171.2 against the US dollar in the interbank market in the wake of a surge in demand for the foreign currency to pay for rising imports.
The country also imports the precious metal to meet local demand. Gold surged $29 in a single day to a one-month high of $1,800 per ounce (31.10 grams) in the world market, according to the All Sindh Saraf and Jewellers Association (ASSJA).
"Gold price surged in global market after reports of a persistent rise in inflation in the US," AA Gold Commodities Director Adnan Agar said while talking to The Express Tribune. US inflation rose to a 13-year high of 5.4% in September, which was way beyond market expectations, he said.
"The rise in gold price in local currency (14-month high) is larger than the increase in dollar terms (one-month high) mainly due to sharp depreciation of the rupee against the greenback over the past five months," ASSJA President Haji Haroon Chand added.
With a fresh drop of 0.04% (or Rs0.07) on Thursday, the rupee has depreciated 12.43% (or Rs18.93) to Rs171.20 compared to the 22-month high of Rs152.27 recorded in May 2021, according to the central bank data. Agar said that global inflation was expected to remain high in wake of sharp increase in energy prices ahead of the winter season.
"The oil price is not expected to recede over the next one-year as its supply remains low compared to global demand." Gold investors, however, are expected to sell the yellow metal to book profit when it touches around $1,810-1,820 per ounce over the next one week. Gold may continue to move in range of $1,700-1,800 by the end of December 2021.
"It could drop below $1,700 only in case oil declines which is highly unexpected," he said. "Investors will continue to sell whenever it will cross the $1,800 mark since high inflation rate has badly hit the purchasing power of people all over the world."
Past practices suggest that people used to take aggressive positions in gold in inflationary days. However, investors – especially the young investors – are now taking aggressive positions in cryptocurrencies to make quick gains.
Bitcoin has reverted back to $57,000 in just two months after touching low at around $30,000-35,000. He said that global investors might take higher positions in gold at lofty prices at over $1,820-1,830 per ounce if the US Federal Reserve surprises world markets with larger cuts in its injection of money into its economy.
It has announced to gradually increase benchmark interest rate and reduce injection of money by $15 billion each month to zero by April-May 2022.
Gold would continue to move between $1,700-1,800 per ounce in case cuts in money injection remain as per previous announcement of $15 billion per month, he added. Rupee depreciation Experts said there was no space left for further depreciation of rupee.
It would stop surprising the market after Pakistan announces resumption of the International Monetary Fund's (IMF) $6 billion programme soon.
The two sides are in negotiations these days in Washington to finalise terms and conditions for resuming the loan programme. Rupee may see a correction of Rs2-3 against the dollar from current level.
COMMENTS
Comments are moderated and generally will be posted if they are on-topic and not abusive.
For more information, please see our Comments FAQ