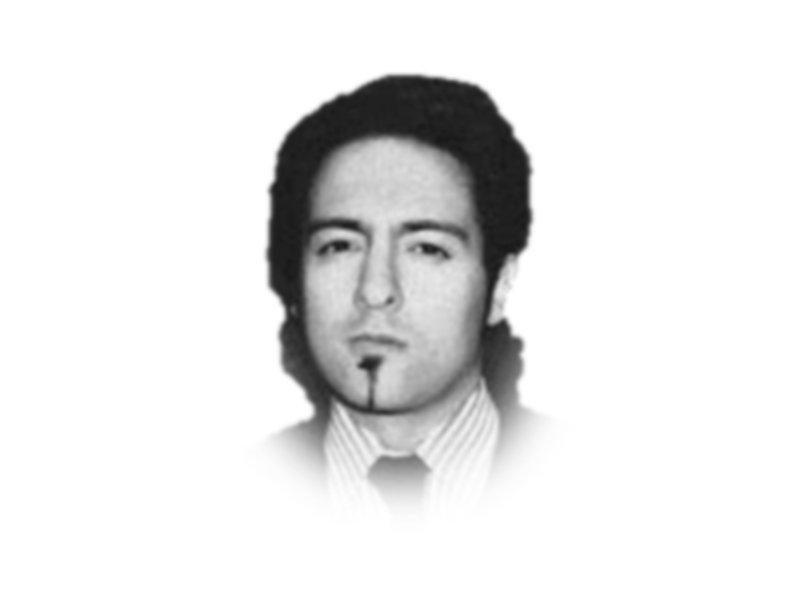 ---
Legends like Dr Abdul Qadeer Khan, the founding father of Pakistan's nuclear weapons programme, don't die. Instead, their memories forever live on in the hearts of people that love them. At his jam-packed funeral that took place in Faisal Mosque on October 10, even Islamabad's thunderous skies were shedding tears. Dr Khan's contributions towards giving Pakistan nuclear strength have strengthened Quaid-e-Azam's vision of Pakistan becoming an independent self-reliant state.
The 226 million citizens of Pakistan remain forever grateful and indebted for Dr Khan's selfless services and sacrifices. He will be remembered and celebrated — not just as a prodigious atomic scientist, a nuclear physicist, and a talented metallurgist but also as a national hero, a strategic doer, a genius mind, and an unapologetically selfless patriot who dedicated his every breath to defend and develop Pakistan's nuclear arsenal.
Transforming Pakistan into a nuclear powerhouse was a collective effort where the most significant contribution was undoubtedly made by Dr Khan. It was a combination of Dr Khan's exceptional technical prowess, Zulfikar Ali Bhutto's savvy statesmanship, and the former Chairman of the Pakistan Atomic Energy Commission (PAEC) Munir Ahmad Khan's trailblazing implementation methods.
Pakistanis remain indebted to Dr Khan for gifting us a sense of security, especially during a period of global instability where an unprecedented pandemic has taken over and nuclear brinkmanship brews like never before. The new great game in Afghanistan, the ongoing Indo-Pak hostilities, a restive occupied Kashmir, the re-ignited Indian-Chinese Galwan valley skirmishes, the armed escalations triggered by the QUAD and AUKUS, and a new Cold War fermenting between the US and China pose a serious threat to Pakistan, directly or indirectly.
Strategic nuclear self-defence capabilities are more essential now than ever before, given the scheming and belligerent India whose Defence Minister Rajnath Singh hinted that New Delhi could revise its "no-first-use of nuclear-weapons" policy in order to provoke Beijing and Islamabad to amend their own "no-first-use" mantras.
The Biden administration's China-containment strategy emboldens the QUAD and AUKUS incentivising Delhi to beef up their naval nuclear capabilities, accelerating Islamabad's rapprochement with Beijing where new regional nuclear power clusters are forming.
India has already nuclearised the Indian Ocean region with its submarine-launched ballistic missiles — the K-4, K-15, the Agni-4 and the Agni-5 — aimed at China, destabilising the region's complex strategic geometry. Pakistan's strategic retort to Indian nuclear muscle-flexing include the Babur-2 and Babur-3 missiles, offering Islamabad second strike capabilities. China's strategic response to India's missiles include their Dongfeng (DF) and Yingji (YJ) missiles.
Intensified US-Indian collaboration in sensitive defence technologies due to heated escalation with China over Taiwan swings the strategic nuclear power pendulum in South Asia which, if left uncontrolled, could trigger a South Asian nuclear arms race teetering on a nuclear knife's edge.
Dr Khan couldn't have introduced his strategic nuclear deterrent competencies to Pakistan in a timelier manner, given Delhi's nuclear irresponsibility. Eighteen instances of nuclear material theft and sabotage, including more than 200 kilograms of uranium, were identified in India from 1994 to 2021 — which ignited concerns of Indian-based nuclear terrorism. Such incidents were confirmed by the International Atomic Energy Agency's (IAEA) Incident and Trafficking Database (ITDB).
State-induced Indian nuclear negligence and uranium smuggling in Nagpur, Jharkand and Tamil Nadu highlight lackluster checks and balances at Tamil Nadu's Kudankulam 2000 MW Nuclear Power Plant, and lack of oversight hovering over India's 150 nuclear warheads, their 23 nation-wide nuclear reactors and 7 nuclear power plants.
The fact that 7,100 grams of radioactive uranium worth ₹21 crore, where culprits even tested uranium purity levels at laboratories in Maharashtra, exposes India's thriving unchecked uranium black-market operations and sophisticated illegal underground lab facilities bedeviled by lax regulations at Mumbai's Bhabha Atomic Research Center, their Atomic Energy Regulatory Board (AERB), and the Indira Gandhi Atomic Research Center in Kalpakkam — where the Madras nuclear power reactors 1 and 2 are capable of producing deadly plutonium for nuclear weaponry.
India is now a pivotal hotspot with regard to the illicit black-market trading of nuclear technology and fissile materials essential for a malicious nuclear supply chain for non-state actors. This is particularly alarming in lieu of India's well-documented ISIS-K training camps. A 131-page dossier detailed India's funding to ISIS-Khorasan camps in Raipur, Jodhpur, Chakrata, Anupgarh, Bikaner and Gulmarg. Heavy-handedness in IIOJK and rising TTP and ISIS-K terrorism threats are already festering nuclear wounds.
The global community must urge India to abide by its domestic 1962 Atomic Energy Act and comply with the 1968 Treaty on the Non-Proliferation of Nuclear Weapons. IAEA must pressurise Delhi to adhere to the UNSC Resolution 255 and the UNSCR 984 on nuclear security assurances, which India's nuclear combat vessels violate.
As a responsible nuclear state, Pakistan globally amplifies the importance of the UNSC Resolution 1540 and the IAEA Convention on the Physical Protection of Nuclear Material (CPPNM), legally binding the state to ensure rigorous safeguards precluding nuclear material from falling into the wrong hands.
The sale and spread of toxic nuclear material can easily go out of control given the BJP and the RSS's expansionist Hindutvavadi zeal in the subcontinent, raising legitimate concerns of South Asian proliferation and armament. Delhi is increasingly desperate especially since they lost geopolitical gravitas in Afghanistan and continues to play all sides by funding a former Afghan government now exiled in Tajikistan.
Pakistan decisively pays tribute to Dr Khan's legacy by undertaking responsible nuclear stewardship and signing the IAEA nuclear Safeguards Agreements. Pakistan's Nuclear Regulatory Authority fully allows the IAEA to conduct Integrated Regulatory Review Service (IRRS) audit inspections of its nuclear and radiation safety. The IAEA's chief, Rafael Mariano Grossi, confirmed Pakistan's seasoned reputation of peacefully promoting nuclear technology. IAEA's confidence in Islamabad was re-affirmed when they elected Pakistan to their board of governors during their 65th plenary conference.
Pakistan globally leads by example. Regulators and nuclear technology users from Asia, Africa and the Pacific will soon benefit from the PAEC's fifty years of experience in managing nuclear power and application projects with recently concluded agreements between the IAEA and PAEC.
Pakistan, to carry on honouring the lifelong legacy and spirit of Dr Abdul Qadeer Khan, is now the first international Muslim-majority nation that is operating civil nuclear power plants — at Karachi's KANUPP, and Punjab's Chasma-1 and 2 along with CHASNUPP — in order to develop clean energy for mitigating the climate crisis. This not only protects our planet but responsibly secures our future generations.
Published in The Express Tribune, October 12th, 2021.
Like Opinion & Editorial on Facebook, follow @ETOpEd on Twitter to receive all updates on all our daily pieces.
COMMENTS (2)
Comments are moderated and generally will be posted if they are on-topic and not abusive.
For more information, please see our Comments FAQ