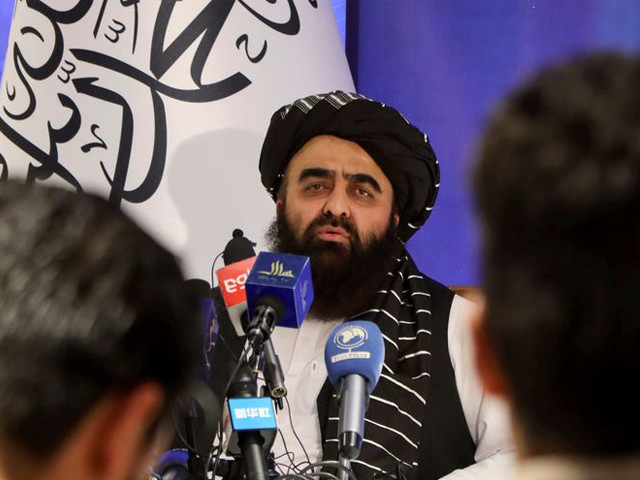 ---
DOHA:
The new Taliban government in Afghanistan is able to control the threat from Islamic State, also known as Dai'sh, militants who have launched a series of deadly attacks in recent weeks, acting Foreign Minister Amir Khan Muttaqi said on Monday.
Speaking at an event in Doha, he said instability in Afghanistan was not in anyone's interests and he called for cooperation from the world community, saying Afghanistan would not be a base for attacks on other countries.
The new Taliban government in Afghanistan seeks good relations with the rest of the world and is hoping for positive results from a recent meeting with a US delegation, the acting foreign minister added
The remarks, at an event organised by the Center for Conflict and Humanitarian Studies in Doha, reflect the new government's push to build relations with other countries as it faces a potentially catastrophic economic crisis.
Also read: Don't link humanitarian aid to political issues, Taliban tell US
Earlier today, the Taliban urged the full implementation of the Doha agreement, saying it was the "best way for resolving problems" that emerged after the takeover of Kabul by the group in August this year.
The remarks came after a two-day meeting between an Afghan Taliban delegation and a US delegation in Doha that was arranged to discuss political and other relevant issues.
In a statement, the foreign ministry of Afghanistan urged the global community not to link humanitarian assistance with political issues. "The US representatives stated that they will give humanitarian assistance to Afghans and will provide facilities for other humanitarian organisations to deliver aid."
The Taliban said their government welcomed this assistance and it would "cooperate" with humanitarian groups to distribute this assistance in a transparent manner. The statement further said the Taliban will also "facilitate principled movement of foreign nationals".
COMMENTS
Comments are moderated and generally will be posted if they are on-topic and not abusive.
For more information, please see our Comments FAQ