PUBLISHED October 10, 2021
KARACHI:
Each year, World Mental Health Day is observed globally on 10th October. The theme for this year is Mental Health in an Unequal World, which is especially pertinent in the context of the ongoing pandemic. According to the World Health Organisation (WHO), the Covid-19 pandemic has disrupted or, in some cases, halted critical mental health services in 93% of countries worldwide, while inflating the demand for mental health.
The current pandemic has highlighted globally pre-existing inequalities in access to healthcare due to race and ethnicity, gender identity, and the lack of respect for human rights in many countries, including for people living with mental health conditions. Lack of investment in mental health disproportionate to the overall health budget further contributes to the mental health treatment gap.
Poverty is a huge vulnerability factor that puts already at-risk individuals more likely to develop psychiatric illnesses. According to pre-pandemic estimates, around 50 million people in Pakistan suffer from a mental health disorder. The situation is much worse now. According to figures released in the Economic Survey 2021,Pakistan is spending far less on healthcare than what is recommended by the World Health Organisation (WHO) - a meagre 1.2% of its GDP on healthcare as opposed to WHO's recommendation of 5%.
A report by the International Labour Organisation (ILO) surveyed more than 12,000 18 to 29-year-olds from 112 countries in late 2020. Results indicated that as rates of unemployment and job cuts soared, so did the rates of anxiety and depression amongst youth. This is especially concerning for Pakistan as 63% of the population comprises youth.
One silver lining of the ongoing pandemic is the rapid rise in mental health service providers. Relying on virtual and community-based models, they played a major role in making mental health accessible to the public. These startups and nonprofits act as a bridge between the burgeoning demand for mental health because of Covid anxiety and the inaccessibility due to restricted mobility.
In May 2020, soon after the first lockdown was imposed in Pakistan, Sindh Mental Health Authority launched a mental health helpline, announced by CM Sindh Murad Ali Shah. Leading psychiatrists from Jinnah Postgraduate Medical Centre (JPMC) and Sir Cowasjee Jehangir Institute of Psychiatry (SCJIP) in Hyderabad were deputed to provide assistance to callers.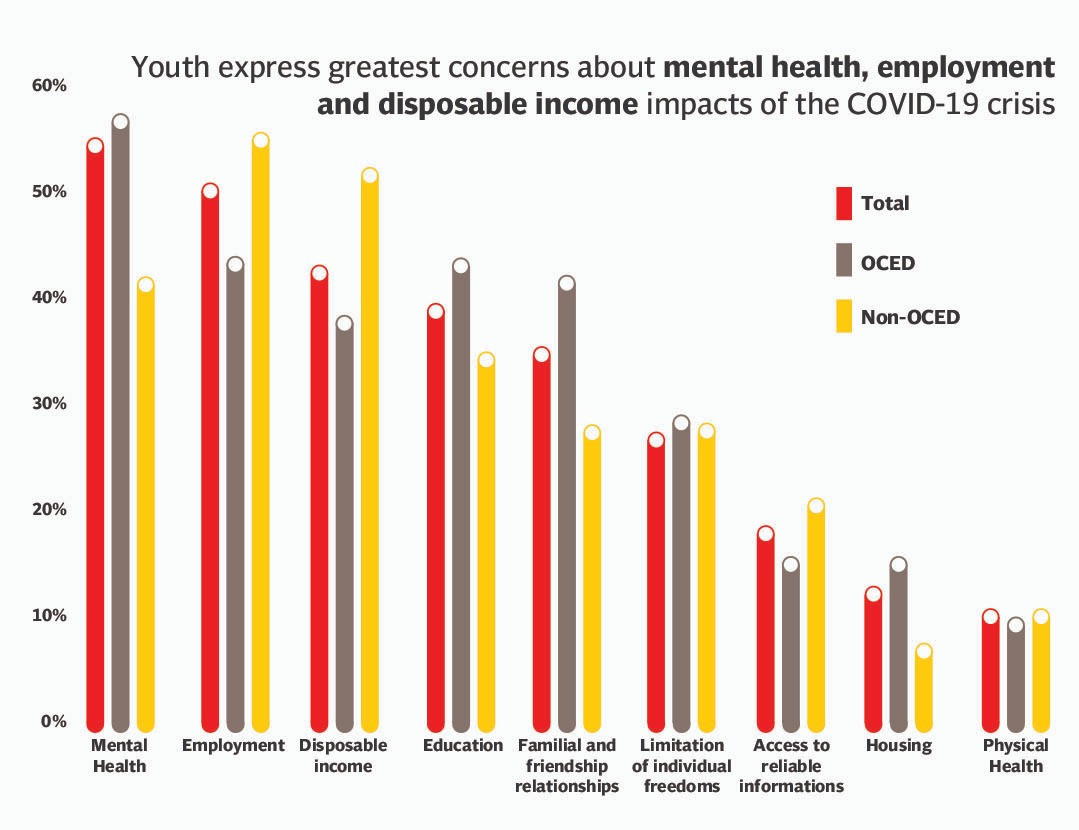 The pandemic outbreak resulted in a pivot towards a virtual model for provision of counselling services. One of these was the Institute of Research and Development (IRD) which utilized a three-pronged approach to provide integrated Covid-19 and mental health counselling during the pandemic. This involved providing mental health support to frontline workers, calling covid- positive patients quarantined at home for mental and emotional check-in and a mental health helpline where the general public could call in to get free counselling
"Access is one of the core problems with mental healthcare uptake in our context.",Aneeta Pasha, Country Director of IRD Pakistan said. She added that since last year everybody was in lockdown and nobody could go to traditional mental service providers, it allowed IRD to use telemental health to overcome this lack of access.
"We were able to tackle the year of pandemic using telemental health reach a very large number of people who would not have been able to access using traditional model."Pasha added. Accessibility in terms of cost is another major barrier. Pasha stated that the cost of seeing a psychologist or psychiatrist was definitely not affordable, not for the general public. "There are some psychiatric facilities that provide subsidised or low cost care but people would only take their family or go themselves to these psychiatric institutions at a very severe stage when there is nothing else that can be done and they need to be admitted. For average mental health check ins, for mild to moderate symptoms, one is unable to access because of cost." This is where telecounseling services serve to bridge the gap.
Taskeen, a mental health initiative that works for the promotion of wellbeing and prevention of mental illness also launched a mental health helpline in 2020 to provide telephonic counselling and compassionate listening services free of cost. "Mental health is one area which can be addressed using virtual services instead of brick and mortar." Taha Sabri, COO Taskeen said.
He added that physical facilities are expensive to build and maintain, requiring specialised, on ground staff. He added that for a country like Pakistan, which is already short on funds, innovative approaches are needed to fill the existing gaps in a cost-effective manner.
The reach, scalability and cost-effectiveness of virtual-based models of mental health services increases its access in rural centers. "When talking about tele-health, it is important to distinguish between telephonic and internet based services. While telephonic services will definitely reach the most impoverished services, internet penetration is still low in underserved areas and so relying too much on internet services may result in inequitable delivery of healthcare." Sabri added.
Another effective way of increasing accessibility of mental health services is through community based projects that targets disenfranchised communities. This removes barriers to access and ensures the provision of free, accessible and immediate mental health services. Pakistan boasts of roughly 100,000 community health workers hired under the LHWP. They are an underutilized resource that can be easily trained to provide basic counselling services to deprived communities disproportionately affected by the pandemic.
Bawaqar Zindagi (BWZ) is one such community-based project which provides free-of-cost psychiatric consultations, medications, counselling and rehabilitation services to the disenfranchised community of Shah Faisal Colony. "There are plenty of treatment opportunities for people who are financially well off and/or who can afford to seek quality services. Treatment facilities for people from lower socioeconomic backgrounds are still very few in Pakistan. BWZ, therefore, aims to fill this gap stated their Program Manager Talheen Ali Naqvi.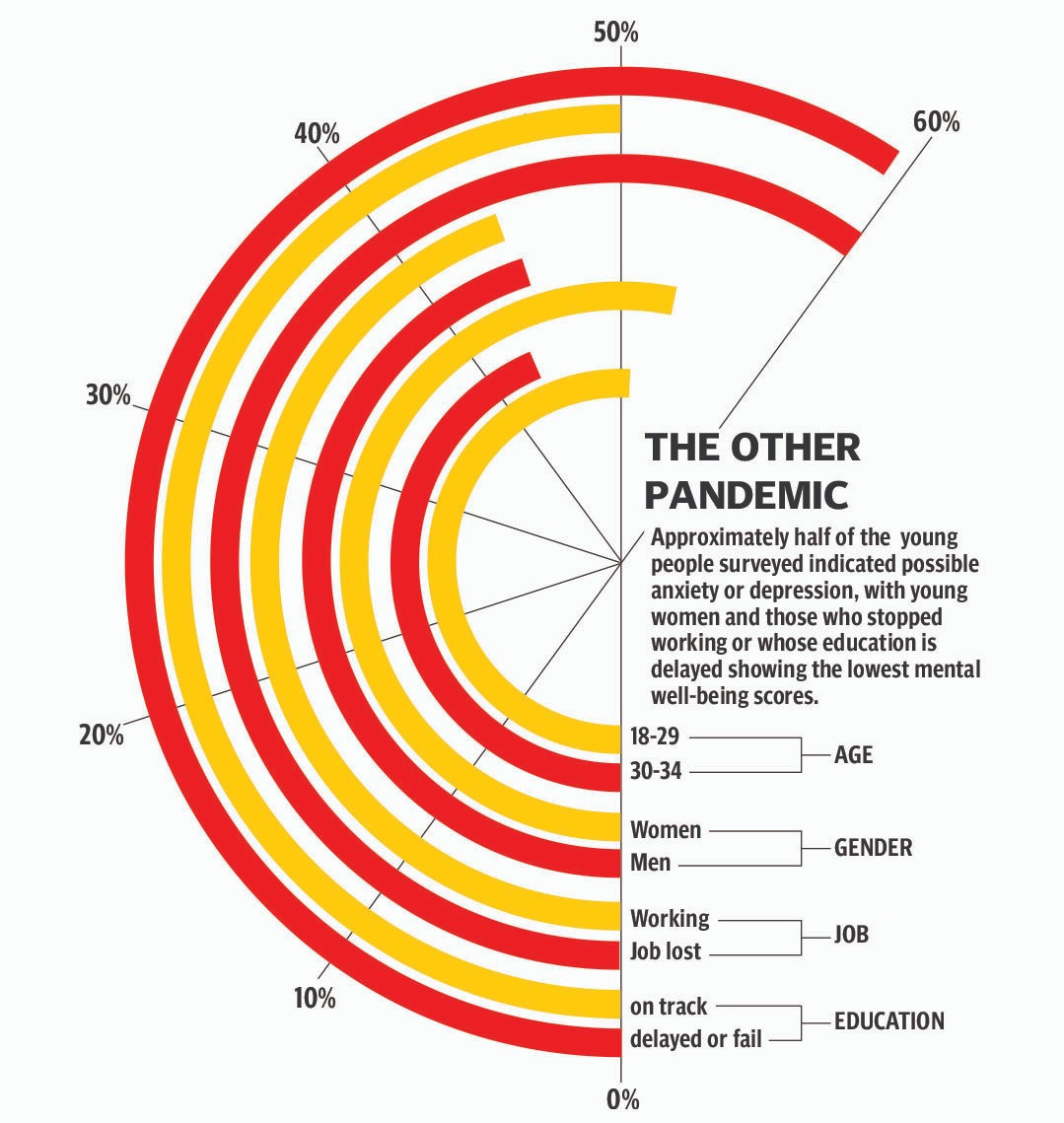 The Pursukoon Zindagi mental health program by IRD implements its free of cost, community-focused model by recruiting and training a growing workforce of lay counselors to deliver basic counseling, screening and psycho-social support services to low-resource sections of society. Training lay counselors to provide mental health services act as an equity tool in providing mental health services.
Aneeta Pasha provided an explanation "Traditionally there is always a power dynamic at play between a health care provider and a patient, more so in our context where people tend to not be educated enough to ask questions." She further said that doctors take a very condescending approach with patients. When they train lay counselors that are from the same community that they are serving, that power dynamic is removed. "So automatically they are speaking at an equal level, coming from the same context, and understand better where they are coming from." The equity tool here is the dissolution of power dynamics when you have lay counselors.
But does this parity extend beyond urban centers? "Access in rural areas is completely unavailable for the most part, so once we had lay counselors who we had trained across Sindh and Balochistan, they are able to sit in primary care sites, go door-to door to do sessions in the communities and provide basic access to mental health for mild and moderate depression and anxiety." Pasha shared. They serve as accessibility tools and people don't need to travel all the way to urban centers since service is being provided at their doorsteps.
What is exciting is the adaptable, rapidly evolving face of mental healthcare in Pakistan with a prominent focus on telehealth and community based models, expanding the reach and scope of mental health care in Pakistan.
(Rabeea Saleem is a clinical associate psychologist and freelance journalist. She can be reached at [email protected])