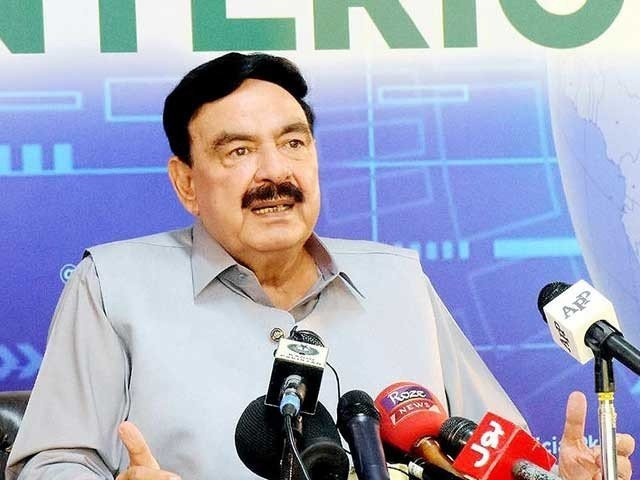 ---
ISLAMABAD:
Minister for Interior Sheikh Rashid Ahmad announced on Wednesday that an online visa service launched for Afghans to replace the visa-on-arrival system will start functioning within a period of ten days.
Speaking to the media, the minister said that the government will utilise modern technology to obtain data and maintain complete records of entry and exit movements. He said that initially, the new visa regime will be applicable only on two borders, while the other five borders will be included later.
The government is also going to announce an amnesty to all visa-holders to submit an application by the 30th of next month and make sure their exit from Pakistan, he added.
"Otherwise, they have to face cases against them in Pakistan," the interior minister warned, adding that that the Federal Investigation Agency (FIA) has been entrusted with the task to launch a crackdown on those involved in conning dollars.
The interior minister said that in the wake of altered geopolitical configurations in the region after the US' troops pullout from neighbouring Afghanistan, Pakistan was now scrambling for ways to act responsibly and make efforts to strengthen peace. He said that Pakistan's military was carrying out its responsibility to safeguard the interests of the country and was fortifying the borders to protect every inch of the motherland.
Read More: No change in visa policy for Pakistanis: Saudi envoy
However, Sheikh Rashid regretted that Pakistan Muslim League-Nawaz (PML-N) was trying to malign state institutions for "petty political gains", saying the party was bound to fail.
"Defeat was their fate and it will face same in future as well, as they are doing all this out of their hunger for power," he added and advised PML-N's supremo Nawaz Sharif to come back "if he wants a serious role in the country's politics".
Responding to a question regarding barring former prime minister Yousaf Raza Gilani from travelling abroad, Sheikh Rashid said that his name was placed on Exit Control List (ECL), however, he can approach the interior ministry or the court regarding the matter.
COMMENTS
Comments are moderated and generally will be posted if they are on-topic and not abusive.
For more information, please see our Comments FAQ