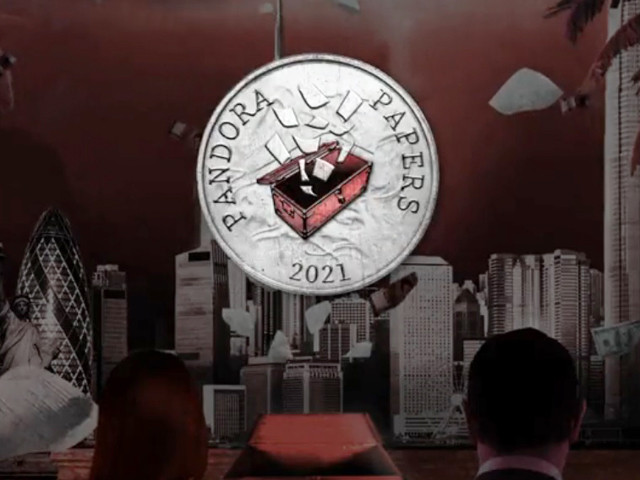 ---
Two days after the Pandora Papers made headlines around the world, the names of those who allegedly parked their wealth in offshore holdings keep trickling out. The massive trove of leaked documents, which were dubbed by some media outlets as the 'Panama Papers on steroids', contains the names of more than 700 Pakistanis, including key members of Prime Minister Imran Khan's inner circle.
However, it is not just politicians who have used or are using offshore holdings as the names of several former military officers and their family members have also surfaced in the documents. Among those named in the revelations made by the Pandora Papers are former minister Raja Nadir Pervez, ex-ISI counterintelligence director Maj Gen (retd) Nusrat Naeem, the wives of retired generals Shafaatullah Shah and Tanvir Tahir, the children of former air chief Abbas Khattak and retired generals Habibullah Khan Khattak and Muhammad Afzal Muzaffar, and the son-in-law of Lt-Gen (retd) Khalid Maqbool.
According to a Pakistani newspaper whose journalist Umar Cheema was part of the investigation by the International Consortium of Investigative Journalists (ICIJ), the Pandora Papers revealed that in 2007, the wife of a former corps commander owned a British Virgin Islands (BVI) company called Talha Limited, which in turn owned a property in London transferred to her name in 2007. The former corps commander is said to have told ICIJ that the purchase of the London apartment was made through a former army colleague of his, as a consultant to London real estate firms.
The report mentions that Talha Limited was originally owned by Akbar Asif, the son Indian filmmaker K Asif of Mughal-e-Azam fame. The report quoted the officer as saying that the flat was transferred in his wife's name in order to balance tax deductions because he already had properties in his name.
The documents also revealed that Maj Gen Nusrat Naeem owned a BVI company called Afghan Oil & Gas Ltd registered in 2009, shortly after his retirement. In his response to the ICIJ, Maj Gen Nusrat said a friend set up the company and that he did not use it for any financial transactions.
Also read: 'Pandora Papers' expose leaders' offshore millions
Former Punjab governor and retired Lt Gen Khalid Maqbool's son-in-law Ahsan Latif was also revealed to be the owner of BVI company Dylan Capital Limited. According to the report, the company was incorporated for investment holdings for certain properties in the UK and the UAE, but it was actually used to import LPG from a Russian firm.The report shared an excerpt of an email by Latif to the Trident Trust, which states: "The purpose of the company is primarily the same. Actually, the whole transaction is that our company Synergy Resources (Pvt) Ltd, which is based in Lahore, Pakistan, intends to import LPG (Liquefied Petroleum Gas) from Russia. In order to maintain the competitiveness in the market, we don't want to reveal the name of the supplier in the Pakistani market. As an additional information, we are also striving to get the exclusive marketing rights for the supplier's products for this region. For this purpose, Synergy Resources (Pvt) Ltd intends to open the L/C in favour of Dylan and Dylan shall then open a back to back L/C in favour of the supplier. The difference between the L/C value of Synergy Resources (Pvt) Ltd. and Dylan shall be retained by Dylan as profits which may then be used as investments as described in your email."
It is not clear whether Latif declared the assets before Pakistani tax authorities.
Muhammad Hasan Muzaffar, the son of Lt Gen (retd) Muhammad Afzal Muzaffar, was also named as the owner of in a BVI company called Creek Growth Capital Holding Ltd. The offshore company owned Southeast Healthcare Holding, which in turn controlled a Dubai-based medical centre that now appears to be closed. The report quoted Hasan as telling ICIJ that this investment has no relation to his father and was made solely from income he earned in the UAE.
Lt Gen (retd) Tanvir Tahir's wife Zahra Tanvir was revealed as the owner of BVI company Ener Plastics Limited in the Pandora Papers. They also showed that that Shahnaz Sajjad Khattak inherited a fortune from her father, Lt Gen (retd) Habibullah Khan Khattak through an offshore trust that owns two London apartments, purchased in 1997 and 2011 in Knightsbridge, London. The report states that she, in turn, set up a trust for her daughters in 2003 in Guernsey, a tax haven in the English Channel.
Former minister and ex Lt Col Raja Nadir Pervez was revealed as the owner of BVI company International Finance & Equipment Ltd, said to be involved in machinery and related businesses in India, Thailand, Russia and China. In 2003, he transferred his shares in the company to a trust that controls several offshore companies, the report stated.
Umar and Ahad Khattak, the sons of former air chief Abbas Khattak, were also revealed to have registered a company in BVI in 2010 to invest 'family business earnings'.
COMMENTS
Comments are moderated and generally will be posted if they are on-topic and not abusive.
For more information, please see our Comments FAQ