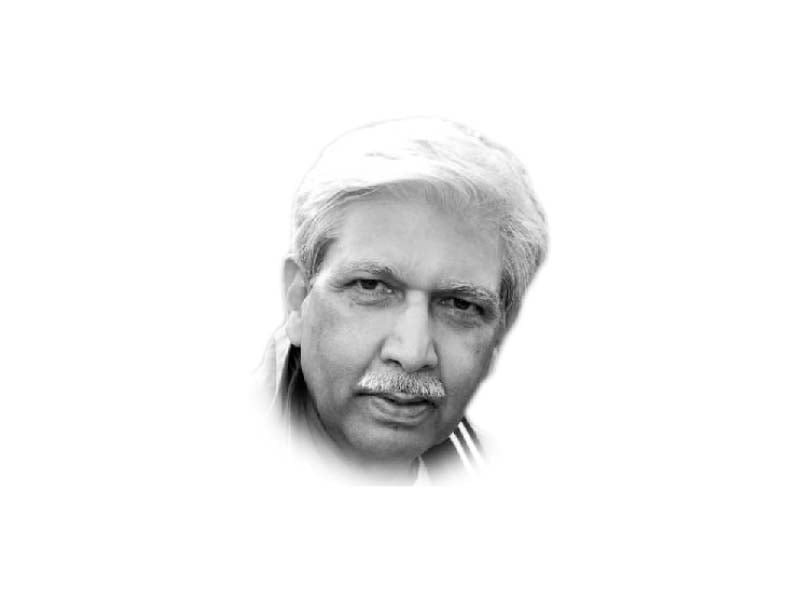 ---
Joe Biden hasn't spoken to Imran Khan and Khan has let the world know of it on at least three different occasions, formally. Our NSA has met his American counterpart a few times and has had to declare that 'we have other places to talk to' if this one doesn't call. The Foreign Minister was in Washington and though made no mention of the darn call there was so much else to tell and explain to Anthony Blinken. It remains a function of the FO to arrange a call between Biden and Khan but then there is enough to hide behind in our system to escape accountability. The most common refrain they claim is the quality of the product which is either too weak to market or too odious to touch.
Why the din? Haven't we been dealt with by the Assistants and the Deputies at the State Department before? Wasn't Richard Boucher declared the virtual Viceroy? Didn't our PMs and FMs seek 'takhlia' when meeting up with the venerated Asst Secy of State? Didn't Richard Armitage deal with President Musharraf via a phone call? Holbrooke was a relished audience, always. Isn't Wendy Sherman visiting in a week's time to soothe feathers? Wasn't Alice Wells from the State enough of a celebrity here to deal with?
The list is long but that is precisely where most matters of the state have been dealt with for Pakistan. Yes, Condoleezza Rice too, and then Hillary Clinton but they always came in for a higher purpose. George Bush Junior came to visit when he needed things done by Musharraf and spent a night. Others have simply given us a pass. Bill Clinton's six hours were proverbial.
But that is history which proves that the only promising relationship that countries like Pakistan can hope to have with superpowers like the US will be transactional. Realists term it realpolitik. There isn't space for ideational investment in such engagements. That all inter-state relations are based on this imperative is Diplomacy-101. Sometimes we couch it in hyperbole and at others we just make it look bigger with form than substance. Each and all will first tend only to his/ her needs. One would be foolish to push theirs behind in being the good Samaritan.
So if there is one thing that needs to be reinforced to ease the anguish is to know that a developing country of 220 million can be hell of a nuisance; its nuclear status doesn't let it relegate to a light-weight. Taking eyes off such a combination is at anyone's peril. Even more importantly it sits at the gateway to Afghanistan. And Afghanistan only means more trouble if the present experiment there crashes when the world might need emergent access, again. Or whenever someone wants something done there they will come calling. Dividends of complex geography, you might say. But realpolitik dictates. It may all seem quite negatively nuanced in how it appears but word it differently in the interest of the world at large and one may just begin to see the implicit benevolence. For it, our idiom will need to change and we will need to be staunchly aligned with the world, not be seen raucously audacious. Our punch must be sized to our weight unless we wish to play the international ruffian. Simply stated: dial it down.
So far the attacks within Pakistan on the security forces have only increased since the Taliban came to power and while it may have little to do with the Taliban it has all to do with their lack of control and writ over ungoverned spaces. These spaces were jointly occupied earlier but now with the Taliban moved to Kabul the TTP and ISIS-K remain as their insidious occupants. Those too will soon need attention. If the Taliban need their funds to be released by the Americans they will need to renounce Al Qaeda and permit them no space as indeed they must neutralise ETIM and the likes if they wish the Chinese to move in big — which can be the real turning point for Afghanistan and the Taliban. Reining these outfits remains an uncharted territory.
There is one more lesson to abide: we are where we are because of what we were and how our thoughts drove us. Kashmir and India were borne out of Independence and have remained where they were since. The foreign policy we pursued has singularly failed to change the status quo. Our Afghan policy grew out of 1973 when ZAB was in power and held a certain disdain for Daud. Our structures were altered to follow a more active Afghan policy whose control has mostly lain outside the foreign office. This has remained the guiding mantra on Afghanistan through the decades. The foreign office has only assiduously followed what these policies dictated. So good or bad, credit or discredit, we have lived with these two dominating themes in the foreign policy. All else got relegated behind these two. The US and China both have stood out as overarching policy considerations but somehow always got contextualised in the prism of India or Afghanistan. Except now only when China is an unquestioned cornerstone of our policy. Thanks to ZAB, again.
Afghanistan isn't yet out of the woods and neither is our own position which we refine as we proceed along. It isn't yet time to blow trumpets or imagine successes for some institutional brownie points. Our foreign policy is under its sternest test yet and shall have to walk the tightrope of keeping the Afghans appeased somewhat by perhaps ensuring all kind of support to allay human suffering yet remain tied to the international thought chain to not be found on a limb in misplaced enthusiasm. Afghanistan remains as uncertain as it was on the day that the Taliban took over. While we help them turn their prospects better we cannot and should not be found responsible for their deviations.
America today may have other interests but who says they won't have interests in due course which will bring them back at Pakistan's door? Similarly Pakistan will have its own interests in the medium to long term with the US that it shall need to secure. It is time to design the policy now which will get us there when we need to. We have two excellent brains in the NSA and the Foreign Secretary. It is time to relieve them from the bureaucratic routine and put them to work to draw out a blueprint of where Pakistan will like to see itself in 2050. Our mandarins at the FO could then take it from there. The current opportunity permits us such redrawing of the course. But for it to happen, disdain, negativity and Bloc mentality w
COMMENTS
Comments are moderated and generally will be posted if they are on-topic and not abusive.
For more information, please see our Comments FAQ