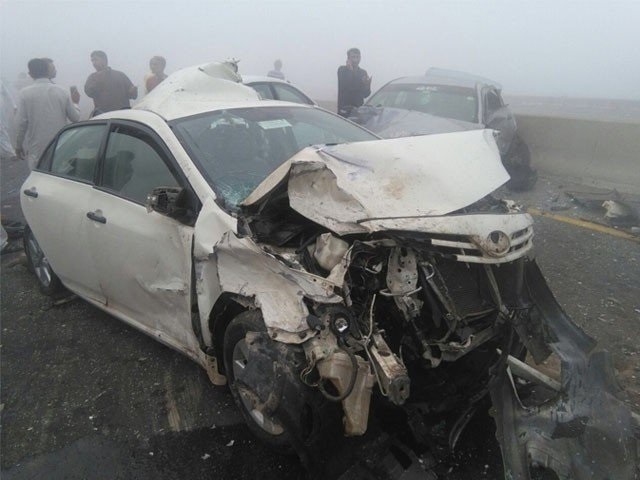 ---
HYDERABAD:
Five people were killed and 20 injured on Wednesday in an accident between a truck and a bus which was transporting residents of Karachi to Khairpur.
The vehicles collided on the M9 motorway near Lunikot in Jamshoro district. Some of the injured were reportedly in critical condition till the filing of this report. The police said the bus hit the truck from behind and overturned on impact.
The truck driver escaped from the scene, leaving his vehicle behind. The truck was impounded by the police, while an FIR is yet to be lodged. The bus driver was among the injured people.
The bodies of the deceased were shifted to Kotri taluka hospital, while the injured were taken to a medical facility in Jamshoro.
As soon as the accident was reported, police and rescue workers rushed to the scene and started shifting the dead and injured to different hospitals. The passenger bus was travelling from Karachi to Khairpur.
Rescue officials said five bodies were taken to the taluka hospital in Kotri, while the injured were taken to a hospital in Jamshoro. The five people killed in the accident are said to be from the Ancholi area of Karachi.
According to rescue officials, the deceased have been identified as Shabbir Abbas, son of Jafar Abbas, 38, Ali Bilal, son of Hassan Abbas, 20, Dilshad, son of Gul Muhammad, 40, Sohail Ali son of Majeed, 32, and Syed Abbas son of Ashfaq, 65. All the bodies will be shifted to Karachi after police formalities.
Read More: Four killed in separate accidents
The injured were identified as Asghari, 24, Ali Nawaz, 45, Zeeshan, 20, Nusrat Fatima, 28, Benish Ali, 33, Jawad, 7, Baqar Ali, 28, Umair Ali, 33, Ahsan, 12, Razzaq, 8, Shahroz, 55, Rifat, 20, Zubair, 17, Anila, 40, Naseema, 30, Shahina, 50, Tooba Batool ,30, and Abbas, 30.
The bodies of four persons, including a father and son, who were killed in the horrific accident were brought to the Ancholi Imambargah in Karachi from Kotri hospital by Edhi ambulances.
Those killed and injured in the accident were on their way to pay a religious visit to Jagir Ali Akbar in Khairpur from Karachi. The funeral prayers of the deceased will be offered after Maghrib prayers.
Published in The Express Tribune, September 30th, 2021.
COMMENTS
Comments are moderated and generally will be posted if they are on-topic and not abusive.
For more information, please see our Comments FAQ