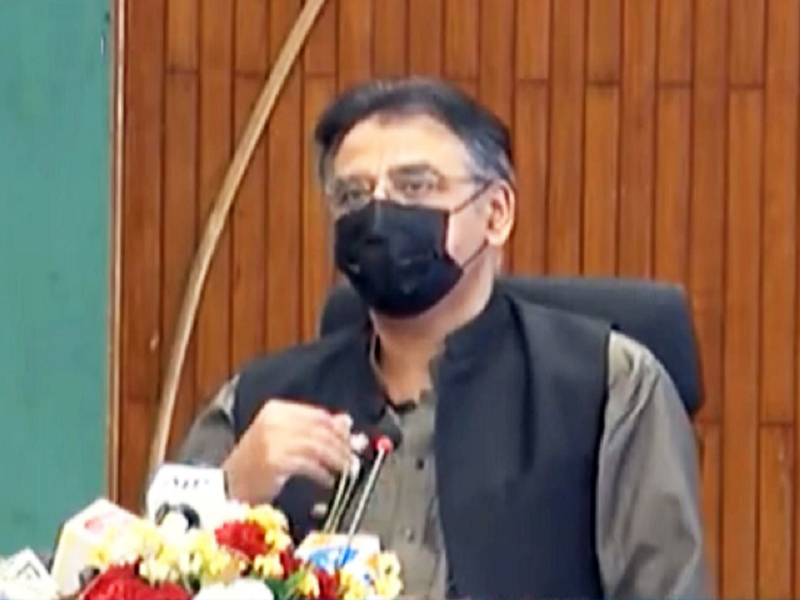 ---
Intensity of fourth Covid wave easing: SAPM
NCOC okays vaccination of children aged 12 and above
---
ISLAMABAD:
The intensity of the fourth Covid wave is gradually coming down as the National Command and Operation Centre (NCOC) announced that the vaccination age limit for general population had been lowered to 12 years.
In an interview with Arab News Pakistan, Special Assistant to the Prime Minister on Health Dr Faisal Sultan said, "At present time, all we can say based on global information, global data, past experience of epidemic and how this virus has behaved so far, it is possible that there may be additional rises in the number of cases in the coming months … but this is all conjecture."
Sultan said that over 75 million individual doses had been given. "By the end of the year, we would have a large majority of urban centres, 20 or 25 major cities nearly completely covered," the SAPM said. "That would protect us from the sparking of the epidemic. And by the end of this year, we expect 70-100 million of the population to be vaccinated."
On response to Covid, he said, "The system's strengths have become visible." Giving an example, he said the whole testing regime for Covid would come in on the polio dashboard so "we were able to leverage and utilise what existed but also strengthen the other side … for polio for the last eight months, we have not had a single case so as far as polio is concerned we stand in the best possible situation we had ever".
Read Covid curbs relaxed in 18 hotspots
"Everyone to leverage into a complete eradication … the need for a vaccination … I think this is what we are trying to do as part of our obligatory regime.
"We already have restrictions in place and some of which are being gradually eased. And the easing of these restrictions could be tied in to the proportion of a city or zone that is vaccinated to end unnecessary and painful restrictions," Sultan added.
In a tweet, Planning Minister Asad Umar said that the NCOC has decided to "start vaccination of all 12 years and older".
Umar, who also heads the NCOC, said the government will send vaccination teams to schools to administer jabs in order to make it easier for children to get vaccinated.
The NCOC said that Pfizer vaccine (2 doses) will be administered to children.
"Non-vaccinated people will be facing various restrictions from October 1, 2021," the NCOC said, urging general public to get completely vaccinated immediately.
Meanwhile, the national tally of total active Covid-19 cases was recorded at 49, 968 with 1,400 more people testing positive for the deadly virus during the last 24 hours.
According to the latest update issued by the NCOC, 41 patients died during the last 24 hours, 38 of whom were under treatment in hospitals and three out of hospitals in their respective quarantines or homes.
During the last 24 hours, most of the deaths occurred in Sindh followed by the Punjab. Of the total 41 deaths, 15 of the deceased had died on ventilators during treatment.
The maximum ventilators were occupied in four major areas including Multan 86 per cent, Sargodha 48 per cent, Bahawalpur 40 per cent and Lahore 48 per cent.
The maximum oxygen beds (alternate oxygen providing facility other than ventilator administered as per medical requirement of Covid patient) was also occupied in four major areas of Sargodha 48 per cent, Faisalabad 46 per cent, Swabi 52 per cent and Peshawar 44 per cent.
Around 469 ventilators were occupied elsewhere in the country while no Covid-affected person was on ventilator in Gilgit-Baltistan (G-B), Balochistan and AJK.
A day earlier, Interior Minister Sheikh Rashid said that the government had administered vaccines to over 70 million while NADRA had issued 7.5 million vaccination certificates.
In a bid to encourage people to get vaccinated, Rashid had warned of further restrictions on non-vaccinated citizens from October. He had said that several restrictions would be imposed on citizens who failed to receive their second dose of the anti-Covid vaccine by September 30.
He had not specified restrictions planned for such individuals. However, in August, NCOC head Umar had announced that Pakistan Railways would only allow vaccinated individuals to travel by train from October 1.
Similarly, all local and international air travellers will be required to be fully vaccinated by the end of September or they would not be allowed to travel. Meanwhile, from September 30, shopping malls, hotels, restaurants and wedding venues will only be accessible to fully vaccinated people.
Fake certificates
As Pakistan steps up drive to vaccinate more and more citizens, it is faced with another challenge – fake coronavirus certificates. Experts fear that if left unattended, this could be the hole that ultimately sinks the ship of Pakistan's fight against Covid-19.
The first case of nature came to light on June 14, when dozens of people were found to have acquired fake vaccination cards from the city's biggest government vaccination facility at the Karachi Expo Centre.
In a bid to stop this practice, the NCOC issued directives to the law enforcement authorities to take action against the people involved in making forged certificates.
A day ago, the Federal Investigation Agency (FIA) arrested 41 people over the issuance of the fake certificates and registered cases against them.
The move came after "fake entry" of Covid vaccination was found in the government portal under the name of former prime minister Nawaz Sharif, who left Pakistan for the United Kingdom in Nov 2019 — months before the first case of the virus was even found in the country.
Subsequently, the Punjab health department suspended Medical Superintendent Dr Ahmed Nadeem and Senior Medical Officer Dr Munir Ahmad of Kot Khawaja Saeed Hospital over the negligence, directing them to submit a report to the department.
According to whistleblowers on microblogging site Twitter, immunisation certificates can be forged for anywhere between Rs2,000 to Rs10,000 at major government hospitals, depending on the value of the vaccine.
Vaccination target
Last month, Parliamentary Secretary for National Health Services Dr Nausheen Hamid said that Pakistan was on its way to vaccinate almost 80 million of the country against the novel coronavirus till the end of December 2021. "Our target was to vaccinate 70 million Pakistanis by the end of this year that is now increased to 80 million. With the support of people, we will soon achieve this target," she said.
In order to meet this target, the government is mostly using Chinese vaccines -- SinoVac, Sinopharm, CanSinoBio – donated by Beijing.
Last month, Chinese envoy to Pakistan Nong Rong said that China had listed Pakistan as its priority in COVAX – a worldwide initiative aimed at equitable access to vaccines.
As a member of Covax, Pakistan has also received vaccines from the United States as well. The US has donated at least 15 million Pfizer vaccines to the country so far. The last batch of 3.5 million Pfizer vaccines was sent earlier this month.
At the start of this month, Russia sent its first consignment of one million doses of Sputnik V coronavirus vaccine. Pakistan had asked Russia to send five million vaccines to the country in June this year.
(With input from APP)