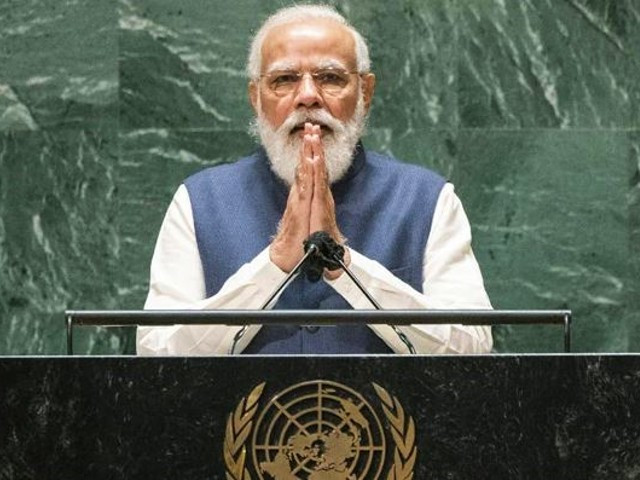 ---
KARACHI:
Taking part in the recent Shanghai Cooperation Organization (SCO) summit, Indian Prime Minister Narendra Modi urged member countries, to join forces to fight "radicalization and extremism", voicing concerns about the heightened risk of Islamist fundamentalism.
An article, that appeared in Haaretz two days ago, noted that according to Modi, religious fundamentalism had historically been a barrier to development in Central Asia, and he asked SCO member countries to promote "rational thinking" as a counter to radicalisation.
The author observed that Indian Muslims have historically stayed away from global jihad movements. But, Modi's Hindu nationalist Bharatiya Janata Party (BJP) villainizes Muslims during electoral times to unite a culturally diverse and caste-riven Hindu vote base against a common "other". Thus, it becomes politically important to talk about Muslim "radicalization", as a means of Hindu mobilisation.
Read Modi's fall from grace in US
He noted that the radicalisation of the Hindu majority was a much bigger threat confronting Indian than minority extremism.
The lynching of Muslims by Hindu mobs has become common practice as new laws against beef and interfaith love allow Hindu groups to attack Muslims freely. A pliant civil administration and police force usually look away, if they are not actively collaborating with the mobs.
Modi, following his re-election in 2019, increased the Hindu majoritarian project of remaking India's secular republic a Hindu state, with Hindu extremist groups allied with the BJP.
"Hate crimes and speeches by Hindu fundamentalists depict the new social hierarchy in a changing India, where Muslims can at best hope to be second-class citizens," the author stated.
Read more Modi under fire as heroin worth $3b recovered from friend's port
Faced with poor governance of the past five years, horrific Covid losses and an unrelenting farmers' movement, the BJP appears to not have been left with much choice than to escalate its hate campaign against Muslim.a
Radical supremacists calling for genocide are now common. Videos of small groups of self-appointed saviors of Hinduism tormenting lone Muslims are showing up on social media more often.
Many of these attacks are now aimed at driving Muslims out of their livelihoods and businesses. While Modi waxes eloquently on global forums on the need for "rational thinking" to counter radicalisation, Hindu fanatics linked to his party have been destroying Muslim livelihoods.
These economic attacks may not appear as systematic or organised as the boycott of Jewish business in 1930s Germany, but are a concern worth pondering over. It is probably time the Indian prime minister was questioned and warned over his anti-Muslim policies and the consequent marginalisation of the community.
COMMENTS
Comments are moderated and generally will be posted if they are on-topic and not abusive.
For more information, please see our Comments FAQ