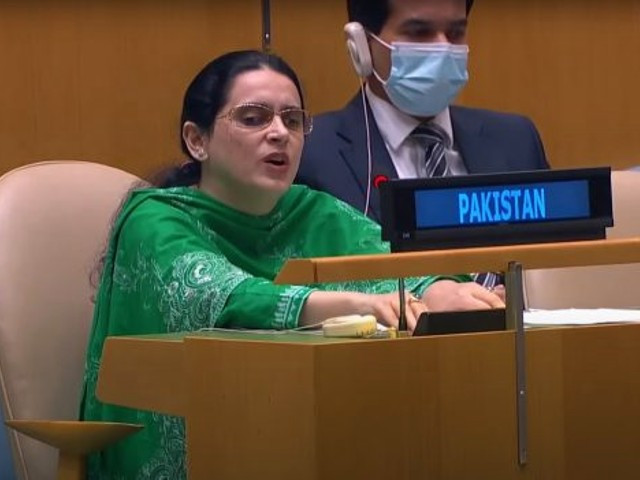 ---
Pakistan's first visually-impaired UN delegate Saima Saleem is being praised for her fiery speech at the 76th United Nations General Assembly (UNGA) on Saturday in which she stated that it is India that endorses terrorism in the occupied territory of Kashmir in a response to an Indian diplomat's allegations against Pakistan.
The first differently-abled female Pakistani diplomat, Saima Saleem was born on August 10, 1984. In her early years, she was diagnosed with retinitis pigmentosa - an incurable eye disease that made Saleem blind at the age of 13.
According to sources, when Saleem applied for CSS, she requested the Federal Public Service Commission (FPSC) to conduct a computer-based exam for her. However, the FPSC refused to conduct a computer exam because they were always conducted on paper. Saleem pursued her case by quoting the ordinance passed in 2005. The press release issued in this regard said the government will facilitate candidates with visual impairment and they will be allowed to take exams on the computer.
She became the first blind Civil Servant of Pakistan.
Today, Saleem is a motivational speaker and a writer. She has expertise in international human rights and international humanitarian law, public and economic diplomacy.
Saleem is a strong advocate of global peace and interfaith harmony.
Exercising her Right to Reply at UNGA:
Wearing the colours of Pakistan's flag and reading from braille, Saleem's fervent speech came as a response to Indian delegate Sneha Dubey's extrapolations about Pakistan's involvement in terrorism in the occupied Himalayan territory.
India's Dubey said Pakistan plays the 'victim' of terrorism and spoke at length about Pakistan's link to terrorism by claiming it provided a safe haven to the al Qaeda leader Osama bin Laden and maintains the status quo by state-sponsored suppression of the minorities in Pakistan.
To which, Saleem said, "India remains in occupation of an internationally recognised disputed territory whose final disposition needs to be decided in accordance with the democratic principle of a free and impartial plebiscite under UN auspices, as provided for under numerous resolutions of the Security Council."
Saleem expanded on her response by shedding light on four different types of terrorism India was responsible for. She spoke at length about 'state terrorism' to suppress Kashmiris in the occupied valley; she spoke about India funding terrorist organisations such as Tehrik-i-Taliban Pakistan (TTP) and highlighted the Doval doctrine and India's covert operations against Pakistan. She mentioned the capture of Indian spy Kulbushan Jadhav and how India had financed mercenary terrorist organisations against Pakistan and concluded her response by bringing to attention India's supremacist ideology of promoting Islamophobia.
She also asked the UN to hold India accountable for its crimes against humanity.
Following this, Saleem garnered praise the world over for her courage and for using braille for the first time at the UNGA.
I congratulate Saima Saleem, my team member, for successfully putting forward Pakistan's position by exercising right of reply.
She spoke using Braille for the first time from UNGA hall.#SaimaSaleem #UNGA 🇵🇰🇺🇳 pic.twitter.com/iy7K8h1HZI

— Pakistan Permanent Representative to UN (@PakistanPR_UN) September 25, 2021
Not only I but the nation is very proud of her. Differently abled with visual impairment, making an excellent speech at the UN. This is the Pakistan that we want where people with talent rise, a land of equal opportunities and compassion. Mashallah! https://t.co/iaGuHKgk71

— Dr. Arif Alvi (@ArifAlvi) September 25, 2021
Proud of our brilliant diplomat Saima Saleem for her outstanding response at #UNGA .Women of Pakistan making us all very proud as they are breaking barriers & setting new standards of excellence! https://t.co/Ly9zJrifex

— Maleeka Bokhari (@MalBokhari) September 25, 2021
Meet Saima Saleem.

A blind woman. A Diplomat. An icon who is representing Pakistan at The United Nations.

Will any Anchor or Journalist promote this great woman and the bold step of The Foreign Office @ForeignOfficePk for having trust in her abilities ? pic.twitter.com/O74zb2xGk9

— Mir Mohammad Alikhan (@MirMAKOfficial) September 25, 2021
Saw India& Pakistan secretaries' replies at the UN

1. Sneha Dubey:- Loved her fiery response, confident speech &"To the point" approach.

2. Saima Saleem:- While I don't support her speech, I never knew that she was reading the braille text. Must say it takes courage #womeninun pic.twitter.com/O6HLGhraAo

— Vinay, The meh !!! (@nevermindmesyng) September 26, 2021
COMMENTS
Comments are moderated and generally will be posted if they are on-topic and not abusive.
For more information, please see our Comments FAQ