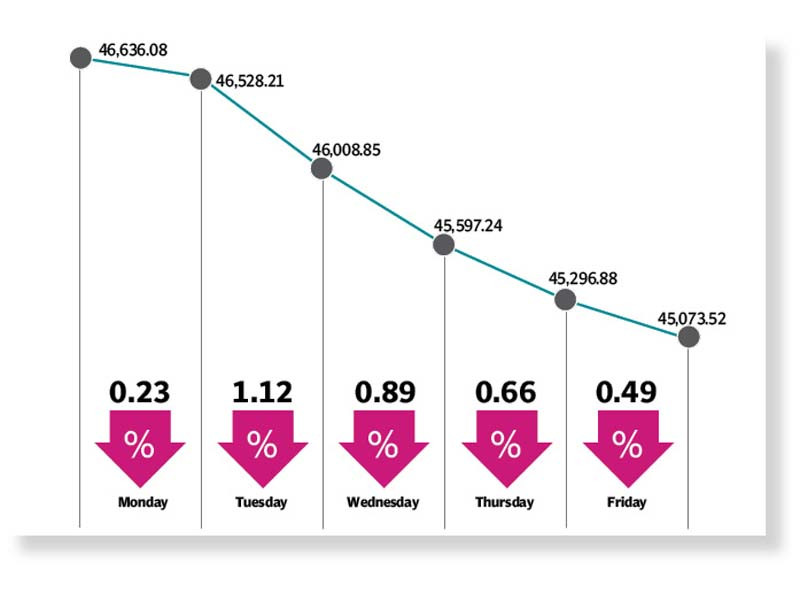 ---
KARACHI:
Bears dominated the stock market in the outgoing week as the KSE-100 index witnessed a bloodbath on the back of jump in policy rate, rupee depreciation and inflationary concerns.
Resultantly, the benchmark KSE-100 index nose-dived 1,563 points or 3.4% to close at 45,074 points
"This week marked fiscal year 2021-22's worst performing week to date and second worst in calendar year 2021," stated a report from Arif Habib Limited.
Trading began on a negative note and the KSE-100 index lost ground on Monday as investors chose to safeguard their positions in anticipation of a surprise change in interest rate in the monetary policy announcement. The fear of market participants turned out to be true as the State Bank of Pakistan hiked the interest rate by 25 basis points after closing hours.
Resultantly, the KSE-100 index plunged close to 1,000 points over the next two sessions and market spirits took a hit after the central bank signalled further monetary tightening in the months to come.
Besides, the slide in global markets owing to likely default by China's property group Evergrande also accelerated the dip.
The local currency fared no better in the past week and depreciation of rupee against the US dollar sparked fears of further rise in inflation and additional worsening of the current account deficit.
The market brushed off the pessimism over the increase in interest rate during the final two sessions of the week, however, a host of negative triggers prevented the KSE-100 index from reporting gains.
Investor confidence was shattered after Finance Minister Shaukat Tarin stressed on introducing tough measures to cool down an overheating economy and they resorted to book profits.
The refinery sector, in particular, endured a hammering in all five sessions due to concerns over the stalemate on approval of refinery policy. "Sentiment of the market might be tested once again with the government proposing a hike in gas/electricity tariffs," stated a report from Arif Habib Limited. "However, resumption of the International Monetary Fund programme next month could provide a breather."
Average daily traded volume fell 4% week-on-week to 384 million shares while average daily traded value fell 18% week-on-week to settle at $73 million.
In terms of sectors, negative contributions came from technology (275 points), cement (196 points), commercial banks (148 points), fertiliser (137 points) and exploration and production (134 points).
On the flip side, sectors which contributed positively were miscellaneous (41 points) and chemical (3 points).
Scrip-wise, negative contributors were TRG Pakistan (142 points), Systems Limited (124 points), HBL (71 points), Oil and Gas Development Company (70 points) and Pakistan Petroleum (55 points). Meanwhile, scrip-wise positive contribution came from Pakistan Services Limited (46 points), MCB (18 points) and Bank Al Falah (15 points).
Foreign buying was witnessed this week settling at $6.7 million compared to a net sell of $10.9 million last week. Major buying was witnessed in other sectors ($6.1 million), technology and communication ($3.0 million) and oil and gas marketing companies ($1.8 million). On the local front, selling was reported by individuals ($7.5 million) followed by companies ($3.5 million).
Among other major news of the week; EU extended GSP plus status with six new conventions, ADB said Pakistan's economy will grow at 4% in FY22, Pakistan expressed wish to issue new international Sukuk as soon as October, Punjab issued 22 no objection certificates for setting up cement factories and government proposed hike in gas tariff.
Published in The Express Tribune, September 26th, 2021.
Like Business on Facebook, follow @TribuneBiz on Twitter to stay informed and join in the conversation.
COMMENTS
Comments are moderated and generally will be posted if they are on-topic and not abusive.
For more information, please see our Comments FAQ