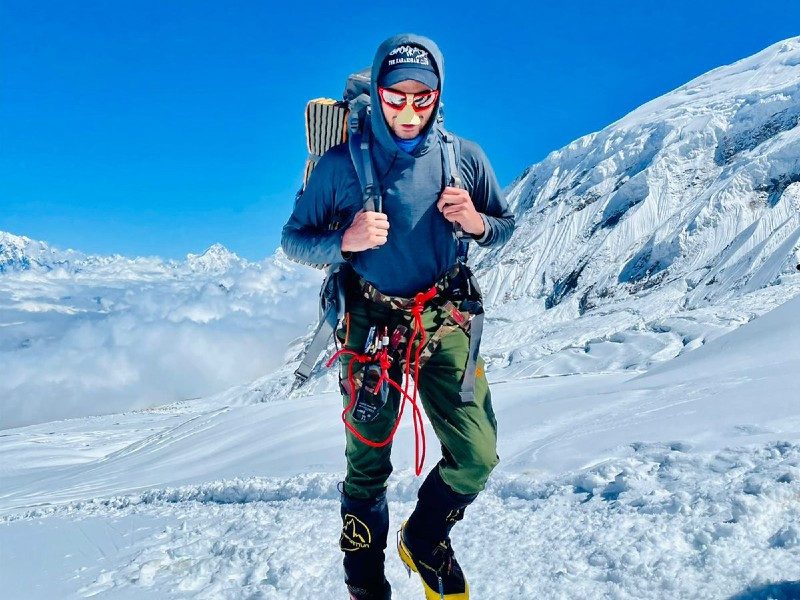 ---
KARACHI:
Pakistan's youngest mountain climber on Saturday added another feather to his cap, summiting the 8,163-metre (26,78 feet) Manaslu peak in Nepal.
"This morning, Shehroze Kashif summited Manaslu, 8163m above sea level, in Nepal at 5:40am Pakistan time (0040GMT)," the Alpine Club of Pakistan, the country's official mountaineering organisation, said in a statement.
Kashif, who has already scaled the world's two tallest mountains, has now become the youngest Pakistani to scale four peaks higher than 8,000 metres after climbing Manaslu -- the eighth tallest mountain peak in the world.
Read more: Pakistan's Shehroze Kashif becomes youngest mountaineer to summit K2
This May, Kashif scaled Mount Everest, making him the youngest climber to summit the top of the world.
This morning almost an hour ago at 5:40 PST our boy #ShehrozeKashif reached the top of #Manaslu in Nepal! In the process he achieved his 4th 8000er mashallah with 3 of them coming this year alone! 🇵🇰 He's right now descending. Prayers are requested for his safe descent! pic.twitter.com/7fqLzWFA7G

— The Karakoram Club (@KarakoramClub) September 25, 2021
Two months later in July, he scaled K2, again making him the youngest-ever Pakistani to climb the world's second-tallest peak.
Broad boy
Hailing from Lahore, Kashif is only the sixth Pakistani to scale Mount Everest. Among them, Samina Baig is the only woman climber to achieve the feat in 2013.
Also read: Climber Sirbaz gears up to make history
The son of a local businessman, Kashif started climbing at age of 11, gradually scaling peaks ranging from 3,000 metres to 8,000 metres before ascending Mount Everest and K2.
In 2013, he scaled the 3,885-metre (12,746-foot) Makra Peak, situated in Mansehra district, while just 11 years old.
His 2019 expedition to the 8,047-metre (26,401-foot) Broad Peak, located in the Gilgit-Baltistan region, earned him the title "The Broad Boy."
COMMENTS
Comments are moderated and generally will be posted if they are on-topic and not abusive.
For more information, please see our Comments FAQ